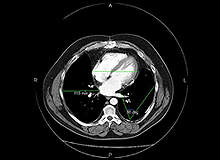 Modern PACS platforms supply advanced clinical tools and applications, while enhancing access to patient data and imaging studies across the enterprise. PACS solutions also support multiple business scenarios and forms of delivery, as evidenced by strong growth in pay-per-use models.
These clinical and business advances promise a healthy and innovative future for the PACS and radiology IT markets. Five trends are likely push PACS development forward over the next five years:
1. Embedded clinical tools
Providing complete, robust clinical tools on a single radiology PACS workstation will drive greater productivity and eliminate the operational inefficiencies and
costs involved in managing dedicated systems.
2. Sharing a common workflow
Creation of a shared workflow among multiple sites with disparate PACS platforms will address the need for clinical data synchronisation among hospitals and other healthcare providers at local, regional and national levels.
3. Anywhere on any platform
PACS platforms will embrace thin-client and mobile environments that allow fast, easy access without any software downloads to workstations or PCs.
4. Seamless integration
Support for rapid, smooth delivery of imaging studies to electronic medical records (EMR), health information exchanges (HIE) and other integrators will be important to meet government healthcare initiatives across the globe.
5.Flexible business models
Pay-per-use software-as-a-service models will reduce capital investment while shifting responsibility for performance, data security, long-term storage and other critical factors to a service provider.
"There is a strong demand to merge the radiologists' toolkit into one integrated environment."
One workstation, many applications
PACS workstations are the epicentre of radiology workflow. Standard reading, advanced visualisation tools, applications for specific clinical protocols, mammography workflows and reporting tools are used by radiologists on a daily basis.
These complex applications have traditionally been provided by a myriad of loosely integrated (at best) applications or entirely separate workstations. Going forward, however, there is a strong demand to merge the entire radiologists' toolkit into one integrated environment.
Though the challenge in providing such an environment is complex, the drivers to do so are simple: greater productivity and improved patient care. Creating an all-purpose advanced workstation will achieve significantly increased throughput. A single-user interface, seamless sharing of findings between clinical tools and the automatic embedding of key images and other clinical information into reports are just some of the benefits that will be realised.
In addition, integrating tools such as real-time volumetric registration, cardiac CT analysis, PET/CT, coronary analysis, automatic segmentation tools, embedded reporting and voice recognition will allow radiologists to provide rapid, improved care and reclaim time spent switching between systems. Consolidating these applications on a single platform will also eliminate the purchase, training and service costs associated with third-party workstations and systems.
Efficient, shared and multi-site workflow
The need to create an over-arching solution that ties existing local PACS solutions together is driven by changes and consolidation of healthcare providers, which is a major trend in Europe and the US.
"A next-generation PACS will be expected to deliver an enterprise-wide reading workflow."
Hospitals are also affiliating with each other, medical imaging centres, clinics and other facilities to share patient's medical images and information. As a result, radiologists at one hospital are now reading for other imaging sites, radiology groups are reading for multiple medical imaging providers and specialists are reading for entire healthcare systems.
A next-generation PACS will be expected to deliver an enterprise-wide reading workflow that will eliminate geographic and vendor-specific system limitations. A solution is required that will allow for global patient work lists across multiple, disparate systems, and provide radiologists and their referring community the full imaging portfolio of a patient – regardless of where the data or the physician are located.
Healthcare enterprises will need a PACS infrastructure that enables them to view a multi-site, multi-system environment as though it were one, and manages the complete imaging and reporting lifecycle on disparate radiology solutions, without the need to replace them. Sharing patient images and information through a common global work list will deliver a workflow that balances reading and reporting among available radiologists throughout the enterprise.
This advanced PACS architecture will eliminate the barriers often caused by disparate physical locations of images and users and variations in network speed and reliability. Users will gain substantive improvements in radiologist productivity, workload balancing, report timeliness and overall resource use.
Movement to thin or zero-client
The healthcare profession is undergoing a movement to web-based, thin-client environments that do not require many – if any – software downloads to workstations or PCs. While this model is employed in a variety of industries,
it has been difficult to achieve when working with extremely large medical image data sets.
This is changing: newer PACS platforms support the thin-client viewing of key images and reports by referring physicians and other users, and interactive, web-based 3D toolsets are beginning to be commercialised. Moving forward, developers will continue to reduce the 'weight' of advanced applications and evolve viewing and processing capabilities to the point where a complete set of clinical tools can be available to pure thin-clients without sacrificing capabilities or speed of access.
EMRs are incomplete without medical images
Adoption of EMR/electronic health record (EHR) systems is a worldwide trend, and in many cases they are either suggested or required by regional or national government entities. Today, most EMR/EHR systems have trouble supporting imaging information, which represents a significant amount of a patient's medical record.
PACS solutions will need to support an easy, open and seamless interface for exporting imaging studies to EMR/EHR systems, so that clinicians gain a holistic view of a patient's history and current condition. This can lead to a higher level of patient care through more accurate diagnosis and treatment.
"As patient information can be shared with authorised physicians over an internet connection, there is no need to build, maintain and upgrade a complex infrastructure."
Paying for PACS on a usage basis
Healthcare providers worldwide now have the option of purchasing PACS functionality as a pay-per-use service, which delivers complete functionality while lowering the users' total cost of ownership. It also eliminates the danger of obsolescence since the supplier continuously maintains and upgrades its data centres and on-site technology. In a software-as-a-service model, healthcare providers connect to secure, remote data centres hosted and managed by a supplier.
As patient information can be shared with authorised physicians over an internet connection, there is no need to build, maintain and upgrade a complex infrastructure. This service enables convenient remote reading for a primary diagnosis, as well as the ability to obtain a second opinion from another radiologist or specialist. The PACS service is an operating expense, with the monthly fee dependent on the number of imaging exams produced each month.
Going forward, we may see enterprise-level hospitals making a full capital investment, but a majority of private hospitals will increasingly adopt a pay-per-use model, which will include a full suite of a radiology information system, PACS and clinical archiving.
Long-term view
The ageing populations of Europe, the US and other regions will create a greater demand for healthcare services than ever before. Flexible and efficient PACS solutions can play a vital role as healthcare institutions struggle to handle a burgeoning demand for imaging services while simultaneously containing costs and ensuring a high level of care.
To accomplish these goals, PACS solutions need to deliver a comprehensive suite of embedded clinical tools, share a common workflow among disparate systems, embrace thin-client and mobile environments, seamlessly integrate with EMR/EHRs and health information exchanges, and offer flexible business models. Achieving these ambitious objectives will have a positive effect on the health of millions of people worldwide.