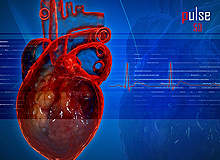 It's hard to imagine a wireless vest that could measure an electrocardiogram (ECG), a pendant that can check on the safety of an elderly person or a piece of fabric that detects the presence of diabetes or even the early stages of cancer.
But, thanks to research being conducted across the world, these ideas are slowly turning into real products that could very soon be launched into the market.
Scientists are developing wearable solutions that will monitor the well-being of patients at home; enabling them to observe their own conditions and judge whether they are in need of medical assistance.
These technologies, many of which have reached the clinical trial stage hold great promise for the health sector as a way to shorten hospital stays and reduce the number of emergency admissions, thus saving both time and money.
Self diagnosis
The most direct market for wearable medical devices is personal healthcare. This is because the garments are easy to use and information can be monitored remotely; in some cases the patient need only get dressed without worrying about plugs, wires and sockets, for a doctor to be able to check on them from another location.
In fact, one academic has invented a device that is powered solely by the body. The smart bra, created by Professor Elias Siores and his colleagues at the Centre for Materials Research and Innovation at the University of Bolton, England, is designed to work with a microwave antennae system which can be woven into the fabric of the bra and allows users to detect breast cancer at the earliest stage.
"Scientists are developing wearable solutions that will monitor the well-being of patients."
"Cancer patients have abnormal cells which divide in an uncontrollable manner and the temperature of the breast tissue increases as a result. The bra will have an alarm system which will go off if a temperature reaches a certain threshold," explains Siores.
The bra is being developed with the support of international partners RES, Russia; Istanbul Textile and Apparel Exporters Association; the Greek National Health Service, IKA, and the Hong Kong Productivity Council.
Philips Research Laboratories in Aachen, Germany and Eindhoven, Netherlands are also developing medical clothing for personal healthcare. Between December 2003 and December 2009 they conducted the MyHeart project, with the aim of developing 'smart textiles' which would help users prevent and monitor cardiovascular diseases at home.
As a result of the research, Philips has developed a prototype vest with in-built electrodes which measure ECGs and detect pulmonary edema – water build up in the lungs – which often leads to heart failure.
Telecare
Smart garments are set to play a crucial part in the rehabilitation of patients after they have left hospital. For those with heart problems, returning home without adequate surveillance becomes a risk, but some manufacturers and academics are looking into solutions that will allow doctors to 'telemonitor' their patients' health.
CSEM, an independent, non-profit research company based in Switzerland, is developing the 'smart shirt', which is designed to do just that, as the firm's deputy head of systems Jean Luprano explains. "Using a smart shirt, an elderly person can easily place electrocardiogram electrodes on their chest, without being in the presence of a doctor, and the system can automatically monitor her or him for 20 minutes a day, allowing his or her physician to inform them if the heart rate exceeds a certain level."
Intelligent Clothing, a US- and UK-based company established to pursue the idea that ordinary garments could provide wireless health monitoring, is working on a smart pendant which will connect directly to an emergency help line.
The company's founder and chairman Alan Magill says that the 'smart pendant' will be worn like a piece of jewellery and will have an in-built radio transmitter.
"Smart garments are set to play a crucial part in the rehabilitation of patients."
"It will automatically tell our call centre if an elderly person has fallen down and will distinguish whether they have fallen down seriously or even if they have fallen down the stairs," says Magill.
Detecting movement has its benefits but some devices go much deeper. One of most intelligent applications of medical clothing is the use of micro-opto-electromechanical systems (MOEMS) currently being developed around the world, which are used to analyse molecules inside the body.
This technology incorporates small lasers and LEDs which are shone on to and through the skin.
"This is a recent development of the old-fashioned and proven technique of blood oxygen saturation where you fire an infrared light at about 820 nanometres at the skin and monitor how much oxygen is in the blood. We are now talking about using MOEMS to update this area of the industry into actually analysing molecules in the body," Magill explains.
Addressing concerns
The timeless question that arises when a new technology is submitted for approval is 'how much will it cost?' But Magill insists that the production of his smart pendant will be "cheap". "That's the benefit of mass production of electronic components. It's providing the 24/7 call centre service which is the expensive bit," he says.
Medical clothing could also prove to be cost-effective, as it helps patients take more of a responsibility of their own conditions and reduce dependence on the acute hospital sector.
"What we are developing, to a certain extent, is self-diagnostic tools; they tell you that you need to go to the doctor or not to bother," says Siores.
Self diagnostic tools do have the potential to reduce the need for medical staff, but Luprano explains that this is not the case. "It is important to note that smart clothes do not aim to replace the doctors or the hospital, but to improve quality of life and inform the medical staff without having the patient necessarily in their examination room, whenever possible."
Off the shelf
Due to the strict legal and regulatory requirements of the healthcare industry, no finished products are being made widely available to businesses and consumers despite the large amount of research into medical clothing and electrical components.
"It's only a matter of time before wearable healthcare technologies will come online."
Because of these important standards, researchers are looking at ways to make their technologies more robust, as Siores states. "We are still trying to work out other developments. For example, we need to block out all electromagnetic energy coming from computers. We also need to work out how to grasp enough energy from the body for this system to work, so are creating electric fibres which can detect movement, thus produce energy."
But it's only a matter of time before wearable healthcare technologies will come online.
In November, Imec, a researcher in nanotechnologies, launched the PASTA project; a European initiative which aims to finally bring today's prototypes to industrial production.
Another issue is large scale production of niche devices but now companies like CSEM are developing large-scale production techniques that will, in the future, allow manufacturers to produce, at low-cost, innovative technologies used in smart textiles for various applications.