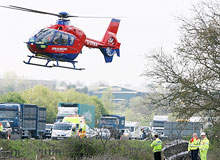 Our world has become a dramatically smaller place since the days when the internal combustion engine was considered the apex of automotive technology. Incredible improvements in transport and communication have brought about humankind's dominance over all but the most impenetrable wilderness areas of the world.
Nevertheless, even in a country as small and densely populated as the UK, there are many areas where a medical emergency can be exacerbated by the isolation of the location. Remote areas of countryside and coastline may provide spectacular views, but they are a potential nightmare for emergency services in the event of accident or illness.
Air ambulances are an invaluable resource to the NHS in these situations, as they are able to reach areas by helicopter that traditional ambulances cannot and convey patients to the right medical centre in a fraction of the normal time. In this article, Hospital Management looks at the technology and skill needed to keep remote patients stable before reaching the hospital, and the framework that keeps these vital vehicles in the air.
"These trusts undertake more than 19,000 missions a year, with each individual mission costing an average of around £1,200."
The air ambulance advantage
The UK currently has 32 air ambulances, spread across 18 air ambulance charities in England, Wales and Scotland. Collectively, these trusts undertake more than 19,000 missions a year, with each individual mission costing an average of around £1,200. With the exception of Scotland and London, air ambulance organisations receive no public funding and must meet these costs through fundraising efforts.
Incidents that could qualify for the attention of an air ambulance and its crew are not limited to those that take place in remote areas; patients with life-threatening injuries or illnesses where speed could make the difference between life and death can be reached and stabilised more quickly by helicopter.
Devon Air Ambulance's operations manager and former air ambulance paramedic Nigel Hare gives some insight into the scope of missions undertaken by the county's two air ambulances. "We tend to go to any patient who needs rapid or essential care," he says. "That's not just the case of getting the paramedics to the patient. There might be a land crew already with the patient, but they might either need to get to the hospital quickly, or they may need to get to a hospital that isn't the closest one. Particularly down here in this part of the region, our hospitals are few and far between compared with the more built-up areas of the country."
Chopper challenges
Communication, in many senses, is absolutely essential for the smooth running of helicopter missions, and poor communication is also a major source of problems for air ambulance trusts. One of the most fundamental communications breakdowns that can occur is the information provided to dispatchers when dealing with 999 calls. "No matter how good the people in the control room are at deciphering the calls, if members of the public classify a patient as having a huge amount of blood loss and it turns out to be just a little fall, in their eyes that is a lot of blood, that's their perspective," explains Hare. "So one of the challenges is making sure we deploy appropriately based on the information received."
It is for this reason that Devon has lead the way in collaborating with neighbouring ambulance trusts in Cornwall, Dorset and Somerset to fund a specialised helicopter dispatch operator, who can gain the right information from callers and minimise confusion. Dorset Air Ambulance CEO and Association of Air Ambulances (AAA) chairperson Helena Holt has noted the tangible benefits of this partnership. "It has actually reduced our aborted missions from 45% to 30%, so it's a 30% cut," she says. "It has saved a lot of money, but more importantly it means we're available for the calls where we are actually needed."
"Communication is essential for the smooth running of helicopter missions."
Another challenge arises from the limitations of operating a helicopter in sometimes inappropriate environments. "You can't just land outside someone's house," says Hare. "And we do pick a lot of people up from home; people fall off roofs and through glass, as well as having life-threatening heart attacks in their homes. So getting the patient from the house to the helicopter often presents a challenge." These physical obstacles explain why, on top of being experienced and clinically proven paramedics, air ambulance crews must also be physically fit.
Technology innovations
Air ambulances are generally equipped with everything you might expect to find in a standard ambulance, but much of this equipment must be tailored to the unique, and noisy, environment of a helicopter. Telemetry is another important communication facet of an air ambulance's day-to-day missions, as being able to communicate with the hospital has many benefits.
"We can monitor all the patient's vital signs," says Hare. "Blood pressure, SpO2, ECG, end-tidal CO2 and so on, and we can telemetry that to the hospital in real-time. It gives the hospital an idea of what's coming in. Also, when you get to the patients who are more challenge to manage pre-hospital, it means you can get live feedback from the clinicians in the hospital because they can see the patient's clinical presentation. It's the first step of that two-way exchange of information rather than someone just explaining what's going on by telephone." Devon's air ambulances are also equipped with satellite phones to maintain a link with the hospital from the most remote moor or hidden cove.
But what medical technology would air paramedics like to see integrated into their helicopters to improve performance in the future? Hare notes that, although air ambulances currently cannot fly outside of daylight hours due to funding restrictions and legislation, this situation could change. If that was the case, systems would need to be modified accordingly with night-vision compatible monitors or systems that could operate in low light, as it is unsafe to have major light sources inside a helicopter during a night flight.
"The spectre of the global recession has not been as damaging to air ambulance donations as the charities might have feared."
Medical alarm systems, which give visual cues and small bleeps when a patient's vital signs breach safe parameters, might be sufficient for hospital use, but Hare has found that helicopter crews might need something more. "Although we can hear each other and the patient because we wear headsets, the noise for the alarms is never heard," he says. "So if you're looking for some innovation for air ambulances, it would be some way of having an alarm system that would integrate into the intercom system of the aircraft, or one that is loud enough. Audio alarms are the best, because you can't turn the ear off. That's something that would be cheap and innovative to introduce."
Flying into the future
As for the future of the UK's air ambulance charities, one major trend will be greater collaboration between the separate organisations. Devon has already blazed a trail with its partnership on helicopter dispatching in the South West region, but Holt believes that working together could benefit the charities' procurement strategies as well.
"Recently, we've led the way by purchasing one of our aircraft a couple of years ago, and we're planning to purchase a replacement for our second one, which is leased until 2013," she says. "I know that other people are now looking at that, and we have had meetings with a few of our fellow air ambulance charities looking at procurement, and whether there might be some mileage in actually doing things jointly to get a better deal across the board."
As for fundraising, the spectre of the global recession has not been as damaging to donations as the charities might have feared, partly due to hard work in maintaining the profile of air ambulances and partly because of people's natural interest in local causes.
"I think [charitable donations] are more sustainable and less vulnerable to the winds of politics or cuts," says Holt. "The thing that's changed is where the money is coming from. Straightforward donations are probably getting harder, but people are more interested in doing events and activities and sponsored events. In some respects it's quite good because there's more community involved in fundraising."
The one country without air ambulance coverage in the UK is Northern Ireland, which was struck by a scandal involving alleged misuse of funds by the charity attempting to start an air ambulance service (the BBC reported in 2009 that the Ireland Air Ambulance charity spent £500,000 of the £700,000 it had raised on wages and costs).
"It has all gone very wrong because of the people involved," says Holt. "[The alleged offenders] have actually now left the charity that was being set up there, and the money is now hopefully going into an air ambulance. But they've also had to try and demonstrate the benefit, because the health services in Northern Ireland didn't actually see the need for an air ambulance. It's a bit like 20 years ago in England, really. They need the buy-in of the ambulance service, who would be providing the paramedics and supporting them with the funding. Hopefully, that's a little bit nearer now."