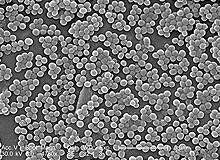 Attempting to eradicate troublesome hospital bugs like methicillin-resistant staphylococcus aureus (MRSA) and clostidium difficile (C difficile) through drugs can prove to be an arduous task. The clue is in their names.
In April 2011, health experts in Europe warned that the emergence of antibiotic-resistant infections has reached unprecedented levels and now outstrips our ability to fight with new and existing pills. But, what if there was way to outsmart the superbugs? Thanks to new research, there could be.
Presently, innovative technologies are being introduced in hospitals, where people with open wounds and weakened immune systems are at greater risk of infection.
Associate professor of bio-organic chemistry at the North Carolina State University in the US Christian Melander believes this is a step in the right direction, "I think that we are finally getting around to realising that MRSA is a really big issue and I think a lot of people are now starting to put more efforts into research.
"If we've learned anything from bacteria, they [the researchers] are going to figure out that whatever we throw at them, there needs to be a battle that is continuously fought," Melander says.
"A common superbug, C difficile, is actually made worse by infection-fighting drugs."
A new type of superbug that is emerging in hospitals is New Delhi metallo-ß-lactamase-1 (NDM-1), a gene carried by bacteria that makes the strain resistant to carbapenem antibiotics. Experts are also worried that it may end up in other bacteria, which are already resistant to many other antibiotics.
A more common superbug, C difficile, is actually made worse by infection-fighting drugs. This is a germ which lives harmlessly in the gut of many people and is not killed by many types of antibiotic. But, if the other harmless bacteria are killed, then this allows C difficile to multiply and produce toxins.
Spores of healthcare-associated infections (HAI) are often carried on the hands of hospital staff who come into contact with people and objects such as contaminated bedding and bedpans. Deep cleaning can therefore limit the spread of infection.
However, Jodi Lindsay, MRSA expert at St George's University, warns that cleaning alone won't stop the problem, "No matter how clean hospitals are, humans will contaminate them. The major source of infecting isolates of MRSA is the patient's own flora."
So what systems and solutions will beat the bugs? Here, we take a look at some of the newest and most exciting technologies being trialled and tested in the health industry.
Liquid glass
German company Nanopool made the headlines last year with its liquid glass technology, which is designed to reduce disease-causing bacteria living on the surface of objects. Liquid glass is supposedly harmless to the wider environment and, when sprayed, forms a film, about 500 times thinner than human hair. In August 2010, the experimental coating was sprayed on children's toys at Alder Hey Hospital in Liverpool, UK, to test its ability to resist dirt and microbial growth. The product has also been tested in Germany, South Africa, Canada and China, where industries including health and hospitality are enjoying big savings in cost to their cleaning programmes.
Air cleaning technology
This month, US-based Vigilair Systems found, through a study, that the use of its air-cleaning technology led to a dramatic reduction in patient hospital-acquired infections. The research was carried out by physicians in the neonatal intensive care unit at the Women and Children's Hospital of Buffalo in New York. Results showed that the use of air-cleaning technology reduced tracheal microbial colonisation by 45%, antibiotic usage by 62%, and provided estimated annual clinical savings of greater than $500,000.
HINS light
This new technology, developed by a research team at the University of Strathclyde in Glasgow, is designed to kill pathogens by bathing them in a narrow spectrum of visible-light wavelengths, known as HINS-light. Clinical trials at Glasgow Royal Infirmary have shown that these light wavelengths excite molecules contained within bacteria. This in turn produces highly reactive chemical species that are lethal to bacteria such MRSA, and clostridium difficile.
Vantix sensor
"Spores of healthcare-associated infections (HAI) are often carried on the hands of hospital staff."
In October last year Universal Sensors, a company that designs and manufactures sensitive biosensors, was awarded a phase2 small business research initiative (SBRI) contract by the UK Department of Health to create device, which will be able to detect the presence of C difficile or MRSA in hospital wards within five minutes of swabbing. Within its phase1 contract, Universal Sensors demonstrated that its Vantix biosensor technology could detect one pathogenic cell per square centimetre of surface tested. The company proposed that if this technology was to be made available as a hand-held device it would give immediate confirmation of the presence of a pathogen, preventing potential cross-infection to another patient.
Vaccines
Professor of Orthopaedics Edward M Schwarz and his research team at the University of Rochester Medical Center in New York, US, have been trying to find a vaccine to prevent life-threatening MRSA infections, for seven years. In January 2011, they published their findings, having developed antibodies against a protein belonging to MRSA. The antibodies interfere with the bacteria's growth and are 'attractive candidates' for a potential vaccine to prevent MRSA infection, according to the researchers. The vaccine is directed against the critical glucosaminidase enzyme that the bacteria cannot grow without. Work to create the vaccine is still ongoing.