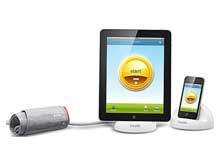 The stratospheric rise of the global smartphone and tablet market has brought with it the ubiquity of the app – tiny, often free, programmes that can be downloaded to a phone for quick future use. These apps range from trivial timewasters to indispensable applications that users would struggle to live without. Now, with the growth and increasing sophistication of medical apps, the market is beginning to offer programmes that could potentially save lives.
The medical electronics sector is on the rise, with some reports predicting threefold growth over the next five years. What began as simple apps linking to information sites like WebMD has now evolved into a healthy selection of full-feature software, often able to be used in conjunction with other devices.
As the capabilities of electronic devices become ever-more impressive, it is up to manufacturers and software developers to harness this technology to come up with innovative solutions that respond to genuine medical needs. Here, we showcase some of the best apps the industry has released so far, and look into what it takes to bring a piece of mobile software to the market. 
Patient monitoring and remote care
The most obvious function for apps is to give healthcare professionals patient information remotely, allowing caregivers to monitor ongoing conditions, and spot potentially dangerous emergencies, without having to be in the same room. The eminent suitability of apps for remote care makes this one of the largest segments in the medical app market, with a host of innovative products on offer.
For ongoing conditions like diabetes and high blood pressure, a smart phone equipped with the right apps can be an empowering tool, allowing patients to monitor their own health. This, in turn, ensures that patients are more aware of the status of their condition, and promotes efficiency by cutting down on unnecessary hospital or clinic visits.
"The most obvious function for apps is to give healthcare professionals patient information remotely."
Often, the most sophisticated apps are able to interface with physical monitoring systems to turn raw data into user-friendly information. The iHealth blood pressure monitoring system, for example, includes a free app and a blood pressure arm cuff. Users can transfer data from the cuff to the app on an iPhone or iPad, and the software automatically converts the data into graphs, allowing patients to track blood pressure patterns over time or by time of day. Importantly, this information can be instantly shared with the patient's doctor.
Dr Andrew Brandeis, a physician at Care Practice in San Fransisco, notes the convenience of the device.
"Regularly monitoring blood pressure in a relaxed, consistent setting gives users the most reliable information on the status of their cardiovascular health," he says. "More important, iHealth reveals trends and fluctuations in the data and enables the user to easily share the information with their doctor."
GPS-enabled apps are also being used to encourage independence and safety for patients with degenerative neurological conditions like Alzheimer's disease by allowing carers to track the location of patients if they should become confused or lost. The Alzheimer's Association has paired with Omnilink Systems to develop Comfort Zone Check-In, the most recent iteration of which was shown at the CTIA Wireless 2011 conference in Florida. Comfort Zone is a GPS-driven application that allows caregivers to track patients at 15 or 30-minute intervals. "Since we launched the Alzheimer's Association Comfort Zone comprehensive service, we've seen those with Alzheimer's gain more independence while providing their families with greater peace of mind," said Alzheimer's Association's senior director of constituent services, Beth Kallmyer.
The prevalence of medical apps isn't limited to the hospital and the home. On 18 May 2011, the Ford Motor Company announced that it was collaborating with Medtronic, WellDoc and SDI Health to introduce health apps to the company's cars via the Ford SYNC platform. Apps like WellDoc's diabetes manager system and Medtronic's in-development glucose-monitoring system will be accessible via voice control.   
Apps for medical professionals
As well as those focused on patients, increasing numbers of apps are being designed to be of use to medical professionals, although the higher levels of knowledge of this audience requires a greater amount of thought for them to be useful.
"Increasing numbers of apps are being designed to be of use to medical professionals."
Some companies have concentrated on filling gaps in the market, like Nuance Communications, which has developed the Dragon Medical mobile recorder app to allow time-deprived doctors to dictate their notes and have them automatically transcribed into text reports that can then be imported into electronic health records (EHRs).
EHRs have also migrated onto portable devices, with many now available for smart phones and tablet devices. One such app is DrChrono, a comprehensive portable EHR platform for health professionals.
This app provides a template (or allows users to create their own) for adding ongoing patient information, including voice recording and transcription, paperless medical billing for health systems where insurance companies are involved, and the ability to import X-rays, electrocardiographs and lab results. The iPad platform also allows doctors to import recorded video, adding an extra layer of visual information.
As well as providing new means of collating and organising information, apps can prove useful to medical professionals and students looking for portable repositories of medical data. For example, Informed Publishing offers an app providing reference information for emergency response staff and trainee ER doctors.
A partnership between Cambridge University Press and software developer GYLO, also announced on 18 May 2011, aims to condense medical tomes into interactive mobile apps. The focus of the partnership will be creating interactive books that allow users to find information quickly through hyperlinks and intuitive searches. Cambridge University Press innovations director Eric Baber expressed the appeal of this software for students and professionals. "These new apps will mean that medical trainees and practitioners have knowledge at their fingertips when learning and practising," he said. "The landscape of learning is rapidly changing and it's vital that we adapt with it."   
App development
The number of medical apps on the market should not be taken as an indication of the ease of app development. Some observers have expressed doubts about whether a health app can achieve a sustainable revenue flow through effective monetisation of the product. The app market is one in which customers increasingly expect high-quality features at little to no cost, after all.
"EHRs have also migrated onto portable devices, with many now available for smart phones and tablet devices."
Mobile research specialist research2guidance recently released a report on the mobile health market and potentially successful business models. According to the organisation's research, medical app developers are beginning to turn away from the concept of charging for the apps themselves in favour of other revenue streams. Popular examples of these include providing free apps that offer chargeable medical services, and releasing free apps that are designed to be used in conjunction with paid-for physical medical devices like the iHealth app's blood pressure arm cuff or blood glucose monitoring devices for diabetes apps.
As mobile technology continues to gain traction in hospitals and among patients and medical professionals, it's clear that apps will have a role to play for the foreseeable future.
Whether by making the lives of patients with ongoing conditions convenient and more connected, or giving doctors extra resources to organise their data and interact with their patients, the ability of apps to simplify the complex is a powerful medical tool.