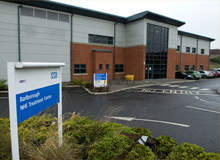 As the UK population ages, the country must make a commitment to provide quality care for an increasing number of elderly people every year.
The Office for National Statistics has forecast that by 2034, 23% of UK residents will be aged 65 and over, compared with 18% of those under 16. Perhaps even more astonishing is the projected increase of the number of people aged over 85 by 2034, set to be 2.5 times larger than 2009's figures, reaching 3.5 million.
The demand for treatment for the type of conditions that typically come with age, such as Alzheimer's disease and osteoporosis is, as a result, set to reach new heights. But, with worrying reports suggesting that the National Health Service (NHS) is failing to treat elderly patients with care, dignity and respect, the UK could struggle to come out on top.
Neglect and abuse
In May 2011, a report compiled and published by the Care Quality Commission (CQC), an NHS care regulator, raised serious concerns about the way NHS hospitals treat elderly people, noting that three facilities had failed to meet legal standards for giving patients enough food and drink and treating them in a dignified way.
After a series of inspections, the CQC found that the worst offenders were The Royal Free Hospital in London, Ipswich Hospital, and the Alexandra Hospital in Worcestershire, with patients in the latter facility being served meals while they were asleep, or not sitting in the right position to be able to eat.
Another report brought forward by the Health Service Ombudsman in February 2011 concluded that the reasonable expectation that an older person or their family may have a dignified, pain-free end-of-life care in clean surroundings is not being fulfilled by the NHS.
"Instead," said health service ombudsman for England Anne Abraham, "the NHS is failing to respond to the needs of older people with care and compassion and to provide even the most basic standards of care."
"As the UK population ages, the country's long-term commitment to providing quality care for the elderly grows every year."
The review was based on ten cases of neglect, but these cases were far from isolated. Of nearly 9,000 complaints to the ombudsman about the NHS in the last year, 18% were about the care of older people.
One woman recalled how her 72 year-old-husband was suffering from Parkinson's disease when he was submitted to West Park Hospital, after his medication dramatically disturbed his mental health.
Following a health assessment, he was said to be in a calm and pleasant mood, but was given an antipsychotic drug, which left him in a 'zombie-like state', which, his family said, 'robbed him of his dignity'. In another case, a woman complained that her aunt was taken on a long journey to care home by ambulance. She arrived strapped to a stretcher soaked in urine, dressed in clothes that were not her own.
These harrowing accounts have painted a disturbing picture the UK health sector, which must now overcome an additional level of concern, felt by already anxious patients.
Dignity and privacy
Different patients have different levels of expectations when it comes to how they should be cared for, and therefore define dignity in care in various ways.
On 25 February 2011, Dignity in Care Day gave Care UK, an independent care provider that generally treats NHS patients, the chance to define what dignity meant to the organisation. Care UK regional director Suzanne Lawrence explains, "In Portsmouth, we gave patients a leaflet that set their expectations on how they should be treated at one of our facilities.
"It noted that patients should be asked how they prefer to be addressed; staff must ask permission to enter cubicles; a nurse should close the curtains when leaving so patients can get dressed in comfort; and they should make sure that they are out of earshot when discussing a patient's condition with them, whether or not they consider it to be embarrassing. For some elderly people, anything about their personal healthcare is a deeply private subject," she adds.
"The NHS is thought to be failing to respond to the needs of older people with care and compassion."
In a questionnaire, Care UK asked patients if their expectations had been met and received positive feedback, many other healthcare providers, however are failing to meet the most fundamental requirements, such as providing same-sex accommodation.
The UK's Labour Party declared 14 years ago that it would work towards the elimination of mixed-sex wards, hospitals and treatment centres are still violating government commitments. Data published by the Department of Health in May 2011, shows that there were 2,660 breaches during April. This is a significant drop, however, from the 11,802 breaches reported in December 2010.
Back to basics
It is the finer details that matter when it comes to patient care and it is these details that could instantly precipitate good health or an admission to the emergency department for an elderly person.
As part of a homecare project, Care UK interviewed five carers involved in helping their frail and elderly relatives. "It was interesting to hear about the things that led to a sharp decline of health and then hospital admission," says Lawrence.
Such incidents included the patient dropping a TV remote, not being able to get the batteries back in, becoming panic-stricken and forgetting to take their medicine. "To some people their television is an absolute lifeline to them feeling safe and not alone," she adds.
"Another example would be someone leaving a frail person a meal covered in packaging that they couldn't open, which would mean them going without food for six hours because they didn't want to bother anyone."
When it comes to at-home help, some healthcare providers, including Care-UK are looking to invest in telecare to conduct remote consultations. The advent of new and exciting technologies means that patients can measure their own blood pressure, sugar levels, heart rate and temperature without having to visit hospital.
"Some healthcare providers, including Care-UK are looking to invest in telecare to conduct remote consultations."
But Lawrence insists that the telephone is the best form of telemedicine, "If you have a vulnerable client group and proactively telephone those people, that in itself, even without any biometrics uploaded, can be a very powerful tool to check their breathing, find out if they have taken their medicines, if they know where they are, etc."
Exceptional services
Recent complaints made about the UK health sector have, by and large, targeted the NHS, rather than private institutes, but patient satisfaction surveys have proved that some government-led facilities still provide proper care and compassion, and professional services to old and young people alike.
Jane Sykes, acting director of nursing and governance at the Christie Hospital in Manchester says, "Our monthly patient satisfaction surveys consistently have over 92% patients ranking their care and treatment as 'excellent' or 'good'. We also promote our top results in the national patient surveys for care and dignity and respect.
"We do not segregate cancer patients by age in any way, so the care and treatment for our elderly patients is exactly the same as it is for other patients," she adds.
Lawrence also defends the NHS and insists that where there is strong management and well-trained staff, any healthcare facility can make a difference to a person's well-being, "It's got to be about recruiting the right individuals, being explicit about what the standards are and then holding people to these standards."