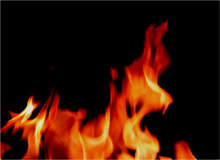 In a busy and populated area such as a hospital, preventing risks from fire hazards and security breaches is crucial. Alarm systems need to be fully tested and secure, and staff need to be properly informed of what to do in an emergency situation. Many issues need to be taken into consideration to help protect both patients and employees if a problem occurs.
SYSTEMS WORKING IN HARMONY
Healthcare fire systems and security systems should not be merged, but the security system should be integrated with the fire system. Parts of both systems need to interface, for example fire doors that are held open, so that both systems function together to complete the protection required. Access-controlled doors with mechanical locking devices need to release upon power failure or activation of the fire alarm system. These may have a delayed opening where allowed by code.
"These systems should stand alone to ensure that fire and security systems do not fail at the same time."
This should be checked with the local Authority Having Jurisdiction (AHJ) – usually the fire marshal/chief. Codes and regulations will vary according to city, country, state, providence or governmental regulatory agencies. All have their own set of codes and regulations and the most restrictive one must be followed.
One reason these systems should stand alone is to ensure that fire and security systems do not fail at the same time. If this happens, security staff could find themselves unable to cover required posts and conduct fire watches when the fire system is down.
Fire watches are required not only when the whole system is down, but also when zones are taken out of service due to work or construction to guarantee patient and staff safety. If a healthcare facility has a security control centre that is manned at all times, the fire system and security system can both be monitored in the same room.
How well do you really know your competitors?
Access the most comprehensive Company Profiles on the market, powered by GlobalData. Save hours of research. Gain competitive edge.
Company Profile – free sample
Thank you!
Your download email will arrive shortly
Not ready to buy yet? Download a free sample
We are confident about the unique quality of our Company Profiles. However, we want you to make the most beneficial decision for your business, so we offer a free sample that you can download by submitting the below form
By GlobalData
STAFF RESPONSIBILITIES AND EMERGENCY
Depending on the size of the healthcare facility and the number of offsite locations monitored, a control centre may need more than one security officer to monitor all systems at one time. These officers are also in charge of dispatching the responding officers. The dispatcher must be properly trained in emergency response to avoid being overwhelmed by demands or putting individuals at risk. Some facilities have two dispatchers to avoid risking an inappropriate action in an emergency
situation.
One alternative is for facilities to have a remote fire alarm annunciation system in the PBX (switchboard) to announce Code Red or the emergency code a healthcare facility uses for fires. Most associations and public safety officials recommend that Code Red be used as the universal code for fires in healthcare facilities. The primary reason for consistency in the codes is that medical and nursing staff often work at multiple facilities, making it easier for them to remember codes and respond appropriately.
Smaller healthcare facilities usually rely on a central station where the alarm rings at the local fire station or a company whose purpose is to provide central station services. It is a good idea to check references on the company and their response capabilities. If they are located too far away and they do not have appropriate response capabilities, you will be without service. Drills will enable hospitals to check staff response and the response time of the alarm company.
Smaller facilities usually have all offsite location alarms, such as fire, burglary, break-in and hold-up alarms, monitored by these companies. It is a good idea to have a Knox box, containing all keys used to access a building, at offsite locations. Knox boxes are attached to the outside of the building and fire departments have keys to open them.
Keys or access control cards to the building can be kept inside to allow immediate access. Some healthcare facilities will dispatch officers to a fire alarm to check out the scene before calling the fire department, but this can waste precious time and could cost lives in case of an actual fire The fire department should be called at the same time security is dispatched: it is far better to err on the side of caution.
A fire will flash over in a care room in 136 seconds. Flash over means that everything in the room is in flames. This scenario can be viewed in a video put out by The National Fire Protection Association called 'Fire Countdown to Disaster'. This video should be viewed by administrators, directors, security and engineering and perhaps others. The aim is not to scare people but to help educate them on fire spread and the hazards associated with fires.
SECURITY MEASURES
Unlike with fire alarms, not everyone needs to jump into action with a security alarm. Only healthcare professionals who are properly trained to respond to security alarms should be deployed. Such situations can include management of aggressive behaviour, violence, a patient out of control, infant abduction or trespassers.
Besides fire alarm systems and security alarm systems, engineering alarm systems are also monitored. These could include heating, ventilation and air-conditioning (HVAC) and direct digital control devices used to control fire/smoke dampers in air handling units and duct work.
Non-engineering systems such as refrigerator and freezer alarms in the lab, blood bank, clinics or morgue can be audible alarms as long as someone is available to hear them at all times. These alarms would be acceptable in a healthcare setting but not in an offsite location.
Each system needs to be tested regularly to ensure the safety of all facility occupants, and to check that the system is working properly. Staff should be properly trained in response to guarantee the safety of patients, other staff, visitors and doctors. Training should include responding to all alarms as if they are real. Drills should not always be announced, so that staff response can be evaluated. Drills are a good opportunity to re-educate the staff on proper response and emphasise how important it is that procedure is followed at all times.
ALARM SECURITY ISSUES
Certain systems may have a high frequency of false alarms. In healthcare security systems there are two potentially problematic areas: newly installed infant abduction alarms and panic alarms accidentally hit due to the location of the button. Fire alarm systems can be easily activated by bees, spiders, dust, static from linen carts, or big bouquets of helium balloons. In HVAC systems the build up of humidity in the duct work can set off the fire/smoke detectors.
"A fire will flash over in a care room in 136 seconds. Flash over means that everything in the room is in flames."
Staff education can help to alleviate some of these false alarms, but not all. These false alarms can be frustrating for staff, because they can disrupt patient care. However, they should be reassured that it is important to respond, because the one time they do not do so could be a real fire or security problem.
The other common variable is that construction is ongoing at healthcare facilities. Telecommunications often find open alarm lines while testing and it can take days to test all alarm points to ensure that they remain in working order.
INTERFACE, NOT INTEGRATE
There are several systems that have numerous alarms. For some of the reasons previously discussed, these systems should all stand alone but have the appropriate interfaces. All of the alarms can be monitored at the same location but must also have mirror systems monitored at other locations. In short, you can interface, but not integrate fire and security systems.
There is one thing to remember when setting up a new system or updating an old system in a healthcare facility: it is advisable to get the local AHJ involved from the beginning. They are a valuable resource. All government regulatory standards and codes must be met or exceeded. The other important consideration is to promote good staff education for all of these systems: people response is essential for dealing with such emergencies in a healthcare setting