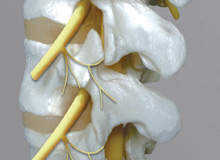 The facet joints in the lower back are a very common cause of pain. They can be damaged by a sudden twisting injury, causing very acute pain, or by osteoarthritis, which results in a chronic low-grade ache with regular acute 'flare-ups'. Facet joint pain is felt in the back, but it often travels down the leg(s), usually, but not always as far as the knees. It is made worse by prolonged sitting or standing, and is often helped by limited, gentle movement.
Initially, facet joint pain is best treated by physiotherapy and/or osteopathy. In some cases the patient needs to take painkillers. The pain can often be relieved for a period of several weeks by carefully targeted injections of local anaesthetic and a depot steroid carried out under X-ray control. These simple injections may be all that is required for acute injuries.
"RF facet joint denervation is of benefit to properly selected patients who have had a positive diagnostic block."
Longer-term problems often respond to radiofrequency (RF) joint denervation, where the operator can locate the medial articular branches of the posterior primary rami which supply the joints and then destroy them with the high-frequency electrical current produced by the technique.
Lumbar and lumbosacral facet joint denervation is widely used in the management of lower back pain, and according to a paper published in Spine, "the complication rate for radiofrequency facet denervation is quite low".
The technique is straightforward and can safely be performed on an outpatient basis under local anaesthesia and intravenous sedation. Post-procedure morbidity is virtually nil, and training courses in the use of RF are organised all over the world.
RF LESIONING TECHNIQUE
RF lesioning involves the passage of a very high-frequency current down a #27 thermocouple probe. This probe is itself inserted through a special #22 cannula, which is fully insulated except for its tip. When the current is passed down the thermocouple probe, it heats the surrounding tissues to a temperature, which can be totally controlled by the operator. The probe itself does not heat up.
The nerve is first located by passing a stimulating current down the thermocouple probe. A destructive current is then passed down and a well-circumscribed lesion created. The cannula is placed close to the nerve to be lesioned under X-ray control. The stilette is removed from the cannula and is replaced by the thermocouple probe.
The operator initially attempts to seek the nerve by low-voltage stimulation at a frequency of 50Hz (one seeks the strongest possible sensory stimulation at the lowest possible applied voltage). The cannula needs to be within 3mm of the nerve in order to create an adequate lesion, and a maximum stimulation level of around 0.6V would indicate this.
The operator should always ensure that the cannula/thermocouple probe is not dangerously close to any motor nerve in the vicinity of the sensory nerve being lesioned. This is done by applying a motor current of 2Hz. Used appropriately, RF lesioning does not cause neuropathic pain, since the nerves targeted are tiny.
EVIDENCE BASE
RF facet joint denervation is of benefit to properly selected patients who have had a positive diagnostic block. According to Vervest: "The treatment of chronic pain with RF lesioning is versatile. It offers long-lasting, reproducible lesions in well-defined target structures and has many favourable aspects above neurolytic fluids and cryolesions. The results can be very good with few complications if procedures are performed under fluoroscopic control by experienced specialists."
There are three randomised double-blind controlled trials (RCTs) for lumbar facet RF. In their systematic review of these RCTs, Geurts et al concluded "that there is moderate evidence that RF lumbar facet denervation is more effective for chronic low back pain than placebo". There is also evidence provided by other good-quality papers, which are not RCTs but are based on the treatment of many patients.
PULSED RF: EXCITING POSSIBILITIES
It has always been assumed that it is only the heating that causes an effect on neural tissue during RF lesioning.
However, while making a RF lesion, the tissue which surrounds the tip of the electrode is also exposed to a concentrated electromagnetic field. It is possible that this electromagnetic field may be instrumental in causing the clinical effects of RF quite independently from the thermal factor. The electromagnetic field may induce changes in cellular behaviour.
"Many cases record from four to 24 months of relief from a pulsed RF procedure."
For nearly all cell types, the heating of tissue above 42°C for several minutes will indeed result in cell death. A 'tip temperature' of 40°C or higher is therefore necessary to create a heat lesion in the tissues. In order to eliminate any possibility of a heat lesion being produced, Sluijter suggested a RF technique that uses a temperature of no greater than 42°C and that uses the strong electromagnetic field generated by the passage of the radiofrequency current to achieve pain relief.
In order to apply an electromagnetic field to the tissues without raising the tip temperature above 42°C, the RF current is applied in a pulsed fashion. The 'silent' period between pulses allows for the dissipation of heat produced during the active cycle. This delivers a high generator output without raising the tip temperature above 42°C.
Cosman and Sluijter have modified the standard lesion generator so as to deliver RF current bursts at a repetition rate of 2Hz, each burst being 20msec long; the rest period is therefore 480msec. Most current RF lesion generators are now capable of delivering both pulsed and conventional RF.
Sluijter describes four phases in a pulsed procedure: a stunning phase, which provides immediate relief; a phase of post-procedure discomfort, which may last for up to three weeks; a phase of beneficial clinical effect, which is of variable duration; and a phase of pain recurrence.
We are still in the early days but many cases record from four to 24 months of relief from a pulsed procedure. Pulsed RF therefore opens up many exciting opportunities. It produces pain relief without any clinical nerve damage, thus allowing the pain specialist to direct his attack at a larger number of targets in the nervous system.