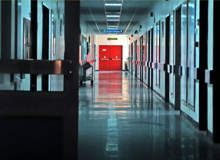 Reforming the US healthcare system was a key component of Barack Obama's US presidential campaign. In a nationally televised news conference on 22 July 2009, the issue dominated above all others. But having started his presidency with such momentum, the challenges that surround reforming America's cumbersome and expensive healthcare system – which makes up 16.2% of US GDP – are beginning to slow Obama in his tracks.
Obama had promised that he would get a bill passed before the end of 2009 but talk of tax increases to pay for the changes is proving unpopular. Now, some are asking whether he should give up this battle and pay more attention to tackling the inefficiencies of the hospital system.
Double-edged sword
Obama sees the problems of the healthcare system as falling into two key areas. On the one hand the US hospital system is incredibly expensive. In 2007, the US spent $2.2tn on healthcare, which equates to $7,421 per resident.
On the other hand, the US does not have universal health coverage and it is therefore up to the individual to obtain insurance – a move 47 million Americans are said to be failing to carry out.
Frost & Sullivan consultant for the Americas covering healthcare and life sciences Arun Ravi says that he is surprised this widely reported figure is so high. "For people who are uninsured, there are the COBRA [Consolidated Omnibus Budget Reconciliation Act] health benefit provisions," Ravi says.
"Some are asking whether Obama should give up this battle and pay more attention to tackling the inefficiencies of the hospital system."
"If you earn below a certain salary or are above 65 years old you are covered by Medicare. They say there a lot of people uninsured but what demographics do they belong in? It is really hard to validate those numbers."
In addition to scepticism surrounding the key facts, there are a number of groups that each have their own reasons to oppose a universal healthcare system. For instance, opposition Republican politicians argue that merely insuring everyone is not a one-stop answer and are largely against Obama's revenue-raising plans.
The scheme Obama is proposing could force the richest two million Americans to stump up the $1tn needed to provide healthcare to all in the shape of an additional 5.4% tax on current salaries – not a popular move in a recession. Joining the Republicans and the high-wage earners against the plans are the pharmaceutical firms that have put forward the cash to put many of today's leading drugs on the market. "There are a lot of companies that would really not support a universal healthcare model where the government controls the pricing of drugs," Ravi says.
Even Obama admitted in a recent news conference that reforming the insurance policy won't automatically change how people will be treated. He does argue, however, that the proposals will ensure that doctors make decisions based on the best medical treatment and not because of what treatments bring in the highest fees or because of what accountants dictate.
Improving standards, cutting costs
Ravi says that better standards of care could be reached if inefficiencies in the hospital system were reduced. "Hospital costs have been going up so much that the hospitals are not making money out of Medicaid like they used to," he explains.
"It really has to be worked out from the bottom up. If you just start throwing money at the problem in a top-down approach it really doesn't solve the issue because you are going to have the same inefficiencies at the hospital level."
There are already schemes in place to tackle elements of hospitals' inefficiencies, such as the mandatory introduction of electronic health records in every hospital by 2014. However, with 80–85% of healthcare visits being carried out in a physician's office, some say even this scheme misses the mark.
"Obama's proposed scheme could force the richest two million Americans to stump up the $1tn needed to provide healthcare to all with an additional 5.4% tax on salaries."
A new white paper by PricewaterhouseCoopers, 'Delivering on the Promise of Universal Coverage', says that initiatives such as workplace clinics may go further than expanding insurance coverage, which would exacerbate deficiencies in the healthcare system. It also found that the misuse of emergency rooms by patients increased when the number of insured patients was higher.
Ravi says, however, that it is important to improve treatment options before politicians shift their focus to treatments in the home or office setting and preventative medicines. Instead, one area of priority should be making sure that there are enough doctors and nurses specialising in geriatrics to treat the 'Baby Boomers' generation of the 1940s and 1950s. This group will be hitting retirement age between 2010 and 2020 and it is an area of medicine that is suffering from a shortage of skilled staff in the US.
In addition, there should be more standardisation of treatment processes, Ravi argues. Hospital oversight committees should be less focused on malpractice lawsuit concerns and instead concentrate on ensuring cost-effective, improved standards of care.
For Obama the remainder of 2009 is likely to be very tough. There are five separate groups in the Senate and the House of Representatives working on bills, covering everything from a law requiring individual Americans to obtain health insurance to mandates for employers.
Ravi says that Obama may have to be realistic in what he will personally be able to achieve. "Each president is stuck with a four-year term and they have to realise that a lot of the ground work they put in will hopefully improve the system in the future," he explains.
"There have been bad decisions on more bad decisions in the past and it is going to take time to sort the system out. Obama made a lot of promises when he came into office, which essentially came down to saying 'I will solve all your problems' and people are going to take him up on that."