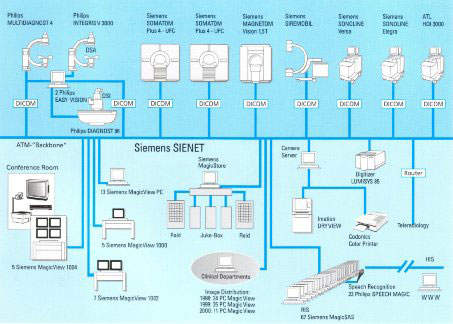 Across the world, significant efforts are being directed towards providing integrated electronic patient records, such as Connecting for Health, the national IT programme in the UK.
A major advantage of this is timely access to the results of healthcare encounters with a patient, including results of diagnostic procedures, by clinicians anywhere.
"The PACS data network should provide a seamlessly integrated information management structure."
Access to images is also useful in many circumstances, and standards to enable safe clinical use of digital images are required.
Building on existing specifications produced by the Digital Imaging and Communication in Medicine (DICOM) organisation and the ISO Technical Committee for Health Informatics (TC215) has made a significant contribution by rapidly defining means of accessing DICOM objects in a web-browser environment.
PACS DATA NETWORK
A Picture Archiving and Communications System (PACS) data network is a computer network system designed to transfer, store and retrieve digital medical images for viewing at the right place, and at the right time. It integrates data from system to system, inside and outside healthcare departments, and ensures that images and image-related data are made available as needed at the point of care. PACS stands for the following:
Picture – digital diagnostic image, typically radiological
Archiving – electronic storage and retrieval, so no lost films
Communication – computer network with multiple access and IS integration
System – control of the processes with integrated technology
The system architecture is typically a number of imaging modalities (CT, MRI) connected to a PACS archive and a number of reporting and review workstations – there can be over 200 onsite. Then, together with web clients, they can view reports and images – there can be over 500 on and off site – by being interconnected with PACS data networks.
The PACS data network should provide a seamlessly integrated information management infrastructure within the department and the enterprise to improve care, service and productivity, while enhancing the quality of the work environment in a secure and reliable manner.
However, currently healthcare computer systems do not share information effectively. Integration with external systems is a major issue, and there is gross underestimation of data volume for PACS due to the increase in amount of data per image (multi-slice CT) and increase in amount of images per study.
IHE, HL7 AND DICOM
In the complex area of healthcare imaging there are few standards that can be implemented in isolation.
"Currently healthcare computer systems do not share information effectively."
For this reason an initiative known as Integrating the Healthcare Enterprise (IHE) was initiated by the US Healthcare Information and Management Systems Society (HIMSS) and the Radiological Society of North America (RSNA).
Because of the global nature of the imaging technology market this quickly became an international organisation with a scope that is now reaching beyond imaging.
However, IHE remains a non-profit organisation sponsored by professional bodies and healthcare suppliers, and retains its original mission – to enable the smooth working of IT for the creation and use of the results of diagnostic procedures by diagnostic ser vice departments, while reducing the costs of implementation as far as possible.
A characteristic part of the IHE methodology is its annual multi-vendor interoperability testing sessions for healthcare supplier products. These ensure global conformance with the IHE integration profiles.
IHE PROFILES
IHE provides a methodology that tailors existing healthcare communication and messaging standards to fit the requirements of defined healthcare tasks. The correct use of standards to support these tasks is specified within the IHE integration profiles.
These profiles allow smooth implementation in healthcare at significantly reduced cost using networked computer systems, whether for health records, workflow and scheduling or for the processes of image acquisition and display. Furthermore, the adoption of IHE specifications on a national scale provides support for interoperability of health records on an enterprise-wide scale.
"PACS is a computer network system designed to transfer, store and retrieve digital medical images for viewing."
The availability of systems which are IHE-aware from a number of different suppliers reduces costs of purchase, minimises risks and supports flexible future IT strategies.
Within the enterprise the use of IHE-aware IT systems avoids the need for inefficient, error-prone and time-consuming manual processes.
Critically, the IHE technical framework depends on the existence of standards (although it has to be said that it also identifies gaps) in order to create profiles.
To date the IHE work has concentrated on profiling two of the most widely used standards in healthcare worldwide; the ANSI Health Level 7 (HL7) standards, used for hospital messages, such as diagnostic procedure orders and results, and the DICOM specification.
Both standards predate the formation of the ISO TC215 Health Informatics committee and the key provisions of both are being introduced to ISO for formal adoption as international standards, thus providing specifiers with a clear indication of their international value on a global basis. DICOM has, since the establishment of TC215, a type-A liaison, which enables it to provide documents for ISO adoption.
THE ISO CONTRIBUTION WADO
The DICOM standard is widely accepted in the medical imaging area, including radiology, cardiology, pathology and radiotherapy, as well as in specialities using visible light imaging equipment (such as endoscopes and microscopes) as being the specification of choice – indeed, there is no alternative.
The requesters of diagnostic imaging procedures and healthcare providers require rapid and reliable access to reports and images. Within computerised environments such access is increasingly based on web technologies. Access to relevant DICOM-persistent objects is required without the need for duplication of such data objects.
"PACS integrates data from system to system, both inside and outside healthcare departments."
Clinicians need to have access either to the original data in native DICOM format, which allows extensive image manipulation using specialised software that makes use of the detailed DICOM meta-data, or rendered into a generic format (such as jpeg and pdf) that can be presented with off-the-shelf applications.
The ISO Web Access to DICOM Objects standard specifies the means whereby a request for access to a DICOM persistent object can be expressed as an http url/uri request (according to RFC2396).
This includes a pointer to a specific DICOM persistent object in the form of its unique instance identifier). The request also specifies the format of the result to be returned in response to the request. Examples include:
MIME content type (for example, application / DICOM or image / jpeg for images and application / DICOM or application / rtf or xml for reports)
Content encodings
Reports such as HL7s CDA Level 1
Specifications of requirements for additional DICOM-persistent objects and formats for the responses from the server will be produced in the future as required.