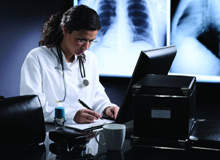 Whether it's spending long hours in front of a poorly adjusted computer screen in a badly lit room, rushing about with arms full of heavy folders of CT scans, or poring over mammograms with a magnifying glass, the physical day-to-day demands on radiologists can be surprisingly intense. In fact, according to the US Occupational Health and Safety Administration, radiologists working under a heavy workload (as most do) potentially face a range of health issues, including musculoskeletal and repetitive strain injuries, eye strain, lumbar disc problems and even carpal tunnel syndrome.
Of course, as clinicians, radiologists are professionals and will get on with the job – which is often as much part of the problem. There can be, as elsewhere in the medical profession, a sense that, as a high-achieving, hard-working professional, complaining about something as "trivial" as bad lighting, workload demands, poor facilities or even an actual injury is an admission of failure or weakness. There may be, too, a temptation to try to self-medicate or "put up and shut up".
But ergonomics and occupational injuries are real issues for radiologists, and ones that both hospital administrators and radiologists need to be recognising, stresses David Hirschorn, director of radiology informatics at Staten Island University Hospital, New York.
"Most hospital administrators do not understand what radiologists need in a room. And in fact, most radiologists do not understand either; they are not ergonomic experts. So this is something that radiology informatics and ergonomics specialists could perhaps be taking more ownership of," he explains.
For example, eye strain and musculoskeletal issues such as bad backs, sore shoulders, upper limb and tendon disorders and repetitive strain injuries are all well-recognised consequences of computer over-use, and can be a particular issue for radiologists, argues Hirschorn.
"The physical day-to-day demands on radiologists can be surprisingly intense."
"Radiologists tend to use computers in a different way to everyone else in the world. Rather than just working on a monitor or using it as an IT device, they will be using their computer as an imaging platform. So the monitor they have is very important.
"It is a bit like having an expensive violin – it all has to be calibrated and set up very carefully. A lot of radiologists will have four monitors that they will be working on, rather than just one. Some will be for image displays, some will be for navigation and so on. So there may be several hundred computers within a department.
"Having said that, the viewing distance from the screen should not be different. Radiologists should not have their face closer to the screen than anyone else and, in fact, should probably have their face further away. The exception, probably, is if you are dealing with a mobile phone or portable device, where you will probably have to hold it quite close to your face," he adds.
"If the monitor is placed too high, for example if you are using more than one monitor and if it is placed in a portrait rather than landscape display, and if you are having to tilt up from the horizontal routinely, then that is going to cause strain. You do not want the person to be too low and you do not want the table too high.
"Having said that, radiology reading is not like normal word processing; most of the stuff you need to be looking at will be in the middle of the screen. But you do have to plan for the desk to be a bit lower and make sure the chair can be raised," he continues.
Pointing the way
Then there is the issue of using a mouse constantly, with radiologists needing to vary the way they work between a mouse, microphone and pointing devices, Hirschorn suggests.
"With the mouse, it depends on how the software has been written. If the software has not been designed well that can lead to a lot of extra mouse work, which can be both tricky as well as, in time, downright painful.
"Ergonomics and occupational injuries are real issues for radiologists."
"If you have to claw your way through a CAT scan, which may have 300 to 400 images, it is not going to be OK if you are having to click and drag all the time. And if you have 20 to 30 CAT scans to deal with on a shift, by the end of the shift you can be in real pain," he adds.
Contour designed mice or rollerbar mice, which mean (unlike a rollerball mouse) you do not have to crowd your hand around them, can all help. "With a rollerbar you can scroll up and down with either hand and all ten fingers," says Hirschorn.
Similarly, it is important that workstations are fully adjustable, particularly as it may not be that the same radiologist is working at the same workstation day in and day out. Adjustability is also important at a practical level when it comes to ensuring that a workstation can be effectively cleaned around and elevated.
Or it can simply be that the physical environment – the lighting particularly – is simply not right. "Most radiologists work in the dark; not because they want to, but because the lights are so wrong they end up just turning them off," explains Hirschorn.
"But you should not be reading in a room that is too dark or too bright. You need, ideally, adjustable light, so that the amount of light bouncing off the walls should be the same amount of light coming off the computer screen. That prevents your iris from having to open and close all the time as you move your eye around.
"If you are sitting in a completely dark room with a computer screen in front of you, it hurts pretty quickly. And if it is too bright you can miss subtle sights on the computer screen. Similarly, if the lighting is too low you can end up misdiagnosing. So what can work is dimmable lighting that can be reflected off the ceiling, perhaps with an inverted shade. It does not have to cost a lot of money. It is just about understanding the issues," he adds.
Too much work?
Wider workload issues also need to be taken into account. Are there, for example, too many demands and expectations being put on an over-stretched department, meaning the radiologists are always under pressure and having to work at too high a speed or too intensively without a break?
"Radiology does not need to be so high speed; it does not need to be an endless stream of images. There are now alternate devices, but the quantity is still a major issue. There are more images to study and more images every day," says Hirschorn.
"Radiologists tend to use computers in a different way to everyone else in the world."
There is beginning to be some recognition of these issues among hospital administrators, though still not enough, argues Hirschorn. There is also not yet enough of an understanding that, while it is possible to buy bespoke equipment and furniture, solutions may not necessarily always cost a fortune. Better education around screen breaks and working practices or posture, for example, can be carried out at little or no extra cost.
When planning departments, too, it should be relatively straightforward to include ergonomics within the thinking process, whether or not you invest in bringing in an expert ergonomics consultant. Again, ongoing education and a reinforcement of good practice and good habits are normally vitally important.
For the radiologist, what is important is to recognise when there is a problem, act on it and seek help; don't suffer in silence because it will only get worse. Beyond the obvious physical and mental health benefits this approach can bring, it could also make you better at your job, suggests Hirschorn. "If you have a healthy radiologist, you will probably end up with a good interpretation."