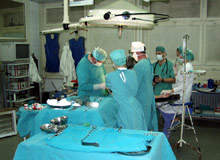 The amount of public and media attention focused on the performance of hospital managers clearly demonstrates just what a difficult balancing act managing within this sector can be.
Maximising efficiencies without compromising patient care, planning appropriately for particular trends and events, dealing with almost constant change and making the right decisions about technology are just some of the areas in which managers have to maintain consistently high standards.
Within this context, the "learning as you go along" option does not necessarily seem the most logical approach as even the most capable individual could find themselves with a significant gap in their skills, dependent on what types of situation they encounter.
Not surprisingly, therefore, there has been an increasing focus on systematic management development within the hospital sector in recent years and an MBA is certainly one option for those considering a senior management role.
"MBA qualifications enable students to consider a number of key subjects in depth."
These qualifications enable students to consider a number of key subjects in depth, such as managing finance and projects, what constitutes a strategic approach to management and understanding the economics of organisations.
They also help to fine-tune people and leadership skills, to which organisations have given increasing weight with the realisation that even the strongest strategic capabilities will not achieve the desired outcomes if a manager is not able to motivate and inspire other employees.
Study support
The extent to which hospitals recruit senior managers with MBAs, or actively support existing staff in studying for them, varies from country to country. The MBA was invented in the US about 100 years ago, so is firmly established there as the qualification that offers evidence of managerial competence. Consequently, it is very much seen as the route towards higher level roles across all sectors.
The situation is somewhat more complex in the UK, where NHS pay policy now states that managers entering senior job bands should hold a master's qualification or have an equivalent background. This could, however, relate to a variety of different types of master's degrees – including those more closely linked to a particular specialism – and equivalence can encompass a particular level of experience and other forms of professional development. In this context, an MBA can clearly play an important role in qualifying a candidate for a high proportion of senior roles where otherwise the suitability of their experience might be debated.
In addition, there is a trend for more doctors, nurses and other medical specialists to take MBAs either because they wish to be able to access promotion opportunities or because, with current organisational structures, they are taking on increased managerial responsibilities for which they do not feel particularly well equipped. Current UK NHS guidelines focus heavily on the need for medical staff to improve general management skills, and the links between this and overall
effectiveness.
Putting the hospital into the MBA
Another indication of the raised profile of MBAs in the sector is the growing number of business schools across the world now offering specialist healthcare qualifications.
"NHS pay policy now states that managers entering senior job bands should hold a master's qualification or have an equivalent background."
However, the issue of generic versus sector-specific MBAs is itself a subject of some debate. A sector focus for MBA programmes is still a fairly recent development and a lot of the highest profile and most prestigious qualifications still follow a more traditional model.
Sean Rickard, director of the Cranfield School of Management MBA programme, says he believes that focusing on sector-specific information takes valuable time away from learning important management skills.
"MBAs are supposed to be providing training and preparation for senior general management," he says. "You could take someone from one of our programmes and they could operate effectively across the board. When you become a senior general manager, you're not the expert, what you need to be able to do is manage experts."
The price of knowledge
One of the big issues surrounding MBAs for potential students and their employers is cost. This is not a cheap option under any circumstances but fees can vary. In the UK, for example, it can be anywhere from £10,000 to over £40,000. The proportion of students being sponsored by their employers is actually relatively low across all sectors, so coming up with the funds is often down to the drive of the individual wishing to take the programme.
Hospitals do sometimes fund their staff. The Greenwich School of Management in London reports that 35% of its healthcare MBA students are funded by the NHS. However, policies on sponsorship will vary greatly in different organisations.
A whole raft of other considerations will also affect an individual's choice of course and whether or not their employer will provide any funding – for example, the level of commitment involved and whether study can readily be accommodated alongside work. Various options exist to suit specific preferences and circumstances– full-time, through part-time and modular, to distance learning programmes that offer maximum flexibility.
Another factor that may influence the willingness of a hospital to provide sponsorship is if the programme will provide immediate, quantifiable benefits to the organisation. MBAs commonly offer the option for students to undertake research or projects looking at specific workplace issues, which could effectively fulfil the role of consultancy.
A degree of cynicism sometimes surfaces in relation to the actual concrete benefits of MBAs. Often this will take the form of anecdotes or views about individuals who can "talk the talk" but do not seem to be able to translate this into any form of action that brings significant, positive benefits to the organisation. Such negative experiences can then have a knock-on impact in terms of attitudes towards others with MBAs or those seeking to study for one.
"The issue of generic versus sector-specific MBAs is itself a subject of some debate."
Apart from the quality of the MBA course in question, such problems often have their origins in how well qualified the person was to study for one in the first place.
Programmes are not meant to provide a clean slate for someone with a chequered or unimpressive career past. The MBA philosophy is about making someone of high potential even better, hence the rigorous selection process typically employed by respected business schools.
MBAs are also not designed for individuals with limited work experience, despite a growing trend to make them available to students who have only recently taken their first degree. The Association of MBAs, the global accrediting body for postgraduate business education, states that MBA students should have five to ten years work experience behind them.
Hospitals should have effective succession planning and leadership development processes in place to get the best out of employees with strong senior management potential. This should include identifying such individuals in their early to mid 30s and establishing if an MBA is the right approach. Should they decide to finance an MBA, they clearly want to continue benefiting from the employee's skills, so there should be a strategy for retaining that individual, for example involving a planned enhancement in job role and remuneration post-qualification.
MBAs cannot work miracles, but they can release and mould true potential – with the knowledge, skills and enhanced confidence they provide. Making the right choices and managing the experience for maximum benefits is the key for both individuals and their employers.