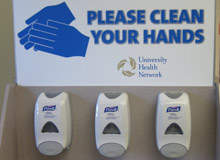 Australia's history in establishing a national coordinated approach on the issues of infection control in hospitals has not been a happy one.
Over the past 20 years different Federal Governments have established committees, councils and task forces to formulate national initiatives to control healthcare-associated infections (HAIs).
Rafts of recommendations were made and enthusiastically endorsed by various health ministers, but such was the size of the task of getting the eight different jurisdictions to agree on a national approach, few recommendations were implemented, frustrating the many professionals involved in
formulating them.
In January 2006, the issues regained some much-needed momentum when the government replaced the Australian Council on Safety and Quality in Healthcare with a new safety and quality body – the Australian Commission on Safety and Quality in Healthcare.
The commission had a five-year brief that included urgent attention to developing a national approach to reducing HAIs.
"A major project was the National Hand Hygiene Initiative, which was established to standardise hand hygiene around the country."
The commission got up to speed by establishing a Healthcare-Associated Infection Program with a number of key projects as part of its overall strategy.
The first was the National Surveillance Initiative that explored options for a national HAI monitoring system and in 2008 provided governments with a range of recommendations and guidelines for implementation.
Standardising hand hygiene
A major project was the National Hand Hygiene Initiative, which was established to standardise hand hygiene around the country. Previously all states and territories had their own hand hygiene practices, all of them different.
"People move around between various health sectors and across state borders," said Dr Marilyn Cruickshank, the commission's programme manager. "We wanted to be able to teach people the one system, so no matter where they went it would be the same."
The Commission established Hand Hygiene Australia (HHA) to teach all healthcare workers the World Health Organization's (WHO) "5 Moments for Hand Hygiene" – before touching a patient; before a procedure; after a procedure or body fluid exposure risk; after touching a patient, and after touching a patient's surroundings.
Rather than reinventing the wheel, the commission decided to adopt a successful HH programme adapted from the WHO model already trialled in Victorian hospitals. The pilot project, backed by the Victorian Government, was set up in 2004 by Professor Lindsay Grayson, an infectious diseases specialist from Melbourne's Austin Hospital. It initially involved five hospitals and then widened to include other hospitals across the state.
"Adoption of the WHO's 5 Moments culture-change programme was important because it had the advantages of simplicity and validated clinical accuracy."
The project involved training infection control teams who in turn educated hospital healthcare workers in improving their hand hygiene practices using an alcohol-chlorhexidine 15-second hand rub regime at the 5 Moments.
Over the three-year life of the project, it was found that as hand hygiene compliance in participating hospitals went up, the rates of nosocomial infections declined.
Grayson was appointed to head the HHA, which was launched in all states and territories except Queensland in May 2009. The Australian Government allocated A$4m to the project over three years.
Queensland, which had undertaken its own successful hand hygiene initiative for some years using a different compliance measurement process, began using the 5 Moments measurement in 2010.
Grayson said adoption of the WHO's 5 Moments culture-change programme was important because it had the advantages of simplicity and validated clinical accuracy. It also allowed Australia to compare its rates internationally with other hospitals that had similar healthcare systems (Medical Journal of Australia, October 2009).
HHA catches on fast
The roll out of the HHA programme, in partnership with the health departments in each state and territory, progressed rapidly. HHA developed a standard training and validation program and its teams now run workshops across Australia for infection control practitioners responsible for the HH culture change. These workers are trained how to accurately teach and measure HH compliance using the 5 Moments method in their hospitals.
Grayson said the training's validation feature has been crucial in ensuring all HH compliance data is accurate and comparable between hospitals in different states. Hospitals report monthly and compliance is measured at specific intervals. During the second audit period of 2009, data was collected from a total of 182 hospitals (public and private) and the average compliance rate was 50.1–70.8%.
"In less than a year, more than 30,000 healthcare workers have passed through the HHA workshops."
From the jurisdictional data, the state with the highest compliance rate and the largest number of hospitals submitting data was Victoria, which demonstrated the benefits of using the programme over several years. The next highest was New South Wales with 68.8%. The highest compliance rate among professional healthcare workers was among nurses (student nurses, 69% and registered nurses 68%).
Hospital participation in the HHA initiative is voluntary at the moment (although it is compulsory in New South Wales and Victoria's public hospitals) but the take-up participation rates have been steadily growing in public and private hospitals across the country.
However, participation will soon become compulsory by default when a new hospital accreditation programme is introduced in 2011. New accreditation standards will include mandatory hand hygiene compliance and public reporting rates for all hospitals.
In less than a year, more than 30,000 healthcare workers have passed through the HHA workshops. "This is a good start," says Cruickshank. "The Commission doesn't have the power to compel hospitals to teach their workers infection control measures – that comes down to good governance – but we can recommend ways that hospitals can make it easier for workers to comply.
"Through the HHA we have developed online learning packages and educational DVDs and we are developing charts and posters that spell out simple contact precautions."
Other more modern infection control initiatives, such as software programmes that flag a patient's previous infection history, are more difficult to introduce without integrated systems between hospitals over numerous jurisdictions, although Cruickshank says South Australia has a good programme in place.
Infection control initiatives for the future
Another major Commission HAI project is developing new national infection control guidelines. The Commission engaged the National Health & Medical Research Council (NH&MRC) to review the guidelines relevant to infection prevention and control over a broad range of healthcare settings, including protective clothing, drapes, sharps, blood, body fluids, feeding tubes, therapeutic devices and care bundles.
"Also underway is the development of infection prevention programmes to educate the 30% of practitioners working in more isolated situations."
From the new guidelines, which are due for release in May 2010, the Commission will develop training and education modules to implement the recommendations.
Also underway is a special project involving the development of infection prevention programmes to educate the 30% of infection control practitioners working in more isolated situations, such as country hospitals, smaller private hospitals and day surgeries.
An initiative with international implications is the Commission's antimicrobial stewardship project. After a promising start in addressing the issue of antibiotic resistance in 1999 through the now defunct Joint Expert Technical Advisory Committee on Antibiotic Resistance (JETACAR), Australia dropped the ball while the issue grew in prominence internationally.
A report in 2007 by the Australian Group for Antimicrobial Resistance found that 32.9% of Staphylococcus aureus samples from hospital laboratories were methicillin-resistant and many were also resistant to other antibiotics.
The Commission has picked up where JETACAR left off and is assessing antibiotic surveillance and its effectiveness in limiting the increase of multi-resistant organisms. The aim is to establish national reporting systems for resistance surveillance and monitoring the use of antimicrobials.
While the Commission's brief was originally for five years, finishing at the end of 2010, the body was mentioned favourably several times in Prime Minister Kevin Rudd's report on the government's plan for sweeping healthcare reforms, "A National Health and Hospitals Network for Australia's Future", announced in March 2010.
With so many initiatives now up and running, it seems likely that the life of the commission will not expire like so many of its predecessors, but live on to become an integrated part of the government's plan for a national unified health system.