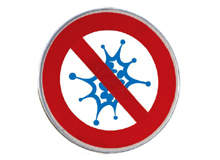 Healthcare-associated infections (HAIs) occur in every healthcare facility in every country and affect hundreds of millions of patients annually worldwide, including in developing countries, according to World Health Organisation (WHO) research.
This is a global problem associated with sensitive and resistant strains of micro-organisms, primarily bacteria, and has received a lot of attention from not only healthcare settings and governments, but the public and media.
WHO is committed to addressing the problem, which it has demonstrated most recently by setting up a series of activities as part of its successful First Global Patient Safety Challenge: Clean Care is Safer Care programme, which works in partnership with the global health community and others to ensure that sustained hand hygiene improvement remains on the national and international health agenda.
Hand hygiene is recognised as the single most important measure in attempts to prevent the spread of HAIs and, since the launch of this challenge in 2005, much has been achieved in healthcare settings around the world to improve infection control, including hand hygiene practices, to generate reductions in HAIs.
Committed to action
Already, 121 ministries of health in countries spanning the developed and developing world have pledged their commitment to WHO's First Challenge programme, which over the last five years has given great impetus for galvanising action. This has recently been enhanced by many countries and healthcare facilities taking action at the point of patient care on and around 5 May 2010 as part of WHO's SAVE LIVES: Clean Your Hands global annual initiative, a new phase in achieving hand hygiene sustainability as part of the First Challenge.
"Healthcare-associated infections (HAIs) occur in every healthcare facility in every country."
Since its launch, 6,000 facilities from 126 countries have registered to be part of this global movement in improving hand hygiene by joining a network of countries already running campaigns to ensure that hand hygiene improvement is embedded in healthcare and that achievements are shared through WHO's website.
Bringing added value
To support its initiatives, WHO issued guidelines on hand hygiene in healthcare and a special 'toolkit' described within a multimodal improvement strategy aimed at improving and sustaining hand hygiene practices. To test its viability, this model was developed within a clinical setting and further validated to ensure it could be applied to all healthcare settings.
Using a standard methodology, support was given for six pilot sites between 2006 and 2008 to implement the strategy. Preliminary results demonstrate that there was a significant increase in compliance with hand hygiene in each setting that took part.
Improvement in healthcare workers' perceptions on HAIs and the role of hands in organism transmission was also seen. Additional benefits of this strategy included infection control programmes established in settings where they didn't already exist.
WHO's alcohol-based handrub formulation has also been introduced in 11 sites around the world where handrub was previously unavailable or unaffordable. This approach has proven feasible and cost effective, and should be encouraging to others in terms of gaining access to positive safety solutions.
Countries involved
As the need to prevent avoidable infections in healthcare still exists, fortunately though, the enthusiasm at country level is evident and growing. Based on a survey conducted in 2009 by the First Global Patient Safety Challenge, 38 countries and/or local areas are now operating formal hand hygiene campaigns and WHO has formed WHO CleanHandsNet to facilitate progress, as well as share successes and strategies.
This, therefore, is the opportune time for countries and facilities to focus on:
sustaining hand-hygiene improvement
ensuring hand hygiene stays as a priority on national healthcare agendas
ensuring hand hygiene is continually acknowledged as an essential basis for the attainment of effective infection control and patient safety
ensuring the 'My five moments for hand hygiene' are applied in practice
demonstrating that hand hygiene makes a substantial contribution to the reduction of HAIs.
A new global focus
There are, and must continue to be however, many approaches to achieving sustained hand hygiene improvement and reductions in HAIs, alongside surveillance and other monitoring activities. To take action, healthcare facilities can:
Use WHO's implementation toolkit launched on 5 May 2009 containing over 40 free tools that can be download easily from its website, and along with WHO's Guidelines on Hand Hygiene in Health Care (2009) have been distributed to key partners around the world. (See information, left, on using the tools.)
Continue the call for action
"HAIs are a global problem associated with sensitive and resistant strains of micro-organisms."
This can be done by registering your facility, demonstrating commitment to SAVE LIVES: Clean Your Hands and/or asking five others to do the same, while sharing your plans and successes with others, including through local and national publications
Find out if there is an existing hand-hygiene campaign in your country and seeing what you can do to support it
List five areas for improvement in your facility and discussing these with your colleagues and managers
Share your ideas and successes with WHO
Use and promote a multimodal strategy to ensure sustained hand hygiene improvement, including WHO's "My Five Moments for Hand Hygiene" approach, as well as using WHO's infection-control webinar series as an additional tool to enhancing knowledge.
Consider filling in the gaps
Have you considered what the patient-safety research priorities are in your healthcare setting and have you considered publishing your work?
WHO identified that in developing countries, studies addressing the cost effectiveness of patient safety activities are important. In developed countries, studies on enhancing communications and safety culture were deemed priority.
WHO's Guidelines on Hand Hygiene in Health Care (2009) clearly outline the gaps that exist in the knowledge and evidence base and where further work is required.
For example:
Identifying models for patient participation in hand hygiene promotion in different cultural and social settings
Exploring the role of alcohol-based handrub in preventing the spread of spore-forming pathogens
Establishing hand preparation using alcohol-based handrub
Evaluation of HAI prevalence and incidence and hand hygiene compliance are also essential for progressing sustainable infection-control practices.
Continued support
WHO's "SAVE LIVES: Clean Your Hands" initiative and the activities that have taken place around the world have already re-galvanised action. Many healthcare settings are taking continued steps to support the reduction and prevention of HAI. Case studies have already been submitted to WHO's website and the First Challenge team is aiming to make progress on facilitating sharing of knowledge between those running hand hygiene campaigns.
To truly protect patients, it will take leadership, commitment, a range of actions and time. Patient safety improvement models exist that aim to provide both practical tools and behaviour-change activities. WHO's efforts are internationally focused and have demonstrated that the support provided is relevant. Along with countries and facilities, this should help bring true ownership to healthcare workers in relation to micro-organism transmission and its prevention, and subsequently long-term patient safety improvement.