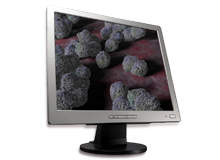 As part of the Department of Health's (DH) plan to tackle healthcare associated infections (HAIs), it became compulsory from April 1 2009 for acute NHS trusts in England to screen all elective patient admissions for MRSA. This allows the trust to take appropriate measures to treat patients who are carriers of the bacterium, reducing their risk of developing a clinical infection and ensuring infections are not passed on to other patients.
According to Dr Michael Millar, a microbiologist at Barts and The London NHS Trust, however, the policy has shown little benefit. "The problem is that it's being applied to people who are not at much risk of getting an MRSA infection," he explains. "The NHS hopes that by identifying people who are not going to get the disease, they will prevent MRSA spreading to other people. But because most of these people are in hospital for short periods of time, having relatively minor procedures, there is no evidence that it has any benefit to them or to anybody else."
Disadvantages of screening for MRSA
Millar cites several additional disadvantages of compulsory screening, not least the cost of the comprehensive scheme. "It's very expensive to screen such a large amount of people and it is removing resources that would otherwise be available for other things," he argues. "Screening people at low risk of the disease is not a very cost-effective strategy."
There are three types of screening methods – chromogenic agar plating, broth enrichment culture followed by agar subculture and the polymerase chain reaction (PCR) test, more commonly referred to as rapid testing and swiftly increasing in popularity. But the speed of the PCR test inevitably leads to a lapse in accuracy levels and consequently a high rate of false positivity, something Millar finds unacceptable.
"If you are going to use these tests on people at very low risk of both carrying MRSA and having the disease, you need to have tests that are extremely accurate," he says. "When rapid tests are applied to people who have very low rates of the disease, there are actually more false positives than real positives." In the community, 1% of people carry MRSA, yet some rapid tests will find that 5% of people tested demonstrate a false positive.
Moreover, compulsory screening arguably breaches ethical guidelines as elective patients are expected to undergo the procedure with very little information about its consequences. Millar argues that low-risk patients are essentially being screened for the sake of everybody else. "If this happened in any other walk of life," he continues, "we'd have to ask for permission and the person in question would then give their informed consent. At the moment, they have very little choice in the matter."
"Screening people at low risk of the disease is not a very cost-effective strategy."
Good practice dictates that patients found to be colonised by the superbug should be isolated to reduce the risk of transmission to other patients, yet herein lies another drawback of the policy. Infection control professionals accept that isolating patients in cubicles may lead to harmful consequences, both on a psychological level because of reduced contact with other people and on a physical level due to reduced contact with healthcare workers. "As well as compromising human contact they have, they are more likely to fall out of bed or have an accident," Millar adds.
A positive test result may also lead to a delay in hospital admission or a delayed procedure as the MRSA carrier will be given a decolonisation regime to follow for ten days, comprising an antibacterial body wash and shampoo as well as the application of an antibacterial nasal cream. Although this treatment is only 50% to 60% effective for long-term clearance, as soon as the procedure is implemented, the presence of MRSA is reduced significantly and the risk of the patient infecting themselves or transmitting the disease to others is greatly reduced.
The DH's decision to expand the scheme to cover emergency admissions "as soon as possible and definitely no later than 2011" will only exacerbate the already wide-ranging problems associated with compulsory screening, according to Millar. The use of rapid tests is set to gain prevalence, leading to increasing problems with false positives. "And if we can't use the rapid tests, doctors will not know the results for two to three days after the patient is admitted," the clinician clarifies. "So there would be no point of screening at the time of admission."
Confused priorities in the NHS?
While many NHS trusts are committed to implementing screening for emergency patients as soon as possible and far earlier than the DH's deadline of 2011, Millar feels that they are getting their priorities wrong.
"Medical intervention, such as putting in lines for giving drugs or fitting catheters, after all, puts people most at risk of infection."
"In high-risk contexts – that is to say places where people carry a lot of MRSA or places where people are particularly at risk of infection such as intensive care units – there is evidence of benefit from screening," he remarks. "Current expert guidance in North America and Europe says that we should focus on these high-risk groups, not on everybody."
People who have recently spent time in hospital and may have picked up MRSA, or intensive care patients at high risk of suffering an adverse consequence if they were to acquire the superbug are good candidates for screening.
"Medical intervention, such as putting in lines for giving drugs or fitting catheters, after all, puts people most at risk of infection," Millar acknowledges.
Keen for progression: tracking other bloodstream infections
Yet, given the favourable figures generated over the past year across England, Government health officials are keener than ever to maintain the momentum of the programme. While the Scarborough and North East Yorkshire NHS Trust saw a 67% reduction in MRSA incidents compared to last year's figures, Worcester Acute Hospitals NHS Trust is on target to handle no more than 15 cases by the end of 2010.
The government's strict targets have clearly had an impact on the levels of MRSA in hospitals. But as the emphasis on the superbug (as well as the focus on C. diff) has grown, other varieties of infection have become more problematic.
"The two target infections, MRSA and C. diff, are quite a small proportion of hospital-acquired infections," Millar, who is involved in the screening programme at Barts and The London NHS Trust, says. "On any given day in an NHS hospital about 8% of patients are being treated for infection – so in 1,000 patients, 80 would be treated. Out of those 80 patients, only one or two would have MRSA or C. diff, meaning that the other 78 have something else."
In 2009, the National Audit Office released an independent report focusing on the cost-effectiveness of compulsory MRSA screening, which revealed that while MRSA infections fell from 7,700 in 2003/04 to 2,984 in 2008/09, the number of other bloodstream infections increased from 80,000 in 2003 to 105,000 in 2007.
"Injecting more and more money into countering the problem of MRSA means resources are taken away from fighting other infections."
"Overall, there are far more bloodstream infections now than there were when the targets were brought in for MRSA," Millar confirms, citing e. coli and antibiotic resistant bacteria as problematic.
So, injecting more and more money into countering the relatively small problem of MRSA means that important resources are being taken away from other types of infection.
"Take, for example, a preterm baby who has to go into an intensive care unit," Millar says. "That baby is extremely unlikely to have a problem with MRSA or C. diff, infections which older people are much more susceptible to. On the other hand, about 30% of these babies will get a hospital infection, which may damage them for the rest of their lives. And yet the priority given to that area of prevention is very limited."
In Scotland, the Government is piloting the idea of screening, carrying out extensive research to determine the benefits and costs of the idea before they introduce an all-inclusive programme, while health officials in the majority of Europe and North America have focused on screening to high-risk populations.
"They want to work out the amount of benefit there is in comparison to the amount of money they're paying out, before they introduce it," Millar explains. "That would have been a much more sensible approach in England."
Faced with a worsening situation as regards hospital-acquired infections, the government finds itself in a difficult position. Introducing a wide-reaching target to cover all bloodstream infections is unrealistic and, furthermore, instigating a different sort of strategy before the next election is improbable.
Until the end of the 90s, a lot of work was done in the UK to develop surveillance systems to determine which infections were becoming more widespread and which bugs had been kept under control. Although mandatory surveillance was introduced in 2001 for MRSA and in 2004 for C. diff for patients aged 65 and over (which was extended to patients aged two and over from April 2007), there are still no national surveillance systems focusing on some of the most common healthcare associated infections such as urinary tract infections and pneumonia.
"The number of bloodstream infections in hospitals is growing at a rate that warrants a solution sooner rather than later."
"I think we should develop better surveillance systems, which will inform us of the main problems," Millar notes, further advising that staff hand hygiene is an issue inextricably linked with surveillance measures.
Poor hand washing procedures contribute significantly to the spread of infection in hospitals, but it can be difficult in an NHS context for staff to remember to complete the long list of tasks necessary to comply with good practice.
"While it is right to say that people should be doing more hand washing, it has to be seen within the context of a very demanding working environment where there is a lot of pressure to turn around beds," Millar claims.
Investment in new buildings and advanced facilities can only improve the situation, but it is also essential for the NHS to motivate their staff in the right way by providing reliable information about their own patients. "It brings us back to the surveillance thing," Millar concludes. "If you can show staff how their patients are doing with respect to different sorts of infections, you can encourage them to take ownership in deciding what they think is important. This will then add motivation to comply with good practice."
Rather than picking a target out of the sky and focusing a hefty proportion of the resources on that relatively small problem, the difficulties the NHS has encountered highlight the need for healthcare providers to look at the bigger picture. The number of bloodstream infections in hospitals is growing at a rate that warrants a practical solution sooner rather than later.