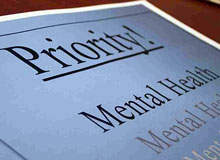 While there is still some stigma attached to mental illness, greater awareness and promotional campaigns have meant that individuals are more inclined to admit they are experiencing problems and seek help. Governments have also put mental health higher up the agenda, not least because of the effects of prolonged sick leave and long-term drawing of benefits on the economy.
All of these developments have meant greater demand for readily available and appropriate services. So, while current thinking on treatment strategy is strongly influenced by improved medical knowledge, it is also inextricably linked up with the ability to deliver in this type of environment.
Cognitive behavioural therapy
Cognitive behavioural therapy (CBT) now plays an important role in resulting treatment strategies. Highly qualified medical specialists, such as psychiatrists and clinical psychologists, have had this therapy model as a key element of their activities for some years.
Because CBT does not involve 'telling all' or dwelling on events, it lends itself better to shorter treatment programmes, for example, between six and 12 sessions would be common in services provided by the UK's National Health Service (NHS).
"Cognitive behavioural therapy plays an important role in treatment strategies."
CBT tends to focus on the here and now, considering how a patient's current way of thinking and behaving is affecting them adversely and, therefore, how they could go about changing this pattern.
Practitioners will use specific techniques for helping the patient to think differently, and the therapy programme may involve practical exercises and homework. Some patients even use computerised CBT programmes as part of their treatment.
This method differs from more generalised counselling, which will often involve a less directive and more in-depth exploration of how a patient is feeling and why, with considerable emphasis on an empathetic and supportive relationship with the counsellor. Psychotherapy, in turn, is more about considering past events to gain insight into the patient's emotional state of mind.
There is now a huge emphasis within the health sector on measuring and recording the impact of specific treatments, both in relation to individual patients and identifying overall trends. This focus on evidence gives CBT another distinct advantage because, as it is all about specific shifts in attitude and behaviour, it is relatively easy to assess its impact compared to other types of therapy.
Changing mental health delivery
In addition to the prevalence of particular types of therapy, methods of delivery have also been evolving. One major change has been a significant reduction in the number of mental health patients being hospitalised. There were 27,914 mental health beds provided by the NHS in 2006 / 07, a drop of 23.7% from 1997 / 98.
This reflects awareness that, provided the right type of medication and support is made available, hospitalisation will not necessarily provide additional benefits and may even have negative impacts, coupled with obvious resource constraints.
"There were 27,914 mental health beds provided by the NHS in 2006 / 07."
Interestingly, similar patterns of service delivery are emerging around the world, in both wealthy and under-developed countries. A recent Academy of Medical Sciences report looking at low and middle-income countries highlighted the growing importance of 'task shifting' – that is the transfer of specific tasks from highly qualified health workers to individuals with less training and qualifications. The role of the more highly qualified health workers is then to manage and provide guidance on the needs of specific patients, as well as deal with more complex cases.
With its relatively systematic approach and emphasis on helping patients to help themselves, CBT lends itself well to this type of stepped-care programme of delivery.
IAPT programme
The stepped-care model also correlates closely with the UK's Improved Access to Psychological Therapies (IAPT) programme. Funding has included £170m over a three-year period – starting in April 2008 – to enable the recruitment and training of 3,600 new therapists and the treatment of 900,000 people under this scheme.
There are two key categories of therapist within the IAPT framework. Psychological wellbeing practitioners deliver what is described as low intensity therapy, such as guided self-help, brief face-to-face interventions, telephone support and computer programmes.
High intensity psychological therapists, who come to their roles with more relevant qualifications and experience, provide in-depth, face-to-face sessions. All these IAPT health workers are required to undergo an accredited CBT training programme.
One of the criticisms of current approaches is that CBT does not work for all mental health problems. Some will argue that not having a better understanding of where difficulties originate from can lead to having a positive approach artificially imposed on top of deep-seated problems, in turn bringing the real possibility of relapse.
"52% of patients were seen to benefit from CBT treatment and to be well some months after."
In the two original IAPT demonstration sites in Doncaster and Newham, UK, 52% of patients were seen to benefit from CBT treatment and to be well some months after it was completed, however, this does mean that the treatment was not effective for nearly 50% of patients.
In addition to CBT therapies, the demonstration sites did continue to offer or refer patients to a variety of other counselling services to deal with problems ranging from relationship difficulties, anxiety and depression through to prolonged grief responses.
The IAPT programme is committed to choice, but it remains to be seen how this will manifest itself over time nationwide.
Path to treatment success
One of the challenges for other forms of therapy remains the large amount of evidence available for CBT compared with alternative talking treatments. This could lead to health services being less inclined to offer relatively unproven forms of therapy, which might in turn affect negatively on the development of comprehensive data to establish their efficacy.
Clearly, enhanced treatment methods and delivery mechanisms to enable more people to receive proven treatment for distressing mental health problems can only be a good thing.
One of the keys to success will be the ability of stepped programmes to quickly move individuals on to different types and levels of treatment should they not be making sufficient progress.
And with the continued tendency towards therapeutic specialisation, the ascendancy of CBT and shorter training for certain roles, health workers who are able and qualified to apply a range of therapeutic approaches dependent on the specific needs of the individual will remain very much in the minority.