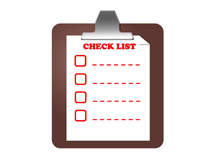 Checklists have had a high profile in recent years, not least because of studies showing the benefits to patients of hospital staff consistently following standardised procedures that conform to current best practice. But to what extent has the development of electronic solutions assisted in the take-up and more effective use of checklists?
Current practice suggests that technology-based checklists have made relatively few in-roads. For example, in relation to the World Health Organisation (WHO) surgical safety checklist, it would seem that most hospitals continue to use paper-based methods. And while prototype electronic checklists have been created for other common procedures, such as catheter insertion, there is limited evidence of actual take-up.
Where checklists are very simple, it could be argued that there is no real benefit in having an electronic version. Also, not all checklists are about making a record of what has been done.
Document check
Fran Griffin, director at the US-based Institute for Healthcare Improvement, comments: "A checklist is to ensure a standard process is followed without reliance on memory. It does not necessarily have to include documentation. For example, one hospital posted the WHO surgical safety checklist as posters on the walls of their operating rooms and, prior to each surgery, the team stops and they use the poster to verify each item out loud."
"Where checklists are very simple, it could be argued that there is no real benefit in having an electronic version."
Indeed it could be argued that over-focusing on documentation could have detrimental effects. Griffin continues: "If a checklist is seen only as a documentation form, and the culture is not supportive of the approach, checklists can be "filled out" without providing any effectiveness at all. I have heard of cases where surgeons refuse to participate in using a pre-surgery checklist, but because it is required, someone in the operating room team fills out the form and checks the boxes without the team actually verifying the steps."
Technology offers something that paper-based methods definitely cannot; namely, the ability to stop individuals proceeding further if they have missed a stage or done something incorrectly.
However, Griffin argues that this approach should be used sparingly: "That is not a checklist, that is a forcing function. These are used with electronic medical equipment and computerised ordering and documentation systems. They should be limited to those things that are truly critical. If they are over used, people find workarounds to them."
The relatively limited take-up of tablet PCs within the sector, contrary to what may have been anticipated a few years ago, has also had an impact. John Murphy, CEO at mTuitive, a US company providing reporting and data solutions for the healthcare sector, comments: "There is great buzz today about the iPad. Seven years ago we deployed our checklists on tablet PCs, which employs the same basic concepts. It did not catch on. I think the iPad's popularity, along with other competitive offerings, will generate some interest."
While electronic checklists may not always be the best solution, greater emphasis on systematic approaches to quality control and meeting legal requirements may yet create more pressure for technology solutions.
"Current practice suggests that technology-based checklists have made relatively few in-roads."
In addition, the trend towards increasing the coverage and comprehensiveness of electronic health records is likely to include consideration of how checklists should be incorporated.
Electronic checklists in use
There certainly are hospitals that are currently exploring electronic checklist solutions for specific patient safety and wellbeing issues. For example, The Beth Israel Deaconess Medical Center in Boston, US, is working towards piloting an electronic discharge checklist for which case managers will take responsibility.
It is anticipated that this will assist, alongside other strategies, in the reduction of readmission rates.
One area in which electronic checklists have certainly come into their own is the gathering of complex data about patients where it has been established that is important that the type and presentation of information should be standardised, and that electronic capture will help to ensure that best practice is followed.
Pathology reporting has developed into an important application, particularly in relation to cancer. The College of American Pathologists (CAP) has developed cancer protocols and checklists to ensure that information about disease sites is reported in a consistent way. This has become a priority because, with advances in knowledge about cancer, the pathology diagnosis can extend to multiple pages and contain information about dozens of tumour features, all of which can have a relevance to the form and likely success of treatment.
Related initiatives have included a Cancer Care Ontario programme that entails 47 hospitals adopting a uniform pathology standard, with the involvement of technology companies Meditech, Cerner and mTuitive from the earliest pilot stage. To date, mTuitive has supplied its xPert for Pathology solution to 17 Ontario hospitals.
mTuitive has also developed a solution for the capture of post-operative notes. This involves the surgeon accessing the checklist application after the operation via a web browser. The surgeon uses an intuitive selector on a touchscreen monitor that accesses the appropriate procedure codes and instinctively produces available diagnosis codes, resulting in a personalised, defaulted report, which the surgeon then reviews and electronically signs.
"Hospitals are exploring electronic checklist solutions for specific patient safety and wellbeing issues."
Apart from ensuring that the individual goes through the right steps, this method also cuts down on the number of people and stages that would be involved in a more traditional transcription process, again reducing the likelihood of error.
Clearly, different interpretations of what a checklist is for, along with the requirements of specific circumstances, will influence whether or not the use of technology is deemed to be appropriate.
However, the challenges of making decisions about technology probably pale into insignificance compared to the challenge of getting staff to accept any kind of checklist at all.
Reports on the introduction of the WHO checklist from a number of US hospitals flagged up a whole variety of issues ranging from the importance of endorsement from top leadership and the value of checklist champions, to the need for significant reinforcement to achieve buy-in from some surgeons and to ensure that checklists are used consistently post-introduction.
It is, therefore, clear that effective internal communication to engage all those involved is vital to the successful implementation of any type of checklist.