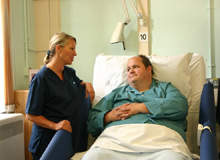 The thoroughly modern phenomenon of mass obesity is one of the most significant developing problems facing healthcare organisations around the world. While many continue to debate the causes, solutions and how to apportion blame, the task of balancing quality patient care with increasingly stretched budgets falls to hospitals and their staff.
The long-term solution to the upward trend in obesity, most experts agree, is an ongoing programme of education to encourage lifestyle change and a healthier diet. But the fact remains that obesity is a growing global health threat, and that hospitals must find ways to provide adequate treatment for emerging patient demographics.
The prevalence of obesity
According to 2009 data from the US Centers for Disease Control and Prevention (CDC), only one US state (Colorado) had an obesity rate of less than 20$ (obesity is generally measured as a body mass index of 30 or higher). Nine states, primarily concentrated in the south of the country, had obesity rates of 30$ or higher. This is compared with data from 1990, when no state had an obesity rate higher than 15$.
"The long-term solution to the upward trend in obesity, most experts agree, is an ongoing programme of education."
Obesity is not a problem confined to the world's most affluent countries. Although the US has the world's highest obesity rates, the country is closely followed by Mexico, the UK, Slovakia and Greece. The World Health Organisation estimates that approximately 1.6 billion people around the world are overweight, of whom around 400 million are clinically obese. By 2015, global obesity levels are predicted to balloon to 700 million.
Given that obesity is an entrenched problem that will not be rectified in the near term, hospitals around the world are using new equipment, training and treatments to adapt to the needs of heavier patients.
Advances in bariatric surgery
As demand has increased for surgical weight loss options, bariatric surgery is on the rise. It is the second most common form of abdominal surgery in the US. A recent report from the NHS Information Centre in the UK entitled "Statistics on Obesity, Physical Activity and Diet: England 2010" suggest that bariatric procedures, including stomach stapling, gastric bypass procedures and sleeve gastrectomy, doubled between 2007 and 2009 in England.
NHS Information Centre chief executive Tim Straughan sees the report as an indication of the new pressures being experienced by the English health service. "This report highlights the impact of obesity not just on society, but also on the NHS," he says. "The figures show a clear rise in hospital admissions, surgical procedures and drug therapies to help people tackle their obesity."
To respond to the increased demand for bariatric surgery, procedures have rapidly increased in sophistication and reliability. Modern procedures are far removed from the loop bypass that was developed in the 1960s. The most common form of bypass, the Roux-en-Y gastric bypass (RYBG), has become significantly safer for patients over time, with studies indicating first month RYGB mortality rates of 0.2$-0.5$, although researchers have found that risk of post-operative complication can go up in hospitals with a low annual volume of bariatric procedures, so there is still work to be done to raise all hospitals to the standards of specialist centres.
Laparoscopic (keyhole) techniques have also had an impact on bariatric procedures, allowing certain patients a minimally invasive alternative to open RYGB. Laparoscopic adjustable gastric banding (LAGB), arguably the safest and least invasive bariatric procedure due to its reversibility and smaller incisions, involves placing a silicone band around the proximal stomach to reduce the amount of food that can be ingested at a time.
Surgeons are able to combine different bariatric techniques, such as the laparoscopic RYGB, which restricts food intake with a gastric pouch and uses the Roux-en-Y combination to provide intestinal malabsorption of calories and nutrients.
"Changes need to be made to equipment and infrastructure to respond to increasing levels of obesity."
Recent surgical developments have also improved post-operative treatment. A new procedure called the corset trunkplasty has been developed by Dr Alexander Moya in the US to remove excess skin after massive weight loss more effectively than a traditional belt lipectomy.
The rise in bariatric surgery in the developed world, while partly attributable to the increase of morbid obesity, can also be explained by the growing consensus that bariatric surgical procedures can also be effective when it comes to treating overweight but non-obese patients who also have diabetes.
As these procedures evolve to become less invasive and less risky, the criteria for patients who would be considered to benefit from bariatric surgery will increase, especially if it proves to be a sustainable long-term treatment for diabetes, another obesity-related condition that has experienced a meteoric rise in recent years.
Hospital equipment: a growth industry
One of the more unforeseen consequences of increasing obesity levels is the need to provide basic hospital equipment that adequately caters for the greater weight and girth of obese patients. Given that some countries have obesity levels of more than 20$ of the population, changes need to be made to equipment and infrastructure to respond to this.
New equipment being purchased by hospitals ranges from wider wheelchairs and heavy-duty stretchers to larger blood pressure cuffs and bigger beds with higher weight capacity. At the higher end of the medical equipment market, some hospitals are investing in larger CT scanners and MRI machines so that obese patients can fit. Ambulance services around the world, including the Welsh Ambulance Service, have spent thousands on custom-widened ambulances with reinforced stretchers and winches to move obese patients.
St Vincent Healthcare, a hospital in the US state of Montana, has made significant investment into sturdier equipment, including a CT scanner capable of withstanding up to 650lb, around 200lb more than the average scanner. Still, fitting some patients in is somewhat of a close-shave, as St Vincent's special imaging supervisor Dustin Strandell told the Billings Gazette in March. "We have had patients that rub against the sides as they go through," he said. "We always go with the heaviest equipment we can get."
In the UK, Scotland has the worst obesity rates, and this is reflected in the amount of NHS spending dedicated to heavier equipment.
"Today's hospitals are using new equipment, training and treatments to adapt to the needs of heavier patients."
Scottish health trust NHS Lanarkshire spent more than £1.1m between 2007 and 2009 on an extensive bed replacement programme, including 170 beds built to withstand 390lb, 650 for patients weighing up to 546lb and four to accommodate weights of up to 1,008lb.
Obesity also throws up a number of complications in childbirth, with nurses and midwives voicing concerns about the lack of specialist equipment to ensure the safety of mother and baby. Tougher delivery beds, longer needles for epidurals and larger blood pressure cuffs are all on hospitals' procurement radars. Obesity generally increases the risk of complications or death during childbirth or pregnancy as ultrasound examinations are less effective, the foetus is more difficult to monitor and surgical deliveries are made more likely.
Although the causes of mass obesity can be seen all around us, it is in hospitals that we can most clearly see the effects. National healthcare systems around the world are heading into a long period of cuts, but obesity and the conditions that it causes (among other factors) means that the need for intensive medical care is only increasing. While the long-term solution to obesity remains out of reach, hospitals need to adapt to treat generations of plus-size patients.