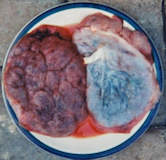 In 2010, the Diabetes Institute of Australia revealed that the number of adults (aged 20-79 years old) with diabetes was 285 million and that this will rise to 439 million by 2030. In developed economies, this figure is expected to have increased by 20% and in developing nations by nearly 70%.
With obesity one of the key factors behind this growth, the situation in the US appears particularly bleak. The Center for Disease Control and Prevention (CDC) estimates that one in ten Americans has the disease, and this could rise to as many as one in three, approximately 100 million, by 2050.
If that wasn't serious enough, the CDC also projected that 12% of diabetics will go on to develop a foot ulcer, amounting to some 2.5 million patients.
Diabetic foot ulcers
"The CDC projected that 12% of diabetics will go on to develop a foot ulcer – 2.5 million patients."
Chronic diabetic foot ulcers are one of the leading causes of lower extremity amputations, a situation that inevitably causes distress and the potential for further health complications for patients, as well as the added burden that such procedures and care can place on an already pressurised healthcare infrastructure.
"Diabetic patients often do not realise the danger that ulcers can pose to them," explains Dr Alap Shah, a podiatrist at Foot & Ankle of West Georgia in Atlanta, US. "They can suffer from neuropathy or the loss of sensation in their feet. When that happens, it is more than possible for trauma to occur – treading, injury or even just an ingrowing toenail – and for the patient not to notice."
Moreover, because of the excess sugar in their system, those with unregulated diabetes often experience impaired ability when it comes to wound healing, which can be delayed because their immune system has become less effective.
"This extra window of healing can create the possibility of infection, which in turn can cause further problems for the patient," Shah says. "Because they cannot feel the foot, they do not realise anything is wrong, and then an infection can set in. Infections will be treated in hospital, often by an incision and drainage, but if they are not treated aggressively or early enough and they get down to the bone, then our options become very limited."
This may mean having to amputate a toe, a foot or even a leg. What's more, most people with diabetes – around half estimated – who do have an amputation also end up losing something from the other leg.
"So, clearly, the goal for physicians when it comes to patient care is for us to be healing the wound as quickly as possible – before you get to these complications, because a defect close to the bone can become reinfected very easily," says Shah.
Placental tissue trials
In an effort to tackle this growing problem, for the past three years, Shah and his team have conducted an innovative clinical trial using placental tissue to accelerate the healing of such diabetic wounds, and reduce the risk of infection setting in and, therefore, the risk of amputation.
"The goal for physicians when it comes to patient care is for us to be healing the wound as quickly as possible."
"We have tried lots of synthetic tissue – pig, bone and cadaver – but we find that placenta tissue has significant possibilities," says Shah. "It has wonderful potential when it comes to its healing factors. It's a great shock absorber; for example, babies can bump around in their placental sac without damaging their skin. Placenta tissue has been used for many years in many countries, particularly in Asia."
Once a woman has given birth, the placenta is usually thrown away, even if it is deemed normal. Under the Atlanta trial, women who have had a caesarean section sign up to donate their placenta, with Atlanta company MiMedx processing and sterilising the tissue.
"It is processed and sterilised to ensure the rejection factors are removed," explains Shah. "It is dehydrated graft material, almost like wax paper, with an amniotic and chorionic layer. When applied to chronic wounds, it infuses into the wound and the healing time is reduced to a couple of weeks rather than months. We normally see a 50-60% reduction in the wound after the first application, then closure after the second application."
The Epifix sterilised placental tissue used by Shah is processed from the amniotic membrane, or amnion, the innermost layer of the placenta. The amniotic membrane allograft, which comes in four sizes, is specifically designed for chronic and acute wound healing, as well as the reduction of inflammation and the formation of scar tissue. This tissue is simple to apply, either at the bedside, in a clinic or even on the operating tables.
"Placenta tissue has wonderful potential when it comes to its healing factors."
"From the patient-care perspective, it is very user-friendly," says Shah. "There is a consent issue and, as standard, we give patients a brochure explaining the process, but there should not be allergy issues because any antigens that could lead to rejection have been removed.
"Often what patients are most concerned about is rejection or FDA approval, and in both areas we can set their minds at rest. There are no ethical issues because there are no stem cells or living tissue involved; they are precursor cells, so it is simply about activating the healing properties of the tissue around the wound."
For the nurse, applying the material is also straightforward, usually with a single dressing, then a follow-up dressing and regular weekly observations. For the patient, skin does not need to be taken from any other area; it simply infuses into the wound, creating a scaffold over the void.
Untapped potential of placenta tissue
Clearly, if the prevalence of diabetes grows as predicted, this process could become a key tool in the physician's armoury of the future.
"When applied to chronic wounds, the healing time is reduced to a couple of weeks rather than months."
Shah is also optimistic that the potential use of placental tissue in wound healing and wound treatment is very much an untapped area.
"There is huge potential for this," he says. "It is FDA-approved for any chronic wounds and we estimate it can be used for 80,000 applications, including eye, abdominal and even periodontal wounds. There are a lot of uses, but it is the diabetic ulcer area that seems to be the hot topic right now."
There is also work being carried out for injectible forms, which could have applications in fields such as tendinopathy. A patient could get an injection into the heel and see the inflammation lowering, rather than having many steroid injections.
"I think a lot of physicians are going to be looking at this over the next six months to a year," adds Shah. "It's exciting stuff."