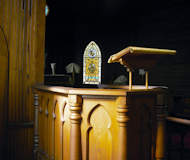 As the 2011-12 flu season in the Northern Hemisphere ends, public health agencies and healthcare providers will no doubt be breathing a sigh of relief; not least because this year's infection levels have been relatively low across most regions.
The H1N1 pandemic of 2009 – better known as swine flu, or as healthcare professionals termed it, 'HEE NEE' – gave the world a harsh reality check: flu kills. It's been that way for millennia, but in a world where pharmaceutical and medical advances occur almost daily, it seemed to have been forgotten.
" The H1N1 pandemic of 2009 gave the world a harsh reality check: flu kills."
News bulletins were dominated by increasingly grim statistics and even grimmer footage. Newspapers' column inches were congested with words of doom, and even electronic media got in on the act – you only need to Google 'swine flu' to see the impact it had.
But swine flu, although not leading the news agenda today, remains a killer. In April 2012, Indian authorities warned that the virus had resurfaced, claiming the lives of 57 people since January.
The country's Health Minister Ghulam Nabi Azad told healthcare providers to prepare for increasing numbers of patients suffering from the disease, in what was a call to arms for India's healthcare sector in the face of a growing crisis.
Flu alerts and action
When an outbreak of a particularly aggressive form of the virus occurs, people are made aware of the risks very quickly and take appropriate action; but seasonal flu can be just as dangerous in the right conditions.
"The real danger is in the serious complications flu can lead to," says microbiologist Dr Alison McGeer. "We know that in healthy adults, the risk of being admitted to hospital with influenza is about one in 100,000 and the risk of being admitted to the ICU is about one in 700,000. These are very small numbers, but they are not zero."
"In healthy adults, the risk of being admitted to hospital with influenza is about one in 100,000 and the risk of being admitted to the ICU is about one in 700,000."
Although we are now waking up to the dangers of contracting the seasonal virus – perhaps the result of the bird flu outbreak early last decade and more recently H1N1 – McGeer says this is a relatively new thing.
"We are just beginning to recognise the number of adults admitted to hospital with influenza," she says.
Because of a lack of treatment options available, she believes many cases went undiagnosed as recently as a decade ago.
"It was about ten years ago that there were a couple of big American studies published on the influenza impact in children that made us sit up, take notice and think," she says. "We're starting to measure the burden of disease in adults and so it is just recently that we have become much more aware of its significance."
The majority of healthcare workers are first responders in emergency departments or as secondary points of care, such as staff in ICUs. They are likely the first to come into contact with patients infected and, as such, treat them at their most contagious. It is because of this that healthcare authorities have stepped up vaccination programmes in recent years, aided in part by the 2009 pandemic.
"The growing acceptance that an effective annual vaccination programme helps protect front-line staff and services is to some extent the result of recent learning," says McGeer. "We are beginning to realise that some healthcare workers – people working in emergency departments and who very frequently see patients with acute respiratory illness, staff who do bronchoscopies and those working closely with people who have repository illness and are severely ill – are at greater risk than other healthcare workers and adults in wider society."
But, she says, there is evidence that taking the annual flu vaccine plays a major part in getting through the season unscathed.
"We know that for generally healthy adults, which include most healthcare workers, the vaccine prevents about 70% of influenza," she explains. "And there is evidence that if you do get influenza, you won't get the disease as severely."
Encouraging flu jabs
So, is the debate about healthcare workers being vaccinated already won? Apparently not, according to statistics. In August 2011, the US Center for Disease Control stated that fewer than two thirds (63.5%) of healthcare workers received the vaccine during the 2010-11 season.
"The UK's NHS Employers said that there had been a 43% rise in the number of staff receiving the flu vaccine in the 2011-12 season."
More recently, the UK's NHS Employers – a body working with healthcare providers to understand the needs of their workforce and better deliver patient care – said that there had been a 43% rise in the number of staff receiving the flu vaccine in the 2011-12 season. Granted this was in January 2012 when there were a few months of the flu season still to go, but the figure is staggeringly low.
Historically, it's been difficult to cajole staff into having the vaccine, despite the weight of evidence supporting its benefits.
"As with any change in society, there is no single solution or magic bullet that's going to change behaviour," says McGeer.
The problem, she argues, is a lack of education and leadership.
"Leadership across the system needs to be setting the example," she says. "Everybody has a lot on their plate, and the literature on influenza and the vaccine is fraught, difficult to read, large and complicated, but I think that everyone who is responsible for healthcare workers' health needs to be clear that we are looking at the evidence, evaluating it, making decisions based on it, and making decisions that are in everyone's best interests.
"That means trying to take it out of union management arguments. The discussion about influenza vaccines is not about industrial negotiations and it's not about the individual choice of healthcare workers; it's about the health and safety of both our workers and patients. The most important thing is that we all keep that in view. It's about health and safety, and nothing else"
McGeer acknowledges part of the problem has been a fear of dispute for employers.
"One [employer] looked at me and said 'I don't think this is the hill to die on'," she said. "Organisations are worried about creating an industrial issue… but it's very clear from the US experience that that's not what happens. Nearly 20% of large US healthcare organisations now have influenza vaccinations as a condition of employment – that's the message we need to get to healthcare managers."
It's a natural fear that mandating programmes requiring vaccination is going to upset workers and create labour management issues, but the truth is it doesn't; however, as McGeer so shockingly puts it, there is one utterly compelling reason for medical staff to ensure they are vaccinated.
"Given the evidence we have, it really isn't an overstatement to say that healthcare workers who choose not to get vaccinated have a licence to kill," she says.
Healthcare responsibility
While McGeer accepts that there may be a few with medical reasons not to have the jab, others have no excuse.
"We know now from incontrovertible evidence that my choice as a healthcare worker not to get vaccinated puts my patients at risk," she says. "It's then very hard to stand up and say that there's any defensible reason that I could offer for me not to get vaccinated, short of a very significant medical one.
"Nearly 20% of large US healthcare organisations now have influenza vaccinations as a condition of employment."
"It's absolutely true that if I'm not vaccinated: when I spend time with my elderly patients I put them at risk; when I spend time with my elderly parents I put them at risk; and when I see patients who have chronic underlying conditions I put them at risk. That's not what I signed up for as a healthcare professional; it's not what any of us signed up for."
McGeer believes that once people understand the dangers of not having the vaccine annually, they would not take the risk.
"The fundamental difficulty is getting healthcare workers close enough to the data, those who are experienced enough with the data and who are knowledgeable enough to make that decision. There is no question about what decision they are going to make when they understand."
But, she says, there is a case to require healthcare workers to be vaccinated too that would take this decision out of their hands.
"For example, people wear their seatbelts, in part because they're going to get caught and fined if they don't," she explains. "Even though they know seatbelts protect them, part of why they wear them and why they don't drive through red lights at 2am is for the health and safety of themselves and others in society. We've agreed that we make rules for them and I think we're coming to that stage with our knowledge about healthcare worker vaccination against influenza. It's a reasonable rule that says we have to get vaccinated to protect those around us and our employers should be requiring it."