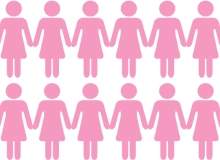 A mammography unit consists of a rectangular box housing tubes that produce X-rays for use in breast examinations. The device also comprises a unit for compression and positioning of the tissue to gather images at different angles.
Conventional machines of this kind use film to record the data, but in full-field digital mammography (FFDM), solid-state detectors are used in place of X-ray film to record electric signals; these can be viewed on a computer screen or printed on a film, similar to conventional mammograms. Computer-aided detection (CAD) systems are often used with FFDM equipment to increase breast cancer detection rates; these use digitised mammography images to highlight abnormal areas.
FFDM technology is used as a screening tool to detect early breast cancer in asymptomatic women, as well as those experiencing symptoms such as lumps, nipple discharge, redness or pain. According to the US Department of Health and Human Services (HHS), the American Cancer Society (ACS), the American Medical Association (AMA) and the American College of Radiology (ACR), it is recommended that women undergo mammography screening every year from the age of 40.
"Computer-aided detection (CAD) systems are often used with FFDM equipment to increase breast cancer detection rates."
The GlobalData report 'Full-Field Digital Mammography Equipment – Global Pipeline Analysis, Competitive Landscape and Market Forecasts to 2017' provides comprehensive information on the key trends affecting the industry and important analytical content on the market dynamics. Compiled using data and statistics sourced from proprietary databases, primary and secondary research, and in-house analysis, it also reviews the competitive landscape and technology.
Worldwide growth
The global market for FFDM equipment was valued at $801.2m in 2010 and is forecast to exceed $1.3bn in 2017 at a compound annual growth rate (CAGR) of 8%. The sector is primarily driven by the increasing preference for FFDM systems because of technological advancements and increases in reimbursements.
A combination of other technologies, such as ultrasound and magnetic resonance imaging (MRI) with mammography for improved breast cancer detection, is also expected to add to the sector's financial expansion. Film-screen mammography equipment will continue to be replaced with FFDM systems to meet high patient demand and improve detection.
US market opens up
The US is the largest market for FFDM equipment and contributed 51% of its global revenue in 2010. It was valued at $407.2m and is forecast to reach $713.9m in 2017, at a CAGR of 8%. The FDA reclassified FFDM units from high-risk Class III to medium-risk Class II in November 2010. This is expected to make it easier for companies to get clearance for new devices as they do not need to go through the pre-market approval (PMA) process that includes clinical trials to prove safety and efficacy.
New equipment can be cleared for marketing in the US through the FDA's 510k process, which requires new devices to match the safety and efficacy of previously approved products. This will provide relief for companies, as they will be able to launch new items without delay, allowing vendors to provide more options for sale. The reclassification will also help new companies to enter the market and increase competition.
Dominance
In 2010, Hologic dominated the global market for FFDM equipment, with a share of 52%. The other key players in the market were GE Healthcare with 27%, and Siemens Healthcare with 10%. Hologic leads the US segment by some way, with a share of nearly 70%; GE Healthcare is one of the biggest forces in the Asia-Pacific market, while Siemens has a significant presence in Europe.
Hologic is strengthening its lead following the FDA's approval for the Selenia Dimensions breast tomosynthesis (3D) system in 2011. GE Healthcare and Siemens Healthcare also received FDA clearance for new FFDM systems last year. In addition, Philips Healthcare is expected to increase its stake in the worldwide FFDM sector with the acquisition of Sectra AB in 2011.
"Film-screen mammography equipment will continue to be replaced with FFDM systems to meet high patient demand and improve detection."
Possible problems ahead
The increasing demand for pre-owned medical equipment is expected to have a negative impact on the sales of new FFDM equipment. Refurbished medical equipment is sold either by equipment brokers or original equipment manufacturers (OEMs), such as Siemens Healthcare and GE Healthcare. It is provided with a warranty and in most cases matches new products available. This particular market is no longer a place of uncertainty but provides relatively new goods at a significantly discounted rate of 30-50% in developed economies such as Europe and the US. This provides hospitals with the opportunity to use a combination of up-to-date technologies, such as ultrasound and MRI with FFDM for breast imaging.
Key demographic
According to the US Center for Disease Control and Prevention (CDC), breast cancer diagnosis increases with age. In a sample of 100 women currently aged 40, three to four women will suffer from breast cancer by the age of 60. In addition, the US Census Bureau reported that the nation's female population aged 50-69 increased by around 37% during 2000-2010. This is expected to increase the risk of breast cancer in the future, contributing to the growth of the FFDM market.
---

This article was first published in our sister publication Medical Imaging Technology.
---