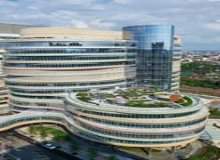 NorthStar Healthcare Income, along with its joint venture (JV) partners Formation Capital and Safanad Management, acquired US-based operations of Extendicare International for $1.1bn.
Under the deal, NorthStar purchased a 36.67% interest in the Extendicare portfolio, while Safanad and Formation own the remaining 63.33% stake in the acquired business.
Extendicare International operates 158 senior housing and care facilities in the US. The portfolio of Extendicare includes 152 skilled nursing facilities and six assisted living facilities with 15,000 beds across 12 states in the country.
US-based Medical Properties Trust (MPT) signed an agreement to acquire private equity firm GTCR's portfolio company Capella Healthcare for $900m in cash.
GTCR, along with founder Dan Slipkovich, established Capella to purchase acute-care hospitals to provide services in rural and suburban markets.
GTCR principal Josh Earl said: "Over the past 18 months, we have further advanced this mission with CEO Mike Wiechart, continuing Capella's tradition of delivering operational, clinical and financial expertise to community hospitals."
Ventas signed an agreement with the Equity Group Investments (EGI) entity to sell its majority stake in Ardent Health Services (AHS) for $475m.
AHS, which provides healthcare services, is claimed to be one of the ten largest investor-owned hospital companies in the US.
The deal allows Ventas to have a 9.9% interest in AHS. The current AHS management is said to hold a significant ownership interest.
Ventas CEO Debra Cafaro said: "With Ardent, we are well positioned to grow in the large, fragmented and rapidly consolidating $1trn domestic hospital segment."
Real estate firm Thomas Partners Properties has planned to develop a $200m wellness village, The Oasis, in Los Angeles county, California, to provide health services in combination with hospitality.
Scheduled to break ground in June 2016, the 420,000ft² concept will have multiple districts for healthcare and wellness.
In addition to a 157-bed primary care centre, the facility will provide imaging services, ambulatory care, a wellness centre and outpatient surgery.
US-based Children's Hospital of Philadelphia (CHOP) opened a new 12-storey outpatient paediatric facility on Civic Center Boulevard.
The Buerger Centre for Advanced Pediatric Care opened on 27 July, as part of the newly named Raymond G Perelman campus.
CHOP president Madeline Bell said: "Many families, doctors and nurses participated in the planning of this building, and the generosity of thousands of donors, most-notably the transformational $50m gift from the Buerger family, has made this centre a reality.
"We are confident that we have achieved our goal of providing an ideal patient experience by utilising design features that anticipate and meet the needs of our patients and their families."
US-based WellStar Health System is reportedly engaged in negotiations with Dallas-based Tenet Healthcare to purchase its five hospitals in Georgia.
The deal has an estimated value of between $300m-$500m, according to investment bankers, reported Atlanta Business Chronicle.
The two organisations issued a statement confirming the commencement of 'exclusive, non-binding discussions' about a potential sale of Tenet's Atlanta-area hospitals and other facilities to WellStar, reported Georgia Health News.
UK-based Gloucestershire Hospitals NHS Foundation Trust deployed Meru Networks' Wi-Fi, in a bid to support its new clinical SmartCare project and patient services.
The 802.11ac wireless network will be used in three primary areas of the Trust, comprising Cheltenham General and Gloucestershire Royal Hospitals.
The Trust is also planning to deploy the wireless network across all sites in the future.
Under the project, Meru will offer wireless access for staff when the Trust goes live with a new electronic patient record (EPR) system later this year.
Hamad Medical (HMC) member Heart Hospital opened an advanced Heart Failure Unit (AHF), in a bid to offer specialised multi-disciplinary care for people with advanced heart failure.
The new AHF unit features modern equipment and provides clinic consultations with diagnostic tools such as electrocardiography (ECG) and x-rays.
HMC advanced heart failure programme director Dr Amr Badr said: "We had our soft opening in March this year, and are looking forward to further developing our services to ensure we provide the best possible care for our increasing number of patients."
UK-based Royal Shrewsbury Hospital deployed Siemens CT technology, in a bid to improve its services for patients.
The hospital, which is part of The Shrewsbury and Telford Hospital NHS Trust, has installed Siemens' Somatom Definition AS+ 128 slice CT system at its CT department.
Royal Shrewsbury is also planning to install a Definition AS 64 slice CT system from Siemens Healthcare.
Royal Shrewsbury Hospital CT superintendent Mike Kirk said: "We were conducting 50 to 60 scans per day on the previous system, and made the decision to expand our CT facilities in order to streamline workflow and provide additional services."