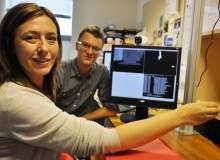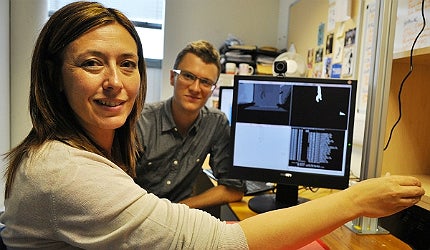 Microsoft's Kinect device is the latest step in the march of motion tracking technology from the lab into the living room. The device, which is based on 3D sensing technology developed by Israeli tech company PrimeSense, allows Xbox gamers to play without any controller input; the Kinect's camera and 3D depth sensors pick up on the player's motion, meaning that punches, kicks and other movements interact with in-game action.
While casual gamers have been enjoying flailing their arms and legs around since the Kinect's initial launch in November 2010 (to the tune of 19 million units sold as of June 2012), the introduction of affordable motion sensing technology into the household is important in areas other than gaming.
Clinical potential of motion tracking
"What we wanted to do was teach the Kinect about hands, so that we could start to extend rehabilitation beyond the arm."
One such field is physiotherapy and physical rehabilitation, where motion tracking has proved useful for measuring physical movement throughout the recovery process, but has mostly been confined to clinics and laboratories, limiting its availability to the majority of patients.
Sara Demain, physiotherapist and lecturer at Southampton University, was one of a team of clinical and computer science experts at the university who was keeping a keen eye on the launch of Kinect.
"We'd seen that people had adopted the [Nintendo] Wii into rehabilitation, and we knew that the Kinect was coming online," Demain says. "Even before it was sold, we were already planning what we might be able to do to develop it for rehab."
A multidisciplinary team of Southampton clinicians, engineers and computer scientists was set up with a goal of adapting the Kinect as a home-based rehabilitation tool for the thousands of people working to recover hand function after a stroke. The team has found local support in the form of R&D company Roke Manor Research, and is being led by Dr Cheryl Metcalf, building on her recent development of Piano HAWK (Hand and Wrist Kinematics), a motion sensor designed to analyse the hand and wrist movements of pianists.
Adapting Kinect for stroke patients
Despite getting Microsoft's blessing for the project, the team quickly realised that the device wouldn't be suitable for stroke patients without extensive modification. "It wasn't until we actually got one and used it that we realised that it was able to map the body and the arm, but it didn't know anything about hands, other than a blob at the end of the arm," says Demain.
"We could have developed a brand new system, but the development and manufacturing costs would be far too great."
"What we wanted to do in this project was to teach the Kinect about hands, so that we could start to extend rehabilitation beyond the ability to just move your arm to places. Obviously, if you can move your arm but you can't open and close your fingers, moving the arm isn't much use to you."
While the Kinect camera remains the same as the retail version, the underlying software that dictates how the system interprets data has been overhauled to achieve the accuracy of visual processing which is required to measure the incremental improvements in finger movement that are subtle to the naked eye, but vital for a person recovering from stroke.
The team has now definitively proved that its modified prototype is capable of sensing finger movements with the necessary accuracy, but there's still a long way to go before the system is ready for home use. The Southampton team's research partner Roke is now iterating on the device to ensure that its underlying algorithms are robust and reliable.
"At the moment, there [is a particular] configuration that the unit is set up in, and what we want to do is make it more user-friendly, which means it can be configured in a number of ways," says Roke's healthcare business sector manager Simon Wickes.
"One of the challenges with the hand is if you put the palm up flat, it tends to look the same as the other side of the hand. The human eye can spot the differences, but it's difficult for the system to determine which way up the hand is. So we're going through the loop now, thinking about how we can fine tune it."
Fun and feedback: learning through success
"Even before [the Kinect] was sold, we were already planning what we might be able to do to develop it for rehab."
On top of these fundamental improvements, Roke and the Southampton team are working on two vital features to leverage the Kinect's strengths. The first is the development of a game or virtual environment, in which stroke patients can engage in intensive home-based exercises (usually tedious actions such as picking up objects from tables) in a way that's both fun and specifically designed for their use.
"We know computer gaming can be very addictive because they want to get to that next achievement," says Demain. "But it also gives you the feedback that you're doing a given task in the right way. So it's very much about giving that visual feedback. That's how we learn, and how the brain adapts; through success."
But while the team aims to learn from game developers when it comes to create an engaging virtual environment, Demain notes that they won't be going for the increasingly realistic graphics that you'll find on the shelves of your local retailer.
"What's important is that the games are designed to be suitable for people with stroke," she says. "While a lot of people don't particularly like the Wii because of its simplistic graphics, for people [who have suffered from a] stroke that's probably as complicated as we'd want to go, and in many cases less complicated. I don't think the games will be really full of colour, flashing lights and lots of things going on, because people [who have suffered from a] stroke often have cognitive problems so their concentration is reduced. What we need is a game that can make the task easier if people aren't succeeding, or more difficult if people do succeed. So we need to get the base level and the adaptability right."
Another key goal for the developers is giving the device the connectivity to transfer real-time data from each user's living room to clinic-based physiotherapists, who will be able to gather data on the recovery of individuals, as well as conduct research on the progress of larger groups.
This is an area where Roke's track record in data transfer will undoubtedly come into play. "We would initially intend it to be its own system with the necessary comms requirements inside of it, so the information is connected and transmitted in a secure form for physiotherapists or clinicians to look at.
"In terms of the data communication, that's Roke's bread and butter – we do work for the government in secure data transfer and communications. Developing the algorithms for the fingers and the visual processing of the finger movement is the real technological challenge here."
Kinect – unlocking intensive home-based stroke recovery?
If Roke and the Southampton team can successfully navigate these technical challenges and bring their device to market, it's certainly clear that there's a void in desperate need of filling. Physiotherapists often make the point that stroke rehabilitation could be drastically improved with more intensive exercises – a point borne out by research into constraint-induced therapy in the US, where stroke patients made huge gains by having their good arm constrained for long stretches of the day.
But this level of intensive post-hospital care isn't something that most health systems can afford, especially with health budgets being liberally slashed in many countries. "At the moment if you have a stroke that affects your arm, you probably only have about a 15% chance of getting a fully functional arm back again," Demain laments. "The NHS doesn't have that intensive provision at the moment, and it probably never will."
The Kinect system has the potential to bring that intensive physiotherapy into the home, cutting the cost from healthcare systems while improving care for patients. This is the reason the team decided to modify the Kinect rather than develop its own bespoke system. "We could have developed a brand new system, but the development costs and associated manufacturing costs would be far too great," says Wickes.
"By using the Kinect system, it means that system's already been developed. What we're talking about is one system that will be placed in someone's home for a particular duration, which means it needs to be cost-effective, either for the patient to invest in or for the physio unit to provide for a certain period of time."
Demain says that with greater access to intensive exercises, the 15% arm recovery percentage could be drastically improved, enhancing quality of life and safeguarding independence for countless people recovering from strokes. If the Kinect can kick-start a new uptake in home-based stroke recovery as the research team are hoping it can, it will have achieved a goal far beyond its original entertainment remit.