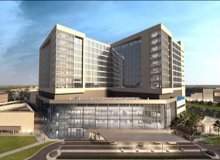 Western Australia's newest health care facility Fiona Stanley Hospital officially opened in Perth, making it the state's first new-build tertiary hospital project in more than 50 years.
The $2bn Fiona Stanley Hospital was originally scheduled to open in April, but was delayed due to a series of cost overruns and technology problems. However, the healthcare facility is not expected to be fully operational until February 2015.
Health Minister Kim Hames said: "Phase one of Fiona Stanley Hospital includes the four-storey, 140-bed State Rehabilitation Service and associated support services such as pathology, pharmacy, imaging and a range of non-clinical services in the main hospital.
"Approximately 120 patients will move from the Shenton Park Campus to the new rehabilitation facilities here at Fiona Stanley Hospital in a massive logistics exercise."
Healthscope was selected as the preferred bidder for the construction of the new $1bn Northern Beaches Hospital in Sydney, Australia.
The project work includes construction of a hospital with 14 operating theatres and six surgical suites, an advanced intensive care and critical care units, as well as a modern inpatient mental health facility.
Construction on the hospital is scheduled to begin in early 2015, with plans to open it in 2018. More than 700 jobs will be created during the construction phase of the project.
The University of Texas Southwestern Medical Centre (UT Southwestern) will open its new $800m hospital on 6 December.
The 12-floor and 460-bed William P Clements Jr University Hospital will replace the 50 year-old St Paul University Hospital, located in Dallas.
UT Southwestern president Daniel Podolsky said: "The William P Clements Jr University Hospital represents an enormously important step for the medical centre."
According to UT Southwestern, the hospital includes 40 emergency treatment rooms, 24 surgical suites, 12 procedure rooms, 72 adult intensive care unit (ICU) rooms, 16 labour and delivery rooms, 30 neonatal ICU rooms and three obstetrics specialty, as well as six endoscopy suites. Two nuclear medicine rooms, four CT scan, two MRI, and six X-ray suites are also included.
GE Healthcare partnered with Sweden-based Karolinska University Hospital to help improve the efficiency of the care pathway for pelvic cancer patients and reduce unwarranted clinical variation.
Under the deal, GE Healthcare will offer consultancy services, tools for healthcare analytics and a PET/CT imaging platform to the hospital.
The deal will allow the hospital access with a Caradigm intelligence platform (CIP) from Caradigm, a joint venture of GE Healthcare and Microsoft.
Royal Blackburn Hospital in Lancashire, UK, installed Symbia T Series SPECT-CT system from Siemens Healthcare.
Siemens noted the system will be used in a wide range of nuclear medicine procedures.
The Symbia T system was installed in the place of a single-headed system in the hospital's nuclear medicine department.
It will be used by the hospital team, including radiographers, a medical technical officer and an assistant practitioner.
India-based Apollo Hospitals partnered with French pharma giant Sanofi to improve access to treatment for people with diabetes.
For the first part of the collaboration, Sanofi will extend support to establish 50 Apollo Sugar clinics, both globally and in India.
The Apollo Sugar Clinics will provide access to an integrated diabetes care solution within a clinical infrastructure, and helps in the early detection and treatment of diabetes and associated complications.
A team of military medics from UK-based 22 Field Hospital was deployed to operate a healthcare workers treatment facility in Kerry Town, Sierra Leone.
The team included 91 personnel, comprising of general nurses, medical technicians, specialist nurses, doctors, and infectious disease consultants, as well as drivers, chefs, administrators and logistical staff.
Approximately 12 beds out of 92, will be used for the specific treatment of healthcare workers. The British medics team work for the treatment facility, situated 50km from the capital, Freetown.
Massachusetts General Hospital (MGH), an affiliate of Harvard Medical School, installed Agfa HealthCare's direct radiography (DR) technologies to improve its in-patient and out-patient facilities.
Located in Boston, US, MGH installed eight DX-D 100 mobile DR systems and eight DX-D 600 fully automated DR suites, replacing their previous technologies.
Agfa HealthCare North America DR business director Ueli Laupper said: "Massachusetts General Hospital is a longtime user of Agfa HealthCare's CR systems.
"They selected Agfa HealthCare's DR systems because of the outstanding image quality our digital solutions deliver with MUSICA image processing and the productivity improvements they offer with Agfa HealthCare's acquisition workstation."