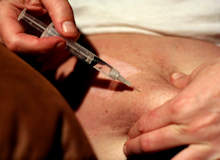 The first 'UK Injection Technique Recommendations' for people with diabetes who use injectable therapies was published in 2010. The recommendations cover topics such as needle length, lifted skin folds, lipohypertrophy, rotation of injection sites, bleeding and bruising, pregnancy, insulin dosage, safety needles and the disposal of injection material.
Based on the outcome of three international workshops (1997-2009), where more than 130 international experts examined relevant research and debated best practice, and two International Injection Technique Questionnaire surveys (2000 and 2009), these recommendations were adapted for use in the UK by the Forum for Injection Technique (FIT). They were presented at a national FIT meeting and reviewed by more than 40 adult and paediatric diabetes specialist nurses, district nurses and practice nurses.
Forum for Injection Technique
"As many as 2.75 million people in the UK have diabetes and this total is forecast to climb to four million by 2025."
FIT was formed by a group of like-minded, experienced diabetes specialist nurses in the UK, and is dedicated to establishing and promoting best practice in injection technique, as well as raising awareness of research relating to injection technique and the impact this may have on health outcomes. The forum's overarching vision is to help everyone with diabetes using injectable therapies achieve the best possible health outcomes by ensuring that the correct dose is delivered to the correct injection site, using the correct technique, each and every time.
FIT continues to examine practice within the field of injection technique and promotes research in this area, and is developing initiatives to address areas of concern, and facilitate novel and innovative educational approaches.
As many as 2.75 million people in the UK have diabetes and this total is forecast to climb to four million by 2025. It is estimated that almost 30% of the population with diabetes use injectable therapies, which is approximately 800,000 people. With the increase in the incidence of diabetes and the pattern towards using injectable therapies earlier on in the progression of the disease due to national glycaemic targets being set, this number will undoubtedly rise. For injectable therapies to work optimally, correct injection technique is essential.
Injection education and retention
Unfortunately, in recent years, injection technique has not been given any real emphasis in the management of injection therapies. It seems to be seen as something to teach early in the education and management process, and is rarely revisited later. In fact, it is the role of all healthcare professionals to educate and treat the person with diabetes, to give training and advice on best practice, and to regularly monitor the person's injection technique and injection sites.
How well do you really know your competitors?
Access the most comprehensive Company Profiles on the market, powered by GlobalData. Save hours of research. Gain competitive edge.
Company Profile – free sample
Thank you!
Your download email will arrive shortly
Not ready to buy yet? Download a free sample
We are confident about the unique quality of our Company Profiles. However, we want you to make the most beneficial decision for your business, so we offer a free sample that you can download by submitting the below form
By GlobalData
Many people with diabetes do not remember receiving any education on particular topics relating to injection technique. While this does not mean that they were not educated on those topics, it demonstrates that to improve retention, the way best practice is taught and refreshed must be updated.
Injection depth
The recommended site for insulin and incretin mimetic injections is the subcutaneous tissue (the layer of fat below the skin), because it allows the insulin to be absorbed at a more predictable rate, which can result in better glycaemic control. Incorrect technique, including using the wrong needle length, can lead to injectable therapies not being absorbed in a predictable manner.
"Short needles are effective for patients of all body types, even in the obese."
This, in turn, may cause immediate problems such as hypoglycaemia (a sudden drop in blood sugar because of accelerated insulin absorption if the insulin is injected into muscle) and/or hyperglycaemia (a rise in blood sugar because of slow insulin absorption or insulin running out too quickly).
Studies have demonstrated that it does not matter if insulin is injected into fat that is either just under the dermis or just above the muscle, as long as it is injected into fat (see Figure 1). Short needles are therefore effective for patients of all body types (even in the obese, as maximum skin thickness is no more than 2.7mm) and may offer less chance of intramuscular injection. Some people may need to vary their needle length throughout their lifetime, depending on which site they are injecting into, weight changes or aging in order to achieve optimum insulin absorption.
Lipohypertrophy
A major problem associated with poor injection technique is lipohypertrophy (fatty lumps), which may occur if an injectable therapy is not administered correctly, particularly in relation to the use of insulin. Lipohypertrophy is an accumulation of fat under the skin partly caused by injecting too frequently in the same area, which can be unsightly and painful. In some people, these lesions can be hard or scar-like.
"A major problem associated with poor injection technique is lipohypertrophy."
Detection of lipohypertrophy requires visualisation and palpation of injecting sites, as some lesions can be more easily felt than seen. Normal skin can be pinched tightly together, while lipohypertrophy cannot. In some cases lipoatrophy (wasting of the subcutaneous tissue) can also develop, but this has become less common due to the purification of human and analogue insulin.
The majority of those using injectable therapies now use pen devices – a positive progression as pen devices have been proven to help people manage their injectable therapies more easily, safely and accurately; however, pen devices and syringes (and all needle lengths and gauges) have been associated with lipohypertrophy, as well as insulin pump cannulae when repeatedly inserted into the same site.
No randomised, prospective studies have been published establishing causative factors in lipohypertrophy. Published observations support an association between the presence of lipohypertrophy and the use of older, less-purified insulin formulations, failure-to-rotate sites, using small injecting zones, repeatedly injecting into the same location and reusing needles. Injections into lipohypertrophic tissue may also worsen the hypertrophy. Insulin absorption may become delayed or erratic, potentially worsening glycaemia control.
Reusing needles can also lead to incorrect dosage as air can be allowed into the cartridge or disposable device when the needle is left attached between injections. Bruising, bleeding or infection is possible if needles are blunted by overuse, reused or an injection is given through clothing. Recommended practice is that needles are used only once and injections should not be given through clothing. Best practice relating to lipohypertrophy is as follows:
Sites should be inspected and any abnormalities documented by the healthcare professional within the individual's care plan. At a minimum, each site should be examined annually (preferably at each visit for children). If lipohypertrophy is already present, the sites should be monitored at every review.
Individuals should be taught how to examine their own injection sites and detect lipohypertrophy.
Methods such as making two ink marks at opposite edges of the lipohypertrophy or photographing the area allows the lipohypertrophy to be measured and its size recorded for long-term follow-up.
Individuals should be advised not to inject into areas of lipohypertrophy until abnormal tissue returns to normal (which can take months or even years).
Switching injections from areas of lipohypertrophy to normal tissue often requires a reduction in the dose of insulin injected. The amount of change varies from one individual to another and should be guided by frequent blood glucose measurements. Caution is needed because too great a reduction in dose could lead to an increased risk of diabetic ketoacidosis in people with Type 1 diabetes, while too small a reduction could result in hypoglycaemia.
The best current preventative and therapeutic strategies for lipohypertrophy include the rotation of injection sites and non-reuse of needles.
Injection site rotation
A simple way to avoid the development of lipohypertrophy is to systematically rotate the site where the insulin is injected. There are four main injection sites – abdomen, thigh, arm and buttocks.
"About half of people with diabetes (54%) will experience lipohypertrophy at some time in their life."
Each of these sites is different, and the rate at which human insulin is absorbed will differ for each one (however, there does not appear to be any difference with analogue insulins).
Rotation between sites, within the site and between the sides of the body is important as this lowers the development of lipohypertrophy. The results of the 2009 International Injection Technique Questionnaire survey showed that about half of people with diabetes (54%) will experience lipohypertrophy at some time in their life and some tend to inject into the lipohypertrophy itself (28%), which is clearly wrong practice.
Almost three-quarters of children and adolescents experience liophypertrophy (71%), which highlights the urgent need to improve injection technique and the way it is taught. Best practice for rotation of injection sites includes:
individuals should be taught an easy-to-follow rotation scheme from the onset of injection therapy
one effective scheme involves dividing the injection site into quadrants (or halves when using the thighs or buttocks); using one quadrant a week and always moving in the same direction, either clockwise or anti-clockwise (see Figure 2)
injections within any quadrant or half should be spaced at least 1cm apart in order to avoid repeat tissue trauma
the healthcare worker should verify that the rotation scheme is being followed at each visit and should provide advice where needed.
Skin lifts and injection hold time
"Making a lifted skin fold reduces the chance of an injection going intramuscularly."
When only longer length needles (8mm or greater) are available the only option for those with little subcutaneous depth is to use a lifted skin fold, as we don't advise angled injection. Making a lifted skin fold reduces the chance of an injection going intramuscularly, but releasing the skin fold too soon or lifting incorrectly using the whole hand increases the risk of intramuscular injection.
The best way to make a skin fold lift is to lift the skin between the thumb and two fingers of one hand, pulling the skin and fat away from the underlying muscle, and holding until the insulin has been injected (see Figure 3).
When injecting using a pen device, it is recommended that the needle is kept in the skin (with a lifted skin fold, if necessary) for ten seconds after delivering the drug. This helps to ensure equalisation of pressure and so complete expulsion of the injectable therapy through the needle into the tissue, while avoiding dribble.
Implementing recommendations In general, injection technique and the way it is taught have not improved at the same rate as technology. Helping to further educate diabetes healthcare professionals and developing educational tools will, in turn, help people with diabetes manage their injectable therapies in the best possible way. FIT believes that this can be achieved by implementing the 'UK Injection Technique Recommendations', in tandem with educational programmes, for both those with diabetes and healthcare professionals.
The 'UK Injection Technique Recommendations' can be accessed at www.trend-uk.org.
References available on request.