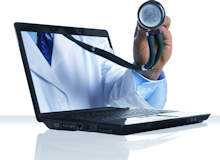 Telemedicine as a concept has been around for some time. The idea of being able to speak to a physician on the other side of the country, or for a physician to be able to assess a patient down a video line is not new; however, as Roger Lee Heath, founder of the LifeBot telemedicine system, which specialises in emergency management of hospital-to-ambulance and hospital-to-home communications, explains, in an emergency or ambulatory setting, this technology is still very much in its infancy.
"There have been tremendous advances in telemedicine and video conferencing in recent years, but the main reason why telemedicine has not taken off in the emergency and ambulatory environment is due to connectivity issues," he says.
"Telemedicine has not taken off in the emergency and ambulatory environment due to connectivity issues."
"You can use fixed telemedicine easily enough within a hospital or home setting and it can be especially useful, say, for a hospital in a remote area that does not have access to a neurosurgeon or other specialist."
However, in an emergency context – for example, in an ambulance racing back to the ER – maintaining connectivity can be a critical challenge, in all senses of the word.
"If you look around, you really do not find ambulance telemedicine that has been successful – there have often been connectivity issues when it has been used in a moving ambulance. But the technology is beginning to get there now in terms of maintaining connectivity," says Heath.
Care in transit
One of the biggest problems is when a patient is in an ambulance for a long time.
"If someone is coming from a remote area and is in the ambulance for, say, two hours, then you need to be able to retain contact and support the patient, and work out changes to the care plan," says Rebecca Baute, assistant vice-president of patient services at Cincinnati Children's Hospital Medical Center.
" The Transport AV telemedicine system provides emergency caregivers with video and audio data from patients in transit."
For the past couple of years, the hospital has been participating in a study examining telemedicine's potential for improving patient care in critical care paediatric and neonatal transportation. The Transport AV telemedicine system from Arizona-based GlobalMedia attaches to a stretcher, and provides emergency caregivers with video and audio data, including heart tones and breath sound signals, from patients in transit to the ER or ICU.
To overcome connectivity issues, the system relies on 3G and 4G mobile data networks rather than a municipal Wi-Fi grid; however, even this technology is not fail-safe: image quality occasionally suffers or the video stream gets interrupted, so the system is designed to allow physicians to view stills of the last images they received.
"Before this, you had to rely on a phone conversation describing what was thought to be wrong with the patient," explains Baute. "Now you are able to visualise the patient and listen to their heart tone through a stethoscope. "We are finding that there is real value in being able to see how patients are breathing, their colour and so on. It is much easier to do a physical assessment alongside the emergency team."
Long-distance decisions
Moreover, if there is a disaster or an emergency situation, then the ambulance can be turned into an on-site triage system to assess the patients and stream the video back to the hospital. It means that the physicians have the capability to see hundreds of patients without having to be at the site of the disaster.
"The LifeBot system, for example, is designed to send and receive live video, voice and patient vital sign data transmissions."
In this situation, the system can help a physician decide whether a patient is in a fit state to be transferred by ambulance or will need to be transported to the hospital via helicopter, as well as whether the transport team needs to use lights and sirens. The technology is also flexible enough to be mounted on a portable pole so it can be taken directly into an emergency or disaster setting.
"We have made contact with other hospitals that have shown an interest in working with us, especially around paediatric consultations, but it has to be complementary – it will not replace conventional protocols," says Baute.
"We must also be able to publish metrics related to our outcomes; however, this sort of technology has the potential to change how the physician works. Having the ability to connect with the patient without the physician having to physically be there can help substantially with diagnosis and care planning."
Pre-ER response and diagnosis
Another key aspect of emergency telemedicine is its ability to ensure that physicians are already diagnosing patients even before they arrive in ER, thus ensuring their immediate referral to the right department or effective prioritisation.
"Depending on what kind of stroke a patient has had, it becomes even more important where that patient goes," explains Heath. "A neurosurgeon with a tablet device could log on to the scene and access the ambulance's medical data.
"The next big thing is ambulance telemedicine and home units with a triage ability."
"With the right connectivity and the right mobile devices, an ambulatory system could ensure continuity of care, from the ambulance to the helicopter and from the remote hospital to the central facility.
"If it's said that a picture is worth a thousand words, then a video is worth a million – but you also have to be very clear that with video conferencing alone you are only getting part of the picture," adds Heath. "In fact, someone who may appear healthy on the surface could be very sick internally. Key vital signs or an ECG may reveal that the same person has severe and immediate health risks and observing that could result in a more accurate interpretation of the patient's condition. The difference may be life-saving."
The LifeBot system, for example, is designed to send and receive live video, voice and patient vital sign data transmissions and is employed primarily in support of heart, trauma and stroke victims in ambulances. But it is also designed for health management in major crises, disasters and emergencies by hospital and field-based emergency professionals, and the US military in battlefield operations.
"It is not just about ambulances, but also about the use of such systems to help keep people alive while the ambulance is getting to them," explains Heath. "For example, telemedicine might be used alongside automatic defibrillators and by rescuers or law enforcement."
Telemedicine in this context allows problems to be connected quickly, thus much more effectively prioritising patient care.
"I think the next big thing is ambulance telemedicine and, beyond that, home units with a triage ability," says Heath. "If we can reduce the 'golden hour' to a 20, 40 or 45-minute response, this will make a huge difference. With telemedicine, you could be 'treating' someone within five to 20 minutes – the golden hour could become history."