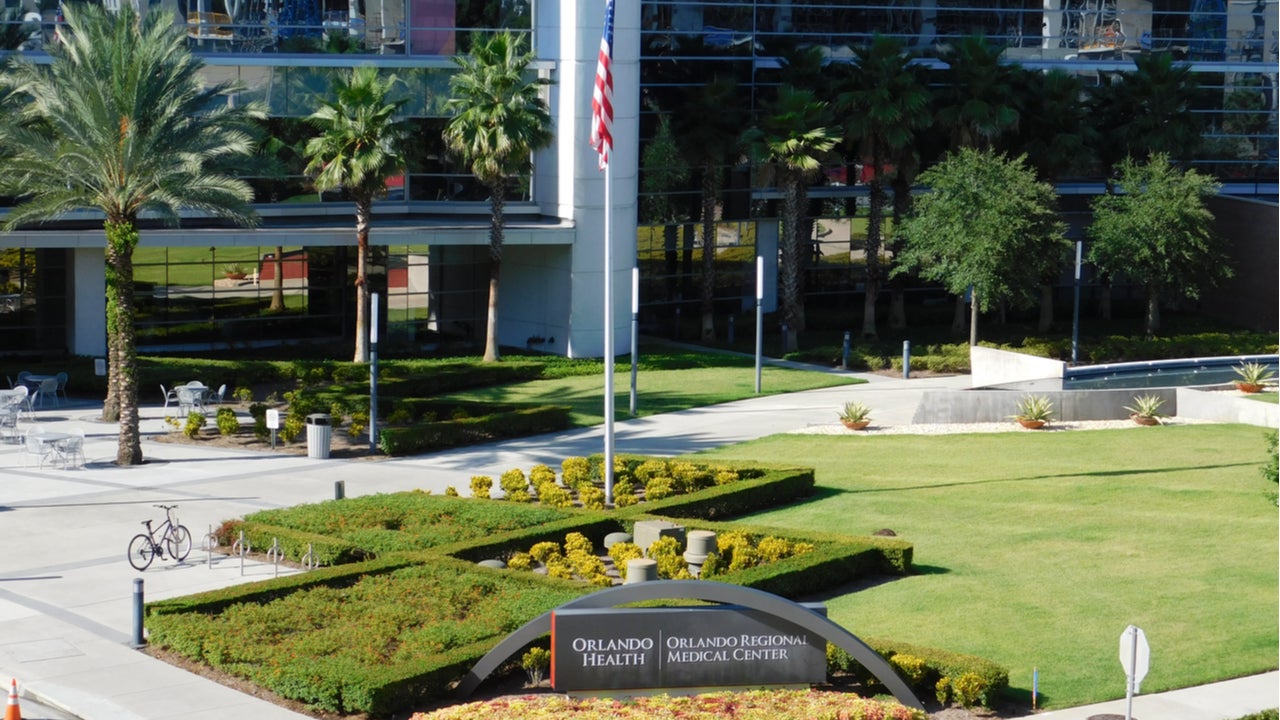 The US was estimated to have 6,642 registered hospitals, as of December 2021.
With more than 1,738 beds, Orlando Health Orlando Regional Medical Center in Florida stood as the biggest hospital in the US, followed by the Barnes-Jewish Hospital.
Hospital Management lists the top ten hospitals in the US based on bed size in 2021, using GlobalData's research.
1. Orlando Health Orlando Regional Medical Center – 1,738 beds
Orlando Health Orlando Regional Medical Center (ORMC) is the largest hospital among not-profit healthcare organisation Orlando Health's network of community and speciality hospitals. ORMC specialises in trauma, critical care, oncology, cardiology, orthopaedics, and neurosciences, apart from outpatient surgery services.
Located in Underwood St., Orlando, Florida, ORMC is one of the six major teaching hospitals in the state offering graduate medical education in seven specialities. It is also home to the only Level I trauma centre in Central Florida.
Other specialities of ORMC include burn care, bariatrics, digestive health issues, radiology and diagnostic imaging, rehabilitation, and physical medicine. The hospital also offers the region's only air ambulance service, with three medical helicopters. The service is provided within a 144km radius covering ten counties in Central Florida.
2. Barnes-Jewish Hospital – 1,737 beds
Barnes-Jewish Hospital (BHJ) specialises in cardiology, oncology, ophthalmology, orthopaedics, neurology and trauma care, apart from offering transplant services. The hospital has been designated as a Level I trauma centre by the American College of Surgeons and is among three hospitals in the state to receive the recognition.
The hospital is located within Washington University Medical Center in St. Louis, Missouri. It is an affiliated teaching hospital of the university and is a member of BJC HealthCare, a non-profit healthcare organisation serving St. Louis, southern Illinois, and southeast Missouri regions.
BJH is also recognised as a Level 4 designated centre by the National Association of Epilepsy Centers for providing intensive neurodiagnostic monitoring and psychosocial treatments for patients suffering from seizure disorders.
3. Indiana University Health Methodist Hospital – 1,733 beds
The Indiana University Health Methodist Hospital's (IU Health Methodist Hospital) specialities include oncology, emergency medicine, maternity, orthopaedics, cardiology, obstetrics and gynaecology, and primary care. Located in Indianapolis, Indiana, the hospital is part of the non-profit healthcare system Indiana University Health's network.
The hospital is home to a Level I trauma centre to serve patients with any type of trauma. It is also home to a Level I vascular emergency programme to provide emergency care to patients with heart conditions.
The IU Health Methodist Hospital has a nationally recognised Medical Toxicology Programme, through which the hospital provides treatment for acute and chronic toxicity conditions. It is home to the Indiana Poison Center, which is certified by the American Association of Poison Control Centers.
The hospital also operates the most advanced mobile intensive care units through the LifeLine ground and air transportation programme.
4. Jackson Memorial Hospital – 1,550 beds
Jackson Memorial Hospital is a tertiary care hospital operated by the non-profit academic medical system Jackson Health System. The hospital is located in Miami, Florida, and serves as a major teaching facility for the University of Miami Leonard M. Miller School of Medicine.
The hospital's specialities include emergency care, cardiology, oncology, gastroenterology, dermatology, otolaryngology, gastroenterology, gynaecology, neurology, obstetrics, orthopaedics, pulmonology, and urology, apart from transplant services.
The hospital is home to the Ryder Trauma Center, which is a Level 1 trauma centre, and the Miami Transplant Institute, which is one of the largest transplant programmes in the country. The hospital's Miami Burn Center is a leading burn treatment facility that is verified by the American Burn Association. The Jackson Heart Institute of the hospital offers a comprehensive heart programme that is available for patients of all ages from paediatrics to adults.
5. Yale New Haven Hospital – 1,541 beds
Yale New Haven Hospital is a multi-disciplinary family care-focused hospital specialising in oncology, paediatrics, cardiology, maternity, psychiatry, neurosciences and transplantation. It serves as the main teaching hospital for Yale School of Medicine (YSM).
Located in New Haven, Connecticut, the hospital is part of the Yale New Haven Health non-profit healthcare system. The hospital also includes Smilow Cancer Hospital, Yale New Haven Children's Hospital, and Yale New Haven Psychiatric Hospital. The Yale Cancer Center at the hospital is the only cancer centre in New England to be designated by the National Cancer Institute.
Yale New Haven is also the biggest acute care provider in the southern part of Connecticut and receives major national and international referrals.
6. Mississippi State Hospital – 1,479 beds
Mississippi State Hospital is a publicly funded psychiatric facility operated by the Mississippi Department of Mental Health. Located on a 350-acre campus in Whitfield, Mississippi, the hospital is accredited by the Joint Commission, a non-profit organisation and accrediting body in health care.
The hospital provides mental health care and substance use treatment to adults, children and teenagers. The services provided by the hospital include acute and continued psychiatric services for adults, child and adolescent psychiatric services, and adult and adolescent substance use services.
Child and adolescent psychiatric services are provided at the Oak Circle Center, an acute behavioural health programme for children and adolescents experiencing emotional and/or behavioural issues.
7. Napa State Hospital – 1,418 beds
Napa State Hospital (DSH-Napa), operated by the Department of State Hospitals, is a psychiatric facility located in Napa, California. Founded in 1875, it is the oldest state hospital still in operation and is accredited by the Joint Commission.
DSH-Napa offers treatment programmes primarily for civil commitments (court-ordered institutionalisation of persons suffering from mental disease) and forensic commitments (individuals charged or convicted of criminal behaviour due to mental illness).
The hospital's speciality units include admission units where behaviour stabilisation of patients is initiated, incompetent to stand trial treatment that focuses on trial competency treatment, and discharge units that focus on the development of community living skills and relapse prevention. Some of the specialised treatments provided at the hospital include dialectic behaviour therapy, intensive substance recovery and geropsychiatric.
8. AdventHealth Orlando – 1,368 beds
AdventHealth Orlando (formerly Florida Hospital Orlando) is a general medical and surgical facility part of the non-profit health care system AdventHealth's network of hospitals. Founded in 1908, AdventHealth Orlando is located in Orlando, Florida.
The hospital specialises in oncology, cardiology, diabetes, geriatrics, paediatrics, women's health, and transplant services. It also specialises in behavioural health, otorhinolaryngology, hepatology, neurosciences, orthopaedics, urology, and pulmonology, apart from emergency and urgent care, palliative care, and imaging services and surgical care.
AdventHealth Orlando's paediatric unit is home to a Level 4 paediatric epilepsy centre, a paediatric heart centre, apart from a paediatric bone-marrow transplant unit and a Level 3 neonatal intensive care unit (NICU).
9. Patton State Hospital – 1,287 beds
Operated by the Department of State Hospitals, Patton State Hospital (DSH-Patton) is a forensic psychiatric hospital. Located in San Bernardino County, Patton, California, the hospital was opened in 1893.
DSH-Patton provides treatment for forensically and civilly committed patients and is accredited by the Joint Commission. The categories of patients treated at the hospital include incompetent to stand trial, those under a conservatorship agreement, offenders with mental disorders, persons found not guilty due to insanity, and sex offenders.
The incompetent to stand trial patients are given specialised treatments aimed at providing the patient with the knowledge and skills to return to court. The other treatment programmes provide self-autonomy and independence, community living skills and self-discipline.
10. Atascadero State Hospital – 1,275 beds
Atascadero State Hospital (DSH-Atascadero) is a forensic and psychiatric hospital operated by the Department of State Hospitals. Located in San Luis Obispo County in central California, the hospital was opened in 1954.
The all-male patient hospital provides treatment for persons remanded by the county superior courts or the Department of Corrections and Rehabilitation (CDCR). The treatment programmes focus on skills training, apart from rehabilitative and enrichment activities.
The treatment planning at the hospital helps patients in recovering from their psychiatric disability, including reduction of symptoms and acquisition of skills that help in coping with mental illness. Psychotherapy, vocational training, and educational training may also be provided based on the assessments made by the treatment planning team.