The healthcare industry continues to be a hotbed of innovation, with activity driven by telemedicine, real-time diagnostics, smart hospitals and access to digital therapies, and the growing importance of technologies such as artificial intelligence (AI), the internet of things (IoT), augmented reality (AR), robotics and data management practices. In the last three years alone, there have been over 106,000 patents filed and granted in the healthcare industry, according to GlobalData's report on Artificial Intelligence in Healthcare: Digital phantoms.
However, not all innovations are equal and nor do they follow a constant upward trend. Instead, their evolution takes the form of an S-shaped curve that reflects their typical lifecycle from early emergence to accelerating adoption, before finally stabilising and reaching maturity.
Identifying where a particular innovation is on this journey, especially those that are in the emerging and accelerating stages, is essential for understanding their current level of adoption and the likely future trajectory and impact they will have.
200+ innovations will shape the healthcare industry
According to GlobalData's Technology Foresights, which plots the S-curve for the healthcare industry using innovation intensity models built on over 443,000 patents, there are 200+ innovation areas that will shape the future of the industry.
Within the emerging innovation stage, drug delivery device security, microscopic image analysis models, and cellular imaging techniques are disruptive technologies that are in the early stages of application and should be tracked closely. Smart balloon catheters, automated immunoassay analysers, and AI-assisted magnetic resonance imaging (MRI) are some of the accelerating innovation areas, where adoption has been steadily increasing. Among maturing innovation areas are smart fitness training system and non-invasive physiological monitoring, which are now well established in the industry.
Innovation S-curve for artificial intelligence in the healthcare industry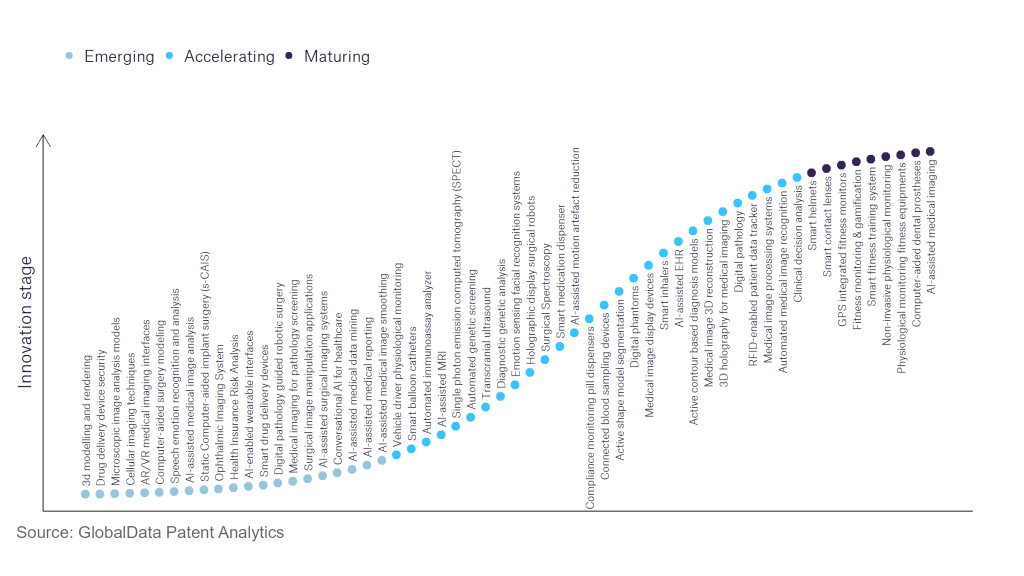 Digital phantom is a key innovation area in artificial intelligence
A digital phantom is a data file that contains a picture that may be projected for viewing by testing imaging equipment. The picture in the data file would include anything the imaging technology is meant to detect, such as a tumour. Such phantoms are valuable for testing systems that are meant to identify certain circumstances automatically. Digital phantoms provide flexibility and control over ground-truth production, which might be utilised to analyse many elements of tractography (e.g., local fibre orientation, the geometrical configuration of estimated fibre tracts, control parameters of tractography, etc.).
GlobalData's analysis also uncovers the companies at the forefront of each innovation area and assesses the potential reach and impact of their patenting activity across different applications and geographies. According to GlobalData, there are 30+ companies, spanning technology vendors, established healthcare companies, and up-and-coming start-ups engaged in the development and application of digital phantoms.
Key players in digital phantoms – a disruptive innovation in the healthcare industry
'Application diversity' measures the number of different applications identified for each relevant patent and broadly splits companies into either 'niche' or 'diversified' innovators.
'Geographic reach' refers to the number of different countries each relevant patent is registered in and reflects the breadth of geographic application intended, ranging from 'global' to 'local'.
Patent volumes related to digital phantoms
Source: GlobalData Patent Analytics
Stryker is the leading patent filer in the Digital phantoms market. Some other leading patent filers include Asahi Kasei and Intuitive Surgical.
In terms of application diversity, Kaleo leads, followed by Tietronix Software and Stryker. With regards to geographic reach, Stryker leads, followed by Boehringer Sohn and KindHeart.
Each sort of phantom, physical or digital, has its own set of benefits, drawbacks, and application scenarios. The most notable characteristic of digital phantoms is that they are the only technique to get dMRI data with true ground truth. A significant feature of digital phantoms is that they are very simple to produce because their production process does not rely on specialist gear or raw materials that may be difficult to handle, but rather on an appropriate computation device. Depending on the simulation's complexity, this allows for the low-cost construction of massive collectives of digital phantom subjects, which would be impossible to do using other methods.
To further understand how artificial intelligence is disrupting the healthcare industry, access GlobalData's latest thematic research report on Artificial Intelligence (AI) in Healthcare.