The healthcare industry continues to be a hotbed of innovation, with activity driven by telemedicine, real-time diagnostics, smart hospitals, and access to digital therapies, as well as the growing importance of technologies such as artificial intelligence (AI), the Internet of Things (IoT), augmented reality (AR), robotics and data management practices. In the last three years alone, there have been over 106,000 patents filed and granted in the healthcare industry, according to GlobalData's report on Internet of Things in Healthcare: AI-enabled wearable interfaces.
However, not all innovations are equal and nor do they follow a constant upward trend. Instead, their evolution takes the form of an S-shaped curve that reflects their typical lifecycle from early emergence to accelerating adoption, before finally stabilising and reaching maturity.
Identifying where a particular innovation is on this journey, especially those that are in the emerging and accelerating stages, is essential for understanding their current level of adoption and the likely future trajectory and impact they will have.
200+ innovations will shape the healthcare industry
According to GlobalData's Technology Foresights, which plots the S-curve for the healthcare industry using innovation intensity models built on over 443,000 patents, there are 200+ innovation areas that will shape the future of the industry.
Within the emerging innovation stage, smart helmets, body temperature sensors, and software as a medical device (SaMD) are disruptive technologies that are in the early stages of application and should be tracked closely. Smart balloon catheters, point-of-care molecular diagnostics, and automated immunoassay analysers are some of the accelerating innovation areas, where adoption has been steadily increasing. Among maturing innovation areas are smart contact lenses and GPS integrated fitness monitors, which are now well established in the industry. 
Innovation S-curve for Internet of Things in the healthcare industry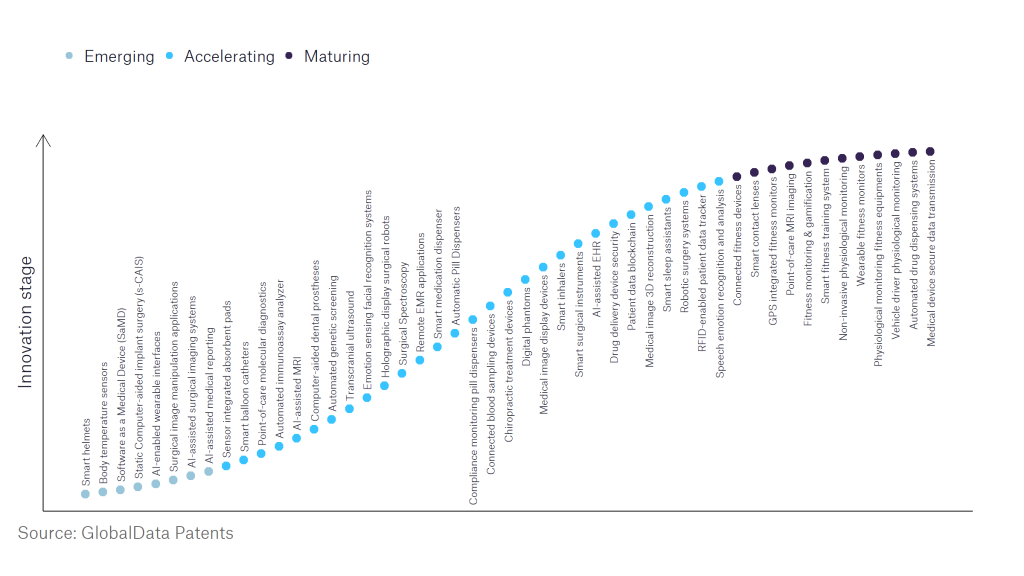 AI-enabled wearable interfaces is a key innovation area in Internet of Things
Wearable technology is a blanket term for electronic devices that can be worn on the body, either as an accessory (like a Fitbit or smartwatch or a pair of glasses) or as part of the material used in clothing (such as sportswear that measures biometrics). They are intended to gather users' data on personal health and exercise, which can be sent to a doctor or other healthcare professional in real time.
GlobalData's analysis also uncovers the companies at the forefront of each innovation area and assesses the potential reach and impact of their patenting activity across different applications and geographies. According to GlobalData, there are 10+ companies, spanning technology vendors, established healthcare companies, and up-and-coming start-ups engaged in the development and application of AI-enabled wearable interfaces.
Key players in AI-enabled wearable interfaces – a disruptive innovation in the healthcare industry
'Application diversity' measures the number of different applications identified for each relevant patent and broadly splits companies into either 'niche' or 'diversified' innovators.
'Geographic reach' refers to the number of different countries each relevant patent is registered in and reflects the breadth of geographic application intended, ranging from 'global' to 'local'.
Patent volumes related to AI-enabled wearable interfaces
Source: GlobalData Patent Analytics
Microsoft and Enlitic are the leading patent filers in internet of things AI-enabled wearable interfaces. Some other leading patent filers include Stryker and Magic Leap.
In terms of application diversity, Stryker leads the pack, followed by Shanghai United Imaging Intelligence, Intel and Boston Scientific. With regards to geographic reach, Stryker held the top position, followed by NIKE and Wacom.
Wearable interfaces based on the Internet of Things have revolutionised not only patient health and support in critical situations, but also the efficiency of healthcare personnel and healthcare organisation workflows. Wearables powered by the Internet of Things can have an impact on the healthcare industry by incorporating minor changes to improve service delivery by improving drug management and ensuring the availability of critical hardware at healthcare facilities.
To further understand how Internet of Things is disrupting the healthcare industry, access GlobalData's latest thematic research report on Internet of Things (IoT) in Healthcare.