The healthcare industry continues to be a hotbed of innovation, with activity driven by telemedicine, real-time diagnostics, smart hospitals and access to digital therapies, and the growing importance of technologies such as artificial intelligence (AI), the internet of things (IoT), augmented reality (AR), robotics and data management practices. In the last three years alone, there have been over 106,000 patents filed and granted in the healthcare industry, according to GlobalData's report on Internet of Things in Healthcare: Static computer-aided implant surgery (s-CAIS). Buy the report here.
However, not all innovations are equal and nor do they follow a constant upward trend. Instead, their evolution takes the form of an S-shaped curve that reflects their typical lifecycle from early emergence to accelerating adoption, before finally stabilising and reaching maturity.
Identifying where a particular innovation is on this journey, especially those that are in the emerging and accelerating stages, is essential for understanding their current level of adoption and the likely future trajectory and impact they will have.
200+ innovations will shape the healthcare industry
According to GlobalData's Technology Foresights, which plots the S-curve for the healthcare industry using innovation intensity models built on over 443,000 patents, there are 200+ innovation areas that will shape the future of the industry.
Within the emerging innovation stage, smart helmets, body temperature sensors, and software as a medical device (SaMD) are disruptive technologies that are in the early stages of application and should be tracked closely. Smart balloon catheters, point-of-care molecular diagnostics, and automated immunoassay analysers are some of the accelerating innovation areas, where adoption has been steadily increasing. Among maturing innovation areas are smart contact lenses and GPS-integrated fitness monitors, which are now well established in the industry.
Innovation S-curve for Internet of Things in the healthcare industry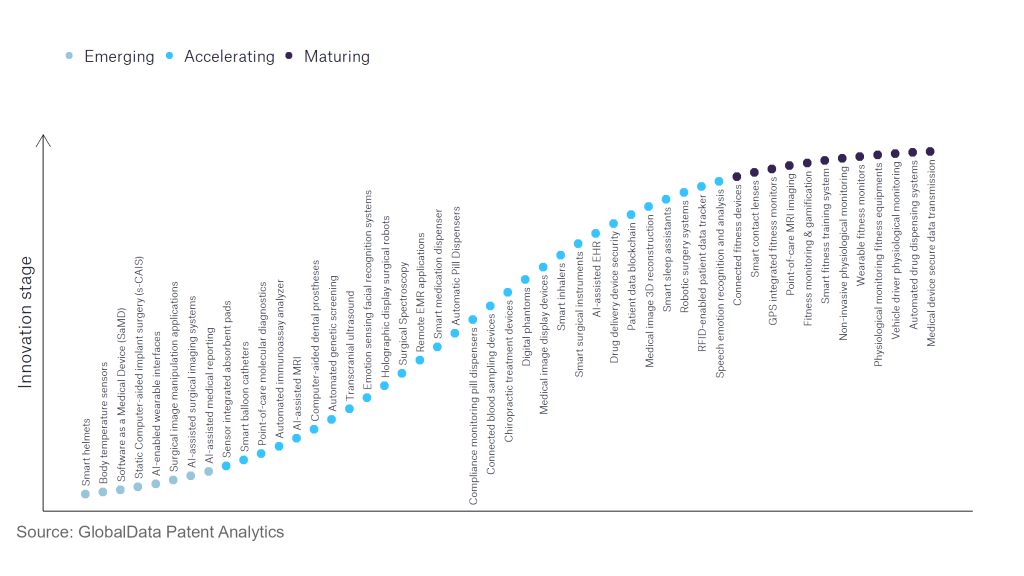 Static computer-aided implant surgery (s-CAIS) is a key innovation area in Internet of Things
Static computer-aided implant surgery (s-CAIS) systems superimpose a predetermined virtual implant position onto the real surgical operating area by means of a surgical drill guide or template, thereby enabling clinicians to plan an accurate treatment approach and control implant location, angulation, drilling and positioning. Due to benefits such as improved safety, accuracy, reliability and precision, these static guidance systems are gradually replacing the traditional implant placement protocols.
GlobalData's analysis also uncovers the companies at the forefront of each innovation area and assesses the potential reach and impact of their patenting activity across different applications and geographies. According to GlobalData, there are 10+ companies, spanning technology vendors, established healthcare companies, and up-and-coming start-ups engaged in the development and application of static computer-aided implant surgery (s-CAIS).
Key players in static computer-aided implant surgery (s-CAIS) – a disruptive innovation in the healthcare industry
'Application diversity' measures the number of different applications identified for each relevant patent and broadly splits companies into either 'niche' or 'diversified' innovators.
'Geographic reach' refers to the number of different countries each relevant patent is registered in and reflects the breadth of geographic application intended, ranging from 'global' to 'local'.
Patent volumes related to static computer-aided implant surgery (s-CAIS)
Source: GlobalData Patent Analytics
Stryker Corp is the leading patent filer in the static computer-aided implant surgery (s-CAIS) market. Some other leading patent filers include Smith & Nephew and Zimmer Biomet Holdings.
In terms of application diversity, Stryker Corp leads, followed by BioAlpha and Heartflow. With regards to geographic reach, Synaptive Medical leads, followed by Optimized Ortho and BioAlpha.
With its ability to control and determine precise implant location, the s-CAIS field is constantly changing and evolving, which will lead to improved patient access and safety. With constant efforts being made to overcome the high-cost constraints and other limitations of these systems, the overall prospects for s-CAIS look encouraging.
To further understand how Internet of Things is disrupting the healthcare industry, access GlobalData's latest thematic research report on Internet of Things (IoT) in Healthcare.
Premium Insights
From
The gold standard of business intelligence.
Blending expert knowledge with cutting-edge technology, GlobalData's unrivalled proprietary data will enable you to decode what's happening in your market. You can make better informed decisions and gain a future-proof advantage over your competitors.