The healthcare industry continues to be a hotbed of innovation, with activity driven by telemedicine, real-time diagnostics, smart hospitals and access to digital therapies, and the growing importance of technologies such as artificial intelligence (AI), the internet of things (IoT), augmented reality (AR), robotics and data management practices. In the last three years alone, there have been over 106,000 patents filed and granted in the healthcare industry, according to GlobalData's report on Innovation in Healthcare: Vaping device aerosol generators.
However, not all innovations are equal and nor do they follow a constant upward trend. Instead, their evolution takes the form of an S-shaped curve that reflects their typical lifecycle from early emergence to accelerating adoption, before finally stabilising and reaching maturity.
Identifying where a particular innovation is on this journey, especially those that are in the emerging and accelerating stages, is essential for understanding their current level of adoption and the likely future trajectory and impact they will have.
200+ innovations will shape the healthcare industry
According to GlobalData's Technology Foresights, which plots the S-curve for the healthcare industry using innovation intensity models built on over 443,000 patents, there are 200+ innovation areas that will shape the future of the industry.
Within the emerging innovation stage, specimen collection devices, ultrasound imaging system, and automated laboratory systems are disruptive technologies that are in the early stages of application and should be tracked closely. Biological sampling devices, endoscopic ultrasound tomography, and NMR imaging systems are some of the accelerating innovation areas, where adoption has been steadily increasing. Among maturing innovation areas are doppler ultrasound imaging and CT-guided surgery, which are now well established in the industry.
Innovation S-curve for the healthcare industry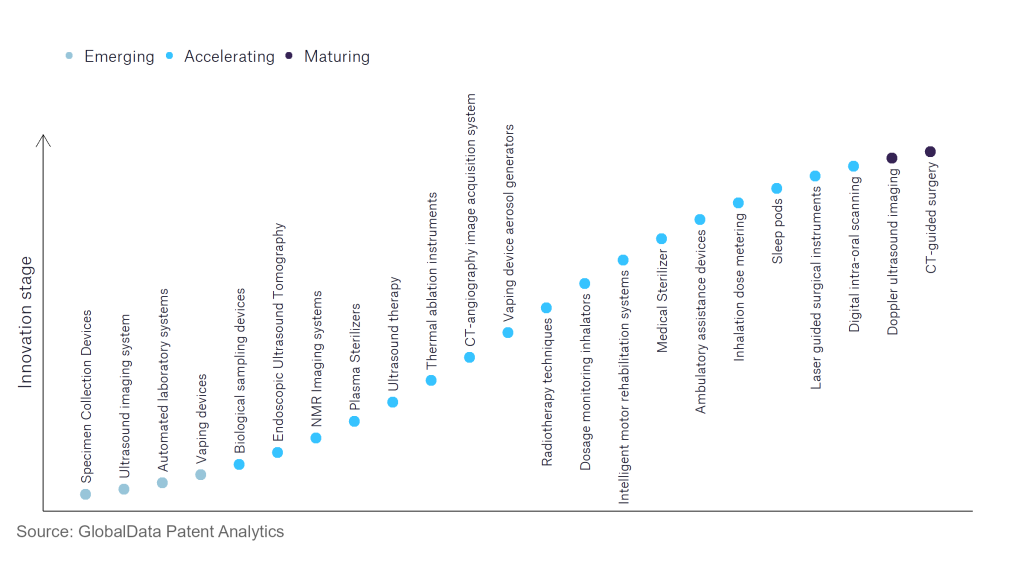 Vaping device aerosol generators is a key innovation area in healthcare
Vaping device aerosol generators, generally battery-powered, allow users to inhale an aerosol that typically contains nicotine mostly, along with flavourings, and other chemicals. They may resemble ordinary objects like pens or USB memory sticks, as well as traditional tobacco cigarettes, cigars, or pipes. In many e-cigarettes, puffing activates the battery-powered heating element, which vapourises the liquid in the cartridge or reservoir. The user then inhales the resulting aerosol or vapour.
GlobalData's analysis also uncovers the companies at the forefront of each innovation area and assesses the potential reach and impact of their patenting activity across different applications and geographies. According to GlobalData, there are 60+ companies, spanning technology vendors, established healthcare companies, and up-and-coming start-ups engaged in the development and application of vaping device aerosol generators.
Key players in vaping device aerosol generators – a disruptive innovation in the healthcare industry
'Application diversity' measures the number of different applications identified for each relevant patent and broadly splits companies into either 'niche' or 'diversified' innovators.
'Geographic reach' refers to the number of different countries each relevant patent is registered in and reflects the breadth of geographic application intended, ranging from 'global' to 'local'.
Patent volumes related to vaping device aerosol generators
Source: GlobalData Patent Analytics
Koninklijke Philips is one of the leading patent filers in the field of vaping device aerosol generators. Some other key patent filers in the field include Siemens and BrainLAB.
In terms of application diversity, Stryker leads the pack, followed by Legrand and Aerin Medical. By means of geographic reach, Creo Medical Group holds the top position, followed by Applied Biophotonics and Atomic Oncology in second and third spots, respectively.
There has been much debate over the safety of e-cigarette usage and its potential as a smoking cessation therapy. Furthermore, it has been observed that the heating process might result in the production of new breakdown chemicals of unknown toxicity. The orientation of the machine-vaping device suggests that it may have an impact on aerosol production, and this lessens the possibility of e-liquid leaking and encourages better wicking. The future of vape devices completely relies on the outcomes of studies related to the effects of vaping on the human body.
To further understand the key themes and technologies disrupting the healthcare industry, access GlobalData's latest thematic research report on Healthcare.