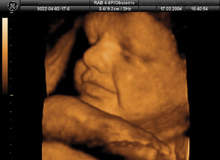 The Portland Hospital, London, UK, is a private institution that specialises in women's and children's health and pregnancy. Sought out by an elite clientele, it's little wonder that it would keep on the cutting edge of technology and offer the ultimate in prenatal experiences – 3D/4D ultrasound.
As well as enabling diagnosticians a unique ability to examine foetal structures with higher accuracy, for expectant parents, these scans allow a bonding experience unlike any other – complete with the option to download keepsake photos and videos on to a mobile phone or MP3 player.
"Ultrasound has been used safely for more than 35 years as a diagnostic tool during pregnancy."
Although 3D/4D ultrasound scans carried out at The Portland Hospital are focused on the baby's face and features, and are not performed routinely as a diagnostic test, senior sonographer Jeanine Horn believes the technology has come into its own as a valuable diagnostic adjunct.
"The technology has the advantage of providing more details, aiding in assessing and diagnosing a suspected problem," explains Horn. "This enables clinicians to counsel parents accordingly, which in turn provides parents with a better understanding of the severity of an existing malformation and helps them prepare for the birth of an abnormal baby."
Improved diagnostics
In 3D ultrasound, a transducer takes a series of images of the foetus, which are then processed through a computer and rendered as a 3D image. These images can then be rendered in rapid succession, creating an almost real-time animation known as 4D. The technologies themselves are far from new – 3D ultrasound was introduced in 1989 with 4D emerging in 1998 – but from a clinician's perspective, current technology is well ahead of its predecessors and allows for far better diagnostic precision.
How well do you really know your competitors?
Access the most comprehensive Company Profiles on the market, powered by GlobalData. Save hours of research. Gain competitive edge.
Company Profile – free sample
Thank you!
Your download email will arrive shortly
Not ready to buy yet? Download a free sample
We are confident about the unique quality of our Company Profiles. However, we want you to make the most beneficial decision for your business, so we offer a free sample that you can download by submitting the below form
By GlobalData
Disfigurements such as spina bifida, cleft lips/palate and polydactyly may be more easily identified and even subtler abnormalities such as low-set ears, facial dysmorphia, clubbing of feet or cardiac malformations can be better observed. But aside from the diagnostic abilities, the technology has the additional benefit of allowing expectant parents an intimate look inside the womb and a first glimpse of the face of their unborn child.
"Social or elective 3D/4D ultrasounds can provide images that are more readily recognised by parents-to-be, which helps enhance maternal and paternal bonding," says Horn. "The 4D application also provides the added opportunity to see the unborn baby's real-time movements and therefore movements like facial expressions, swallowing and even blinking can sometimes be visible. In my experience, parents thoroughly enjoy seeing these more life-like pictures and these scans are growing in popularity."
Technological limits
Unlike 2D ultrasound, which looks through structures, 3D/4D technology composites three different angles of images into solid structures, which mean that anything in front of the baby, such as an anterior placenta, will obscure the view. It is generally accepted that the best time to have a 3D/4D scan is between 26 and 28 weeks of pregnancy because the baby is putting on more fat and will have the classic "chubby cheek" look, but there is still ample room within the uterus to obtain optimum image results.
However, there are limitations to the technology. For example, capturing both physical malformations as well as facial features is entirely dependent on the skill of the clinical operator, positioning of the foetus at the time of scan and the amount of room left surrounding the baby. The proliferation of private facilities, established for the sole purpose of performing elective ultrasound scans, has increased concerns among some clinicians and hospitals who question whether the ultrasound operators are properly certified and, if not, how much damage they may be doing to the foetus from overexposure to scans.
Despite this, Horn is optimistic about the process and believes the risk of performing a scan is negligible and therefore there is no harm in performing elective 3D/4D scans, though she does share the belief that facilities performing these scans should be regulated under the same standards as hospitals and clinics.
In the UK, all ultrasound scans done either privately or through the NHS have traditionally been optional unless deemed medically necessary due to mitigating factors during pregnancy. So, elective scanning is not a new practice ushered in by 3D/4D scans. However, in the US, almost all prenatal ultrasound scans are ordered by a physician and so the practice of elective scans is still relatively new.
Professional concerns
The American Institute of Ultrasound in Medicine (AIUM) advocates the use of facilities with properly trained and credited physicians and sonographers who have experience and expertise in foetal imaging. AIUM believes using experienced clinicians would help to identify any medically significant anomalies as well as reduce unnecessary foetal risk resulting from prolonged exposure to scanning (specifically doppler), incorrect colour settings or excessive thermal/mechanical settings.
With 4D scanning facilities growing ever more popular, offering "scanning packages" that resemble traditional portrait packages, there could be valid reason for concern. The rate at which these scanning clinics are being created in the US and worldwide is alarming when there are no safety checks or regulatory criteria being applied to these establishments. Many do not report findings back to primary care physicians, therefore any medically significant discoveries during a scan are seldom followed up.
"Social or elective 3D/4D ultrasounds can provide images that are more readily recognised by parents-to-be."
But ultrasound technology has been used safely for more than 35 years as a diagnostic tool during pregnancy and Horn is quick to point out that the equipment being used in these facilities is always up to date and this helps to minimise any serious risk to the mother or baby.
"I agree that 3D/4D elective scanning can never and should never be seen as a replacement for the routine ultrasounds performed during pregnancy," she says. "However, there has been no concrete evidence suggesting any long term harmful effects of ultrasound on the developing foetus, and therefore it can provide prospective parents with an amazing bonding experience. The question remains – why not, provided that these scans are performed within a controlled environment, ensuring that qualified sonographers perform the scans and enforcing the clear understanding of the non-diagnostic value of these scans."
The essence of controlling this popular growing practice would be in strictly regulating the centre offering these entertainment scans by insisting that only qualified personnel perform them. One way of encouraging this implementation is by making prospective parents aware that they should be vigilant in checking that the centre providing them with the service uses qualified staff only. In the UK, this can be done by checking that the person performing the scan is registered as a healthcare professional, by checking his or her credentials with the Health Profession Council or other relevant professional bodies and can easily be done online.
"This is certainly an ongoing debate and several different healthcare professionals in the field will have several different views, not only in the UK, but worldwide," says Horn. "The fact is, however, that there are already multiple centres in the UK and elsewhere that offer parents the option of requesting an elective 3D/4D scan of their baby without the need of a physician's referral. This is consented to by the parents and does come at a price."
Currently, parents have three options for obtaining a keepsake scan: through the course of a medically indicated examination an independently operated 3D/4D scanning facility by paying a fee to participating medical centres.
Perhaps the most enticing part of a 3D/4D ultrasound scan is the ability for expectant parents to take the images with them. Elective 3D/4D scans have been indispensable in creating stronger bonds between mother and baby. Seeing real-time footage of the unborn child helps to solidify the pregnancy and has been shown to affect how the mother cares for herself through her life choices.
Quality capabilities
For clinicians, another benefit of 3D ultrasound is its ability to document, store and transmit data through digitally saved volumes, which can be easily transferred to other attending physicians for interpretation or third-party consultation.
"Although 3D ultrasound has been available for over ten years, only recently have the incredible advances in this technology progressed into attaining a level of quality high enough for this tool to be seriously considered in clinical practice," says Horn. "I suspect that as computers become more powerful and processing speed increases, this technology will keep improving. Having said that, I don't think that 3D/4D ultrasound will become a necessity in the care of the average pregnancy in the near future. The assumption, due to its progressing ability in providing unique additional information, is that it will supplement, not replace, conventional 2D scans."
There are several medical equipment manufacturers producing machines with 3D/4D capabilities and most professionals agree that the learning curve on these machines remains steep even for experienced clinicians. The Portland Hospital currently uses GE Voluson E8 technology for its scans.
According to GE, the Voluson E8 is "a premier women's healthcare system", which uses matrix array volume probes and increased spatial resolution that help improve picture clarity for both 2D and multiplanar imaging. GE has also implemented sonography-based Volume Computer Aided Diagnostics (SonoVCAD), which is capable of acquiring volumetric images of the foetal heart. When combined with the ViewPoint patient data management system, the Voluson machines have significantly
reduced the number of keystrokes required to perform complex scans.
Most of the new generation ultrasound machines support full DICOM connectivity, allowing clinicians to interface with PACS and other image management systems to further streamline productivity. 4D technology also allows clinicians to manipulate and analyse data offline, thereby reducing the time a patient must sit for a scan. The Voluson E8 with ViewPoint ultrasound workstation allows operators to generate comprehensive reports access databases to document findings archive images, volumes and reports.
"The assumption is that it will supplement, not replace, conventional 2D scans."
Siemens has also released new technology in its Acuson S2000 ultrasound system, the first new generation ultrasound that offers tissue strain imaging and quantification capabilities. Siemens" Virtual Touch imaging and Virtual Touch quantification displaces tissues for a qualitative and quantitative assessment of deep tissue stiffness through Acoustic Radiation Force Impulse.
When used with the syngo Auto OB software, Acuson S2000 can create semi-automatic biometric measurements of the foetus reducing the number of normal operations during a foetal scan by as much as 75%.
The Siemens system uses Advanced fourSight technology (3D/4D), which provides improved functionality for volume acquisition, data rendering and post processing. The software also includes amnioscopic rendering; a unique method of surface rendering that provides detailed views of the foetus. Foetal heart spatio-temporal image correlation can acquire data over the course of several cardiac cycles to produce a 3D volume of the foetal heart for diagnosing cardiac anomalies.
"Along with the image quality, the use of 3D/4D technology has vastly improved recently," says Horn. "3D/4D images are easily obtained, almost at the touch of a button by professionals trained in ultrasound, provided that the foetus is in a favourable position. In terms of the future, it would be fantastic for technology to advance in a way that could work around the issue of foetal position necessitating the best images, although I am not sure how realistic that is."