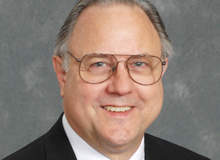 Dr Arl Van Moore began his medical career at the University of Arkansas School of Medicine, US. He is now president of the ACR, president of Charlotte Radiology and past chair of the ACR board. Within the ACR, he is also chair of the delegation to the American Medical Association, chair of the Task Force on International Teleradiology, chair of the Task Force on Disaster Preparedness, past chair of the RADPAC Political Action Committee, and vice chair of the advisory committee on diagnostic imaging policy.
1: When and how did your career in radiology begin?
It started in the mid-1970s with a radiology residency at Duke University Medical Center, Durham, North Carolina, where I studied angiography, body imaging and interventional radiology. I stayed there until 1983 when I started work for Charlotte Radiology.
2: Has your working day changed much since then?
I now have a large administrative role within radiology, so I spend a lot of time on group matters such as meetings. But I still manage to do two days a week of clinical service – taking care of patients and providing imaging services.
3: With so many high-profile positions, how do you juggle your workload?
How well do you really know your competitors?
Access the most comprehensive Company Profiles on the market, powered by GlobalData. Save hours of research. Gain competitive edge.
Company Profile – free sample
Thank you!
Your download email will arrive shortly
Not ready to buy yet? Download a free sample
We are confident about the unique quality of our Company Profiles. However, we want you to make the most beneficial decision for your business, so we offer a free sample that you can download by submitting the below form
By GlobalData
I do most of the high-profile work in my free time. I spend nights, weekends and vacation time carrying out voluntary work, especially at the college. The group is very understanding.
4: Does this affect your personal life?
It's been part of my life for almost two decades. In this line of work there are obviously impacts on personal and family life. I'm fortunate enough to have an understanding wife and family.
5: You weren't always involved in medicine?
During the 1960s, I spent over five years as a submarine officer.
6: Did you have an interest in medicine during your time in the Navy?
Although my career focus was as a nuclear engineer on the submarine, I was contemplating going to medical school.
7: Do you find that your experiences from that time benefit you today?
There are a lot of things that the military teaches you, in particular, the lessons on leadership have been invaluable, helping me in my role being a leader at the college and within the group.
8: You're now president of Charlotte Radiology. Since it's inception in 1967, the group has grown dramatically. What was its goal then and how do you think it now matches that goal?
The goals then and today are similar. Originally, the group got together to practise excellent radiology and patient care, and that remains the goal today.
9: Where are you looking to take the group?
The main issue is coping with the changes within radiology and medicine today. As we see hospitals and other physician groups growing, the pressure is going to become greater in respect to what we're doing within the practice of medicine. How do we adjust to changes, increase emphasis on quality, and how can that be measured? Also, how can we provide the continued and specialised care that is required using the new tools that have been developed in radiology?
10: What challenges will evolving technology present in the future?
As a company grows, there are more opportunities to provide increased sub-specialisation. Today, you don't have to be in the next room or even the same town to practise radiology. Electronically, we can move images around, but integrating the various aspects is a challenge because there is no common platform where these technologies can talk to each other. We also need to be able to seamlessly integrate voice recognition within the hospital, from one clinical arm to another.
11: What has been the main factor moving radiology forward?
It's a combination of things: storing digital images, the continued growth of computer power and the ability to move large data sets in a timely fashion between computers have helped. It's a matter of writing software and adapting the technologies you have to specific applications, such as voice recognition.
12: You have said radiologists are now 'hyper-subspecialised'. What do you mean and how crucial has technology been to that evolution?
Thirty years ago, radiologists did almost everything, but there has been a trend to develop special skills such as neuroradiology. Even now, within those subspecialities, there is a tendency to develop subspecialities or become hyper-subspecialised. For example, a neuroradiologist may only do paediatric neurology and an orthopaedic radiologist will specialise in joints.
13: Has this benefited the patient?
Yes. For the patient, it's through the technology we have devised: while we don't need to move them to the physician, we can move their images in an easy manner. This means that patients in rural areas now have access to highly trained, subspeciality radiologists in a way that they otherwise might not have.
14: Some call the radiologist a 'doctor's doctor'. How do you describe these professional relationships?
Radiologists deal with subspecialities within medicine. You may have an orthopaedic radiologist that only does knees and spends most of their time doing knee orthopaedics. With our subspeciality skills in orthopaedic radiology we become a resource to the medic in terms of consultation.
15: Has this relationship evolved so the radiologist becomes a partner rather than a provider?
We've always been partners. Because of the advances in imaging since the late 1970s, we've played an increasing role in the diagnosis in many specialities. The paradigm has clearly shifted and diagnoses are frequently made now by, for example, CT or MR.
16: With the election of President Obama some commentators believe there is a fundamental shift in the provision of healthcare in the US. How do you see it?
There are many issues within radiology and the wider house of medicine that need to be addressed. Fundamentally, it's a matter of resources as more of the GDP goes towards medical care. We have great technology, but it's expensive. How do we continue to pay for it?
"Patients in rural areas now have access to highly trained, subspeciality radiologists in a way that they otherwise may not have."
17: One of the biggest problems with the US healthcare structure is the millions of uninsured people. Will the election of Barack Obama change that?
US healthcare reform is a complex process. I'm sure over a dozen credible plans have been devised on how healthcare can change and what we could do to facilitate plans that are in the pipeline, but how do we bring those plans together, and how do we pay for it? Everybody wants unlimited access to medical care, but the reality is that fiscally we can't provide that.
The questions are: what is the fall-back position and how do we juggle the priorities? As the debate goes forward we need to see what ideas float to the surface. Predominantly, what comes from Congress, CMS and others will be adapted, as will our response. Initially, we have to try to provide responsible feedback. But this is going to take time.
18: What is the one thing that you are most proud of and why?
I've tried to make the world a better place and I think I've made a difference in some areas, although not as much as I'd like. There are still things that I'd like to do and see, but I'm comfortable with what I've achieved so far.
19: If you could have one day in your 'dream' job, what would it be?
The jobs I've done have been pretty good. I can't think of a job that's better than the one I've got – I'm pretty lucky.
20: If you had been able to offer yourself some advice on your first day what might that have been?
Work hard, stay true to your ideals – put your family and your principles as your top priority. If you have those arranged, then you'll be fine.