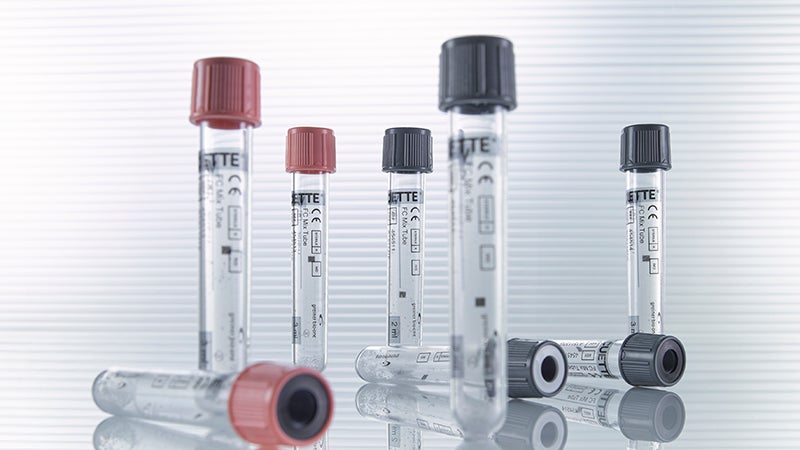 The breakdown of glucose (glycolysis) in venous blood samples is of great significance in pre-analytics, particularly in relation to the diagnosis of diabetes mellitus and gestational diabetes.
Various guidelines, including the American Association of Clinical Chemistry, American Diabetes Association, German Diabetes Society (DDG), and German Society for Gynaecology and Obstetrics (DGGG) deal with this matter in detail(1,2).
Greiner Bio-One now has a solution in the form of the VACUETTE® FC Mix tube.
According to the guidelines from the DDG*/DGGG**, the citrate fluoride additive in the VACUETTE® FC Mix tube stabilises the in-vivo concentration of glucose in the sample(1).
The advantages are:
Stabilisation immediately after collection for 48 hours
Based on the in-vivo value (almost 100%)
Avoids false negative diagnoses of diabetes patients
Long-term stabilisation allows for longer transport and storage times
The unique additive mixture is what makes the difference.
Citrate/citric acid buffer ensures quick stabilisation.
Glycolysis depends on the pH value. It is catalysed by enzymes hexokinase and phosphofructokinase. When stored between 4°C and room temperature, the enzymes, and consequently also glycolysis, are suppressed and the blood sugar is therefore constantly held at the in vivo value(3,4).
Long-term inhibition via sodium fluoride
In order to extend the inhibition to 48 hours, the tube contains a sodium fluoride additive.
Ethylenediaminetetraacetic acid (EDTA) as anticoagulant
Na2-EDTA is included in the mixture as an anticoagulant, which is effective due to complexation of Ca++.
Advantages for the laboratory:
Stabilisation in whole blood, no immediate centrifugation required
No dilution effect due to additive in powder form
No need to convert the analysis result
Choice of pink and grey tube caps in order to differentiate between the FC Mix tube and standard glucose tubes
---
References:
Sirid Griebenow (2016): Suitability of VACUETTE® FC Mix Blood Collection Tube for gestational diabetes testing, Whitepaper Hospital Isala, Zwolle (NL
1 Kellerer et al, Gestationsdiabetes mellitus – Praxisleitlinie der DDG und der DGGG, [Gestational diabetes – practice guidelines of the DDG and DGGG] (2011)
2 Sacks et al, Guidelines and Recommendations of Laboratory Analysis in the Diagnosis and Management of Diabetes Mellitus, Clinical Chemistry 57:6 (2011)
3 Yagmur and Van Helden et al, Effektive Glykolyse-Inhibierung im Citratgepufferten venösen Vollblut und Plasma [Effective glycolysis inhibition in citrate-buffered venous full blood and plasma], Lab Med (2012), 36(3):169-177
4 Gambino et al, Acidification of Blood Is Superior to Sodium Fluoride Alone as an Inhibitor of Glycolysis, Clinical Chemistry 55:5 (2009)
* Deutsche Diabetes Gesellschaft (German Diabetes Society)
** Deutsche Gesellschaft für Gynäkologie und Geburtshilfe
(German Society for Gynaecology and Obstetrics)
Greiner Bio-One presents the Vacuette FC Mix Tube for glucose stabilisation. It is suitable for...