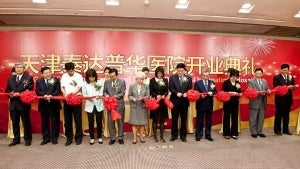 The Tianjin Municipal Government in China has opened the first joint venture (JV) medical centre, TEDA Puhua Hospital, in Binhai New Area, Tianjin city.
TEDA International Cardiovascular Hospital and the Asia-Pacific Medical Group have co-founded the new facility.
Located on four floors of TEDA, the hospital features 12 clinic rooms including 29 deluxe single and deluxe suite patient rooms.
The facility also offers access to international medical insurance, complete health consulting and management services and bilingual medical staff, in addition to quality medical and nursing services.
Specialist clinics at the medical centre implement the expert doctor appointment system while a remote medical consultation centre enables online consultation with various international medical institutions and medical experts.
A health care centre has been established on the fifth floor of TEDA, which will also act as the science popularisation education base of Binhai New Area.
Patients and their family members will be provided with a new pattern of science popularisation education that offers disease and therapy consultancy, and rehabilitation guidance. It will assist patients in improving self-health care consciousness and developing a healthy lifestyle.
TEDA Puhua hospital will focus on cardiovascular disease treatments, conducting physical examinations, anti-aging treatment, health management, dental clinic, medical surgery, gastrointestinal endoscopes and other all-inclusive medical services.
The JV hospital will offer a range of outpatient and inpatient treatments to its patients.
---
Image: The opening ceremony of Tianjin TEDA Puhua Hospital. Photo courtesy of PRNewsFoto/TEDA Puhua Hospital.