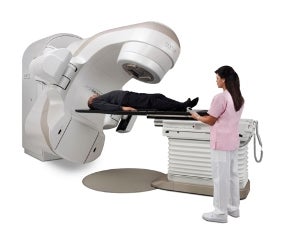 GRUPO COI in Brazil has become the first treatment centre in South America to order Varian Medical Systems' TrueBeam system to treat cancer with advanced image-guided radiotherapy and radiosurgery.
The advanced radiotherapy treatment system will be installed at the group's Botafogo site in Rio de Janeiro by the end of 2013, pending final approvals by regulatory agencies in Brazil.
GRUPO COI medical vice president Dr Monica Schaum said the system will allow cancer treatment using high-quality radiotherapy and radiosurgery procedures that are delivered quickly and precisely.
"TrueBeam technology is especially suited for treating tumours that are close to or embedded in critical organs, such as cancers of the lung, liver, prostate, or spinal cord, where minimising the exposure of surrounding healthy tissues is so important," Schaum added.
"With a TrueBeam system, we'll be able to use higher energy beams along with real-time image guidance for highly precise and targeted cancer treatments."
The TrueBeam system integrates imaging and motion management technologies, for monitoring and compensating for tumour motion during treatment.
The technology is used for radiotherapy treatments such as image-guided radiotherapy and radiosurgery, intensity-modulated radiotherapy, RapidArc radiotherapy, and stereotactic body radiotherapy.
Subsequent to the TrueBeam installation, the Botafogo treatment centre will become the second GRUPO COI site to offer RapidArc radiotherapy and the doctors at the site are expecting to be able to treat around 50 patients a day using the system.
GRUPO COI medical physics department head Helio Salmon said, "We fully anticipate expanding our RapidArc and SBRT programmes once the new TrueBeam system is operational. It will enable us to utilise these advanced approaches for treating even many types of cancer with speed and precision."
---
Image: The TrueBeam system will enable GRUPO COI to treat cancer using high-quality radiotherapy and radiosurgery procedures. Photo courtesy of PRNewsFoto/Varian Medical Systems.