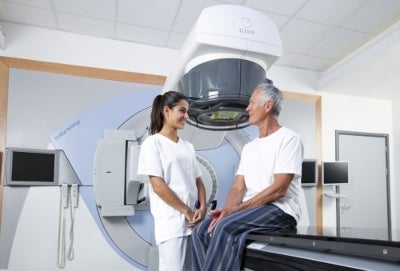 The James Cook University Hospital in Middlesbrough, UK, has integrated an Elekta Agility 160-leaf multi-leaf collimator (MLC) with volumetric modulated arc therapy (VMAT) to deliver radiation therapy in cancer patients.
The integrated technology enhances the ability to speed up both beam shaping and beam delivery thereby cutting the beam delivery time of cancer patients.
The James Cook University Hospital radiotherapy physics head Christopher Walker said the treatment speed reduces the likelihood that the patient will move and that the internal organs will shift position, and also contributes to faster patient throughput.
"With Agility / VMAT we expect to be able to treat five patients per hour," Walker added.
In August the first cancer patient to be treated with the technology at the hospital received his first treatment fraction, a single 200-degree VMAT arc, which took 83 seconds to deliver, demonstrating a 40.7% reduction in beam delivery time with Agility / VMAT.
A new version of Monaco (v 3.20) was used to plan the first Agility / VMAT case, while image guidance technology on the Elekta Synergy treatment system also was vital for ensuring accuracy, according to the hospital.
Agility, which includes ultra-fast leaf movements, sculpts delivered radiation to the distinctive contours of the tumour, while reducing the risk of exposure to healthy normal tissues.
In the VMAT rapid beam delivery technique, single or multiple radiation beams sweep in one or more uninterrupted arcs around the patient, reducing treatment times significantly.
---
Image: The James Cook University Hospital demonstrated nearly 41% reduction in beam delivery time with Elekta's Agility beam-shaping solution with VMAT. Photo: courtesy of Elekta.