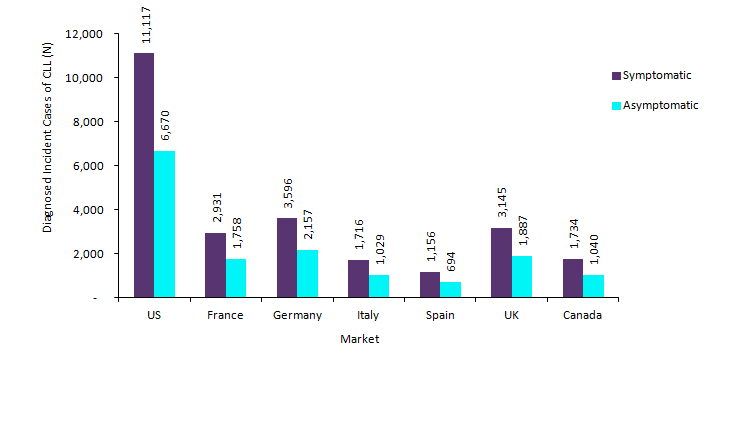 Chronic lymphocytic leukaemia (CLL) is a type of cancer of the white blood cells (lymphocytes). The natural history of this enigmatic disease is heterogeneous, as some patients live out their lives without requiring treatment and die of causes unrelated to CLL, whereas others have rapidly progressive disease requiring treatment within a few months of diagnosis.
CLL accounts for 30% of all adult leukaemia cases and is the most common form of leukaemia in the Western world, with an average annual incidence of five cases per 100,000 population in people of all ages. CLL is primarily a disease of the elderly population, with less than 10% of the cases occurring in patients below 40 years of age. CLL is mostly asymptomatic in the early stages, which make diagnosis of CLL difficult.
GlobalData epidemiologists forecast an increase in diagnosed incident cases of CLL in the seven major markets (7MM: US, France, Germany, Italy, Spain, UK, and Canada), from 40,631 diagnosed incident cases in 2015 to 49,643 diagnosed incident cases in 2025, with an Annual Growth Rate (AGR) of 2.22% during the forecast period. The US will have the highest number of diagnosed incident cases of CLL among the 7MM throughout the forecast period, while Spain will have the lowest.
Figure 1 presents the diagnosed incident cases of CLL by disease symptom status in men and women, ages 18 years and older, in the 7MM for 2015. In the 7MM in 2015, 62.5% (25,395 cases) of the cases were symptomatic and 37.5% (15,235 cases) were asymptomatic. The disease symptom status distribution was very similar across all of the individual markets. Among the 7MM, the US had the highest number of symptomatic cases of CLL (11,117 cases), followed by Germany (3,596 cases) and the UK (3,145 cases).
Figure 1: 7MM, Sex-Specific Diagnosed Incident Cases of CLL, Both Sexes, Ages ≥40 Years, N, 2015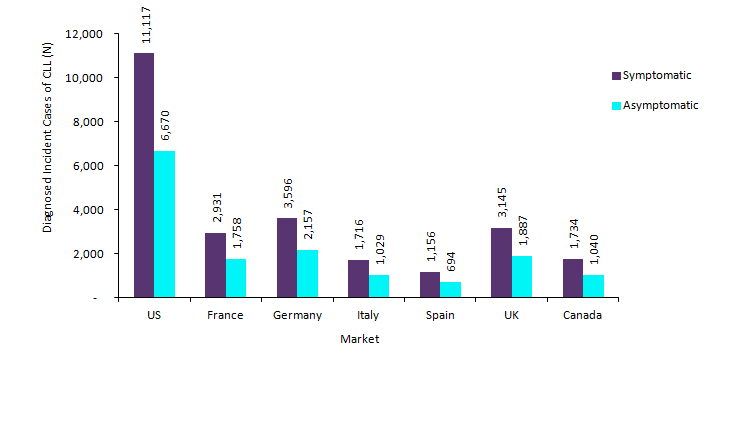 Source: GlobalData
As at least a third of CLL cases are asymptomatic, the diagnosis of CLL is often incidental following a routine blood test as part of a regular health check. Therefore it is challenging to assess the epidemiology of CLL in the 7MM. Globally, the disease is not well studied, and consequently there is limited information on the epidemiology of CLL available in the literature; as a result, it is vital to increase awareness and initiate more research to better understand the epidemiology and trends in the incidence and prevalence of CLL, which can provide clues to the etiological factors responsible for the development of CLL.
Related Reports
GlobalData (2017). EpiCast Report: Chronic Lymphocytic Leukaemia – Epidemiology Forecast to 2025, November 2018, GDHCEM164-17