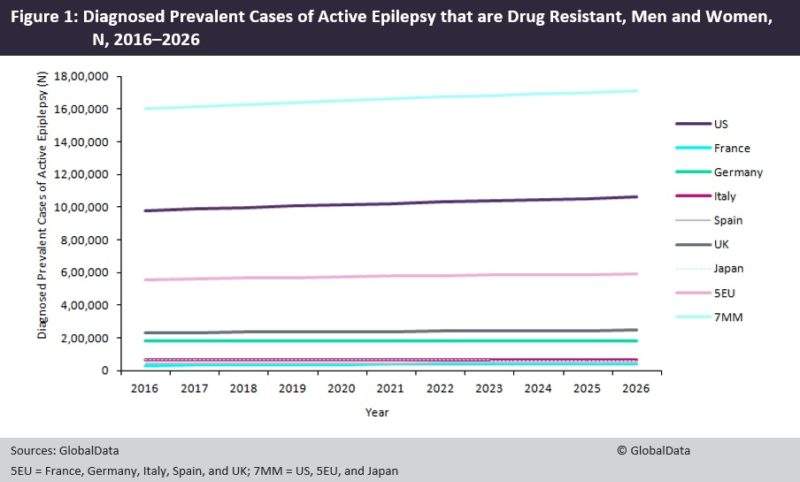 Epilepsy is a brain disorder characterized by recurrent and unpredictable seizures that are caused by sudden and excessive neuronal activity in the brain.
It is one of the most common neurological conditions globally. Epilepsy can start at any age and can be a life-long condition. It is diagnosed after a patient has suffered at least one epileptic seizure and is referred to a specialist, where a description of the symptoms before the seizure and the seizure itself are used to arrive at a diagnosis. The majority of epileptic patients, approximately 70%, respond to medication and manage to control their seizures.
A major consideration for epilepsy treatment is achieving seizure control in patients with drug-resistant epilepsy in order to improve their quality of life. This will continue to be important in light of the increase of drug resistant cases that GlobalData epidemiologists forecast. Cases of drug-resistant epilepsy are expected to increase from 1,601,859 prevalent cases of active epilepsy  in 2016 to 1,711,113 prevalent cases of active epilepsy in 2026 in the seven major markets (7MM: US, France, Germany, Italy, Spain, UK, and Japan).
Refractory epilepsy accounts for a considerable amount of the economic and healthcare burden of epilepsy in the population because of how frequently drug-resistant patients experience adverse effects related to the disease, such as a co-occurring illnesses, increased risk of death, and reduced quality of life. There are several reasons why patients do not achieve full seizure control when taking anti-epileptic drugs (AEDs).
Frequently, people who are considered to be drug resistant have been misdiagnosed and do not actually have epilepsy; therefore, it is essential that the diagnosis of epilepsy is reviewed when AEDs fail to control seizures. However, for patients who have a correct diagnosis of epilepsy, finding the right treatment is crucial. New AEDs for the treatment of all epilepsy syndromes are constantly being developed. Therefore, treatment for refractory cases should be reviewed often to find the appropriate drug combination that will help patients achieve seizure control.
Figure 1 below shows GlobalData's forecast for diagnosed prevalent cases of active epilepsy that are drug resistant in the 7MM for 2016–2026.
Further discussions of epilepsy epidemiology and global drug forecast can be found in the GlobalData reports, EpiCast Report: Epilepsy – Epidemiology Forecast to 2026 and PharmaPoint: Epilepsy– Global Drug Forecast and Market Analysis to 2026.
Related Reports
• GlobalData (2017). EpiCast Model: Epilepsy – Epidemiology Forecast to 2026, October 2017, GDHCEM163-17
• GlobalData (2017). PharmaPoint: Epilepsy – Global Drug Forecast and Market Analysis to 2026, October 2017, GDHC154PIDR
• GlobalData (2016). EpiCast Report: Schizophrenia – Epidemiology Forecast to 2025, November 2016, GDHCER128-16
• GlobalData (2016). EpiCast Report: Major Depressive Disorder – Epidemiology Forecast to 2025, October 2016, GDHCER125-16