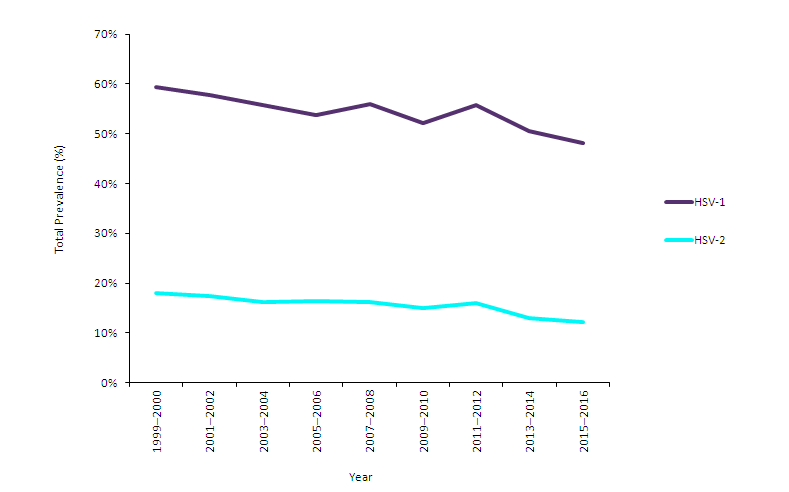 Herpes is a common, lifelong infection caused by the herpes simplex virus (HSV). HSV type 1 (HSV-1) is mainly transmitted orally, whereas HSV type 2 (HSV-2) is predominantly transmitted sexually. Symptoms manifest as cold sores in both herpes strains, however the infection location differentiates oral herpes from genital herpes.
Most infected people are unaware they have an infection due to experiencing few or no symptoms. In fact, the US Centers for Disease Control and Prevention (CDC) reports that roughly 80% of HSV-2 cases are undiagnosed.
Declining rates of herpes infection
Despite being a highly prevalent virus, current research indicates that fewer and fewer Americans are contracting herpes.  According to a CDC data brief published in February 2018, the total prevalence (including undiagnosed and diagnosed cases) of herpes is declining. The CDC reports that the prevalence of both HSV-1 and HSV-2 has significantly decreased from 1999–2016 among people aged 14–49 years.
Over the roughly 15-year time period, the prevalence of HSV-1 declined from 59.4% to 48.1%, while the prevalence of HSV-2 declined from 18.0% to 12.1% (as shown in Figure 1). The findings of this study demonstrate a steady decline in the prevalence of HSV-1 and HSV-2 over time, however it is still not clear whether this decline is also observed for both oral and genital herpes.
Other STDs are on the rise
What is most surprising is that the declining trend in herpes infections comes at a time when other sexually transmitted diseases (STDs) are increasing nationwide. In fact, the CDC reported that more than two million new cases of chlamydia, gonorrhea, and syphilis were documented in 2016, the highest number ever recorded according to the 2017 CDC STD Surveillance Report.
While it is unclear exactly why herpes infections continue to drop while other STDs are at an all-time high, research suggests that more effective treatment options, safer sex practices, and more open conversations surrounding sex may be contributing factors.
Figure 1: total prevalence of HSV-1 and HSV-2 in the US, both sexes, ages 14–49 years, 1999–2016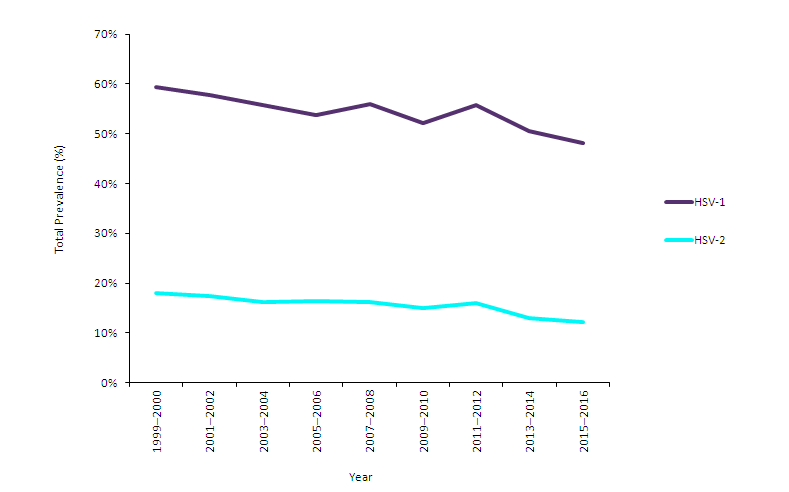 Source: GlobalData; McQuillan et al., 2018
Related reports
GlobalData (2015). EpiCast Report: Genital Herpes – Epidemiology Forecast to 2023, July 2015, GDHCER084-15
GlobalData (2015). Opportunity Analyzer: Genital Herpes – Opportunity Analysis and Forecasts to 2023, July 2015, GDHC025POA