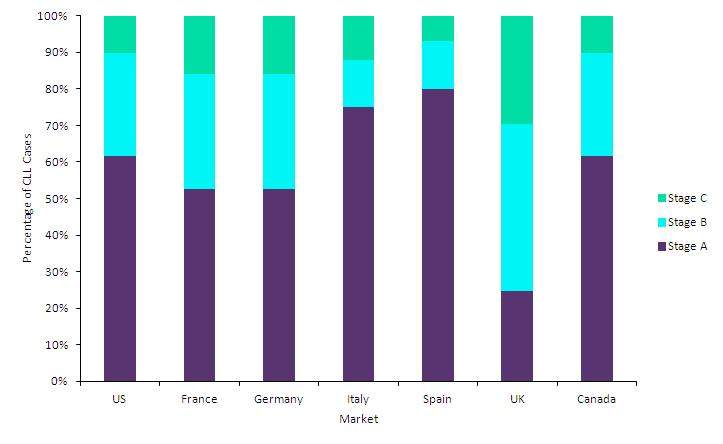 CLL is a cancer in which the bone marrow produces too many lymphocytes, white blood cells that play a critical role in the immune system. CLL accounts for 30% of all adult leukemia cases and is the most common form of leukemia in western countries, with an average annual incidence of 5.0 cases per 100,000 population in people of all ages. CLL primarily affects older populations, with less than 10% of cases occurring in people under 40 years of age. Because most CLL progresses slowly and early screening is not recommended, CLL is often diagnosed after routine blood tests.
Multiple staging systems exist to categorize CLL patients by risk for progression. The most commonly used staging system in Europe is the Binet staging system. This staging system classifies patients based on the number of affected lymphoid tissue areas and presence of anemia and thrombocytopenia, with stage C being most advanced and stage A being least advanced.
The higher percentage of patients diagnosed at later stages in the UK suggests poorer outcomes among those diagnosed with CLL compared with other markets. Indeed, the five-year relative survival among CLL patients is lower in the UK (64.47%) than in the rest of the 7MM (67.90–85.08%).
Details about the trend analysis and other discussions of prostate cancer epidemiology can be found in GlobalData's EpiCast Report: Chronic Lymphocytic Leukemia – Epidemiology Forecast to 2025 and EpiCast Model: Chronic Lymphocytic Leukemia – Epidemiology Forecast to 2025.
Related Reports
GlobalData (2017). EpiCast Report: Chronic Lymphocytic Leukemia – Epidemiology Forecast to 2025, November 2017, GDHCER164-17
GlobalData (2017). EpiCast Model: Chronic Lymphocytic Leukemia – Epidemiology Forecast to 2025, November 2017, GDHCEM164-17
GlobalData (2014). Expert Insight: Late-Stage CLL Pipeline Consolidates Under AbbVie's Umbrella, September 2014, GDHC0758EI