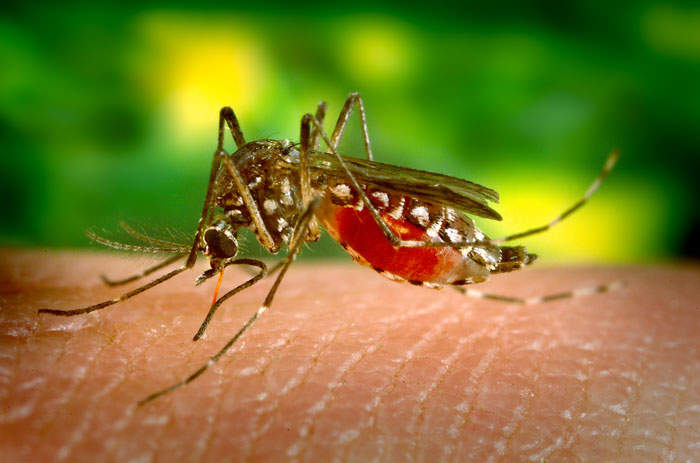 Brazil is experiencing a yellow fever epidemic in the face of a global vaccine shortage. The Brazilian Ministry of Health has confirmed that 1,127 human cases and 331 deaths from yellow fever occurred between July 1, 2017 and April 10, 2018. These cases have been limited to rural areas, but if the epidemic spreads into cities it could proliferate quickly. Since metropolitan areas have not historically been at risk for yellow fever, vaccination was not previously recommended in these areas. Figure 1 shows the confirmed cumulative cases by week since the beginning of the peak transmission season.
Yellow fever is a flavivirus that is transmitted by mosquitoes. Symptoms initially include fever, aches, fatigue, and nausea. If the disease becomes severe patients may experience jaundice, bleeding, and organ failure. The yellow fever virus circulates between non-human primates and mosquitoes in the wild, making elimination of the disease an unlikely prospect.
There were 779 confirmed cases of yellow fever between 2016 and 2017, compared with fewer than 100 cases in each of the previous 20 years. Despite delayed reporting and a peak transmission season that lasts until May, this year's outbreak has already exceeded the 2016–2017 season.
So far this year, cases are occurring almost exclusively in rural areas of three southeastern states. Brazil has not seen urban transmission cycles of yellow fever since 1942. However, cases have occurred in rural areas outside the metropolitan areas of Belo Horizonte, Rio de Janeiro, and São Paulo. The threat of renewed urban transmission has drawn fears of even greater proliferation.
Another cause for concern is the fact that the outbreak has spread to areas without recent documentation of yellow fever cases. As a result, 58.1% of the population at risk in this outbreak live in areas where yellow fever vaccination was not previously recommended.
Brazil's vaccination campaign is complicated by a global shortage of yellow fever vaccine. The world's yellow fever vaccine stockpile was depleted during the 2016 outbreak in Angola, the Democratic Republic of the Congo, and Uganda. In response to this shortage, Brazil's strategy has included fractional doses of the vaccine: smaller doses that provide short-term immunity. By the beginning of April, 57% of the targeted 38 million people at risk have received a dose of the vaccine.
Brazil is scaling up vaccine production, but the current production process takes a long time to complete. Investing in quicker vaccine development could help public health officials handle future epidemics in a more timely and effective manner. Additionally, Brazil's yellow fever epidemic highlights the importance of maintaining vaccine stockpiles, disease surveillance systems, and distribution systems.
Related Reports
GlobalData (2018). Expert Insight: NIH Scientists Endorse Platform Manufacturing to Shorten Vaccine Development Timelines, April 2018, GDHC1694EI
GlobalData (2018). Expert Insight: Public-Private Partnerships Continue to Play a Critical Role in Influenza Vaccine R&D, March 2018, GDHC1675EI
GlobalData (2018). Expert Insight: Poor Seasonal Influenza Vaccine Efficacy Necessitates a ShiftAway from Egg-Based Manufacturing, February 2018, GDHC1624EI
GlobalData (2017). Expert Insight: Biological Warfare: Could Bacteria Be the Answer to CurtailingArbovirus Transmission?, October 2017, GDHC1424EI
For more insight and data, visit the GlobalData Report Store – Hospital Management is part of GlobalData Plc.