Let Scrubs & Beyond help you make a great first impression with your patients. We are the leader in helping facilities improve their patient satisfaction scores and create a professional look with individual style.
Medical scrub wear
Scrubs & Beyond offers a wide selection of quality medical scrubs and nursing accessories for men and women in the healthcare field. Whether you want to update your current look or revamp your entire facility, Scrubs & Beyond has exactly what you need.
We offer you value by providing essential scrub wear that is comfortable, durable, fashionable, and affordable. Scrubs & Beyond currently works with all major uniform manufacturers in the medical scrubs industry and has long-established relationships with these suppliers. Scrubs & Beyond not only stands behind the quality of the product we sell by offering to replace any defective product, but we actively work with manufacturers to ensure our high standards for product fit, quality and color consistency are upheld before the product is sold.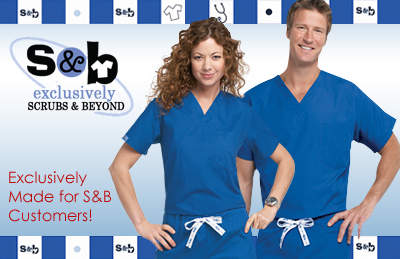 Scrubs & Beyond carries every major brand in scrub apparel in addition to our own exclusive line made just for our customers.
Scrubs & Beyond is here to make sure you get what you need when you need it. Lab coats and clinical jackets are available per your request.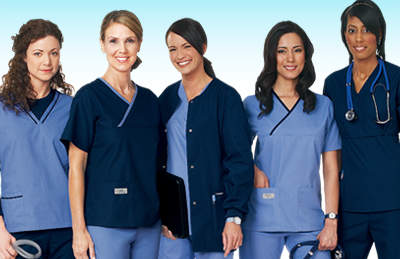 Service, quality, selection, and value: your satisfaction is what it's all about at Scrubs & Beyond. Contact us about setting up an on-site scrub sale.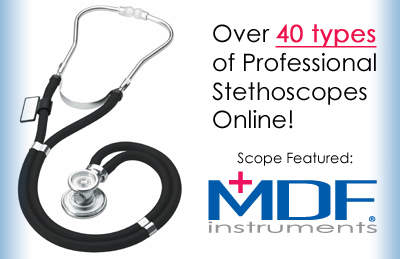 Beyond medical scrubs: complete your look with a brand name professional stethoscope. Call us for details.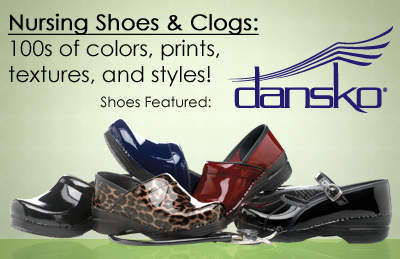 Beyond medical scrubs: let your employees put their best foot forward in a new pair of nursing shoes and clogs. Call us for details.
On-site scrub sales
Scrubs & Beyond will come to your facility and set up an on-site scrub sale. Let us take care of all the details including the staff and the marketing materials needed to make your sale a success. We also offer employee discounts and/or a rebate.
Our vast experience with large uniform sales and, specifically, implementations of color-by-discipline uniform programs, leads us to recommend an assortment of products to ensure the greatest product availability, color consistency, and product quality for new programs.
Customized micro-sites for your company
Scrubs & Beyond can implement a customized website for your facility. We will work with you to meet your specifications and your dress code. Call us for details.
Customized service for medical scrubs and uniforms
We realize each facility has its own unique needs and requirements. Our focus is personal service. For your convenience, we bring the Scrubs & Beyond store experience to your site; no additional personnel required from your facility.
We will make sure that your new uniforms reflect your professional image while providing you with the best selection of medical scrubs available. On-site fittings make this easy and reduce returns. Our easy on-site sorting and personal delivery are the perfect combination.
Also for your convenience, house accounts are available for simplified billing. Payroll deduction makes it affordable for your employees. Plus, your dedicated account representatives are always there to assist you with your needs.
Nursing shoes and accessories
Medical scrubs are only a part of your work uniform. We can also provide your staff with nursing shoes, clogs, and other accessories that help complete your new professional image. Call us for details.
Medical scrub stores
Scrubs & Beyond has grown rapidly since its inception, expanding to 28 retail stores in 14 states. The company currently supports over 200 on-site sale and fitting events for customers every year, ranging from five-person offices to 6,000-person hospitals.  In addition to retail stores and on-site events, Scrubs & Beyond is a market-leader with its catalog and e-commerce sites, and currently offers numerous custom websites to large facilities that are tailored to meet their needs.
In September of 2000, Scrubs & Beyond opened its first store in Grapevine, TX. The company's president, Karla Bakersmith, was a uniform-industry veteran that recognized a need for healthcare professionals to have a fun and interesting place to shop. This segment of professionals had never been given the opportunity to shop in a cheerful and exciting store, so Scrubs & Beyond designed its stores to relax the healthcare professional and has always made customer service the highest priority.
Scrubs & Beyond stores are designed for healthcare professionals – they are fun and inviting stores that make shopping for scrubs a pleasure. The atmosphere has a whimsical feel with a takeoff on medical equipment. As you enter the stores, a 10ft beating heart with a racing EKG light and a 20ft stethoscope catch your attention. A 5ft toothbrush and a large box of dental floss are attached to the ceiling, as well as a 5ft hypodermic needle and a 6ft thermometer. IV bags filled with huge gumballs will also catch your eye. The stores are something that has to been seen to be believed and are truly beyond any scrub store in today's market.