Discover your individual wound management solution in HARTMANN's wide range of wound care products and services. They are perfectly attuned to each other, can be optimally combined and enable you to treat your patients according to their individual indications and needs. Patient-centred care is the new standard in chronic wound care and HARTMANN is your reliable and experienced partner for an interdisciplinary approach.
Wound care products for acute and chronic wound care
HARTMANN is a global supplier of first-class wound care products with a long tradition and high reputation. Its product range comprises of moist, antimicrobial, textile and post-operative wound dressings, dressing retention products and products for compression therapy.
While this comprehensive portfolio already enables HARTMANN to provide the right solution for both acute and chronic wound care in all different healing stages, the company constantly continues its path of improvement and innovation.
CombiSensation for tailor-made wound management
As providing the right products is not sufficient to ensure an optimal wound treatment, the CombiSensation concept from HARTMANN offers additional training and seminars as well as valuable educational and information material to help professionals in their daily work.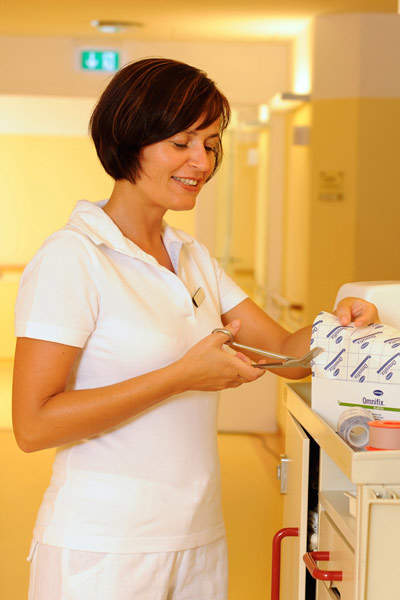 HARTMANN wound care products are widely used in clinics, in operating theatres, on the ward and in wound ambulances.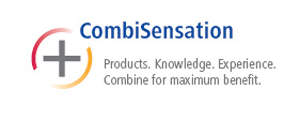 With the CombiSensation concept HARTMANN combines its wound care products with knowledge and experience to offer maximum benefit to the patient.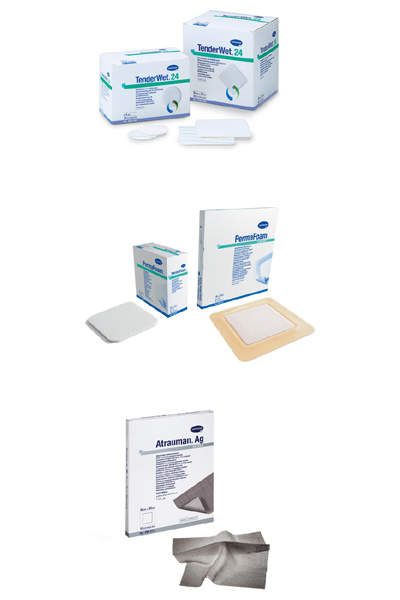 TenderWet®, PermaFoam® and Atrauman® Ag go hand in hand for directed, efficient wound management.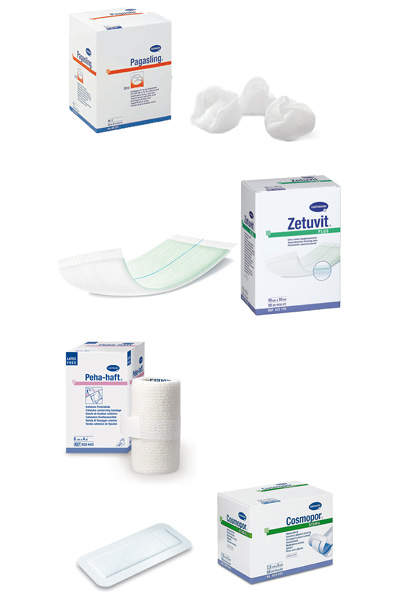 Examples of HARTMANN wound care products: Pagasling® gauze sponges, Zetuvit® Plus superabsorbing pads, Peha-haft latex-free cohesive fixation bandages and Cosmopor® sterile post-op dressings.
The right selection of a wound care product is only complete and a guarantee for effective treatment if it is complemented by a corresponding secondary dressing or fixation. HARTMANN's comprehensive wound management portfolio includes contact layers and absorbing dressings as well as cohesive and non-cohesive dressing retention, among others, and therefore offers a complete, single-source solution under the CombiSensation roof.
Advanced wound care: hydroactive dressings for chronic wounds
Hydroactive dressings from HARTMANN are designed to cause therapeutic effects that deeply influence wound healing processes, from wound cleansing, binding matrix metallo proteases and fighting wound infections to growth stimulation of granulation and epithelial tissue. With these characteristics the advanced wound care portfolio of HARTMANN enables a specific treatment of chronic wounds.
Efficient wound cleansing through wet therapy
TenderWet® active is a hydroactive dressing pad for wet therapy. It provides an efficient cleansing thanks to the active absorbing and rinsing effect; it continuously delivers Ringer's solution to the wound and, in return, absorbs wound exudate. In the process, the wound dressing pad also absorbs excess wound-healing-inhibiting proteases, trapping them inside its structure. Thereby the growth of granulation tissue in chronic wound care is stimulated and the wound bed conditioned for further treatment.
Promoting granulation with a hydroactive polyurethane foam dressing
PermaFoam® is a hydroactive polyurethane foam dressing with a special pore structure that enables fast and optimal absorption of wound exudate, viscous secretions and cell debris. Its innovative foam matrix offers improved protection against maceration and facilitates an effective micro debridement in chronic wound care.
A silver-containing contact layer for risk reduction in wound care
Atrauman® Ag is a silver-containing contact layer that can be ideally combined with absorbent wound dressings. It avoids adherence to the wound, provides care for the surrounding skin and is antibacterial active when in direct contact with bacteria. Atrauman Ag forms a sufficient amount of silver ions to be antibacterial effective on the surface of the dressing. It ensures a low cytotoxicity and the tolerance during treatment is correspondingly high.
Textile wound care products for wound management routine
Despite the development towards advanced dressings, textile wound care products are of major importance and absolutely essential for the treatment of wounds – in ambulances, operating practices and dressing changes.
For almost 200 years HARTMANN has offered a wide variety of gauze and non-woven swabs, absorbing pads and sponges. These products continue to be in demand due to their high quality, reliability and product improvements.