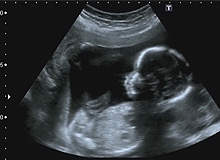 In February 2010, the independent advisory group on non-ionising radiation (AGNIR) published a report that examined the health risks arising from exposure to ultrasound. While there is no evidence that the scan does any harm to expectant mothers, it did provoke some uncertainties about the effect it could have on the developing brain of the foetus.
The UK's Health Protection Agency has, therefore, advised parents-to-be to only have ultrasound scans when it is diagnostically necessary. But, with the increased commercialisation of the sector, more private clinics are offering souvenir scans that give no clinical benefit to mother or baby.
For Dr Deborah Levine, a professor of radiology at Harvard Medical School and chair of the ultrasound commission at the American College of Radiology, having an ultrasound scan simply to gain a keepsake image of an unborn child is ill-advised.
"We recommend scanning only for medically indicated purposes," she says. "We do not condone what we call 'entertainment ultrasound'."
She does, however, acknowledge that private scanning companies are capitalising on expectant parents' desire to make use of the high-quality 3D imaging that is now available.
"3D images are fun to look at; there is no doubt about that," she notes. "But it is critically important that studies are only performed when medically necessary."
How well do you
really

know your competitors?

Access the most comprehensive Company Profiles on the market, powered by GlobalData. Save hours of research. Gain competitive edge.
Company Profile – free sample
Thank you!
Your download email will arrive shortly
Not ready to buy yet? Download a free sample
We are confident about the unique quality of our Company Profiles. However, we want you to make the most beneficial decision for your business, so we offer a free sample that you can download by submitting the below form
By GlobalData
Still, many parents opt to visit an ultrasound clinic at several stages during pregnancy, and with expectant mothers willing to pay up to £250 for a snapshot of their unborn child, there is no sign of the industry slowing down. Private clinics also offer 3D videos of the foetus, which may involve the ultrasound machine being in operation for as long as an hour.
"One clinic sells itself by offering clients the chance to meet their unborn child 'without the distractions of a busy antenatal clinic.'"
One clinic sells itself by offering clients the chance to meet their unborn child "without the distractions and time restrictions of a busy antenatal clinic", yet nowhere is it mentioned that the machine may remain static over the foetus' head for longer periods than stipulated by health authorities.
"Why incur even a minimal risk?" Levine asks. "We do not know if the person doing the scan has the appropriate certifications and training. Anomalies can be missed and this can be falsely reassuring to the patient."
The American Institute of Ultrasound in Medicine (AIUM), a multi-disciplinary association dedicated to advancing the safe and effective use of ultrasound, takes a similar stance, stating that using ultrasound to view, take a picture of, or find out the gender of a foetus without a medical indication runs contrary to good practice.
Safety comes with skill
Diagnostic ultrasound has been in use since the late 1950s. It is regulated and has an established track record of safety; indeed, the AIUM notes that "no independently confirmed adverse effects caused by exposure from present diagnostic ultrasound instruments have been reported in human patients in the absence of contrast agents".
Levine confirms that it is the safest way of looking at the developing foetus without exposing the mother or baby to the risks of radiation. The routine scans performed at ten-13 weeks and 18-20 weeks can determine the baby's definite gestational age, identify multiple pregnancies, inform parents about the baby's growth and placental health, and identify many developmental and structural abnormalities. Of course, there are several stipulations medical professionals must adhere to when performing an ultrasound scan.
"A routine obstetric ultrasound to see the anatomy of a foetus typically takes 15-20 minutes," Levine notes. "It is longer if there is difficulty seeing the anatomy or if the patient is high risk and additional detailed views are needed."
Throughout the ultrasound, medical professionals follow the as low as reasonably achievable (ALARA) principle. The probe is almost constantly in motion, the foetus is moving and the brain goes in and out of the field of view. The greatest concern during any sort of ultrasound is related to heat deposition, but for scanning during pregnancy only the lower power deposition settings are used, minimising this risk. Medical professionals also adhere to the prescribed mechanical index (MI) and thermal index (TI) on ultrasound machines, specific values that should not be exceeded.
"The greatest concern during any sort of ultrasound is related to heat deposition."
"When we perform ultrasound it is usually with grey-scale imaging," Levine explains. "Sometimes we use the motion mode to show a moving structure, and this uses slightly more power than grey-scale imaging. Colour Doppler and pulsed Doppler specifically show flow and use much higher power settings. Therefore, when scanning in pregnancy, we very rarely turn them on."
It is exceptionally important that the medical professionals operating these machines are fully qualified. Would-be sonographers attend schools where they train in ultrasound safety, physics, anatomy and pathology before taking a test to become a registered diagnostic medical sonographer, and once registered they have to undergo continuous education to maintain the certification.
Similarly, doctors who perform and interpret obstetric ultrasound – typically radiologists and obstetricians – undertake years of specialised training.
"Laboratory accreditation is crucial as it sets a minimum standard for examinations and ensures that the personnel in laboratories are credentialed and have the appropriate continuing medical education," Levine adds. "Ongoing quality assurance projects are important to document that there is continuous quality improvement."
None of this is guaranteed in private clinics run by entrepreneurs looking to cash in on the latest trend. While there is preliminary scientific evidence suggesting that 3D sonography has a positive effect on parental-foetal bonding, this benefit does not balance the many risks involved in carrying out souvenir scans.
"If there is a cleft lip, the 3D can allow individuals who counsel the patient to better understand the anomaly or allows the patient to better visualise an anomaly," Levine says.
"If an anomaly is observed by an ultrasound entrepreneur, they are unable to offer the appropriate advice and counselling necessary for patients."
But she notes that this is only relevant in very rare circumstances and is not enough for
her to condone the practice of creating keepsake images. Meanwhile, healthcare authorities have no idea about the certifications and training of individuals performing ultrasounds in private clinics.
"We hope they understand MI and TI, but we just don't know," says Levine. "You need to understand the appropriate equipment settings in order to perform the studies at the lowest exposure for the patient."
Anomalies can be missed at any scan – regulated or unregulated – but if an anomaly is observed by an ultrasound entrepreneur, they are unable to offer the appropriate advice and counselling necessary for patients.
"If a woman has a 3D scan, thinks everything is normal and consequently does not go in for a medically indicated scan, it is problematic," Levine says. "Since we have no idea about the training of individuals who work in these private clinics,
I cannot comment on missed anomalies there. I don't want to scare pregnant woman as we feel that ultrasound is safe in pregnancy, but we want it to be done by credentialed individuals in accredited facilities after a doctor has ordered it for improved care of the pregnancy."
Proceed with caution
The AGNIR report cited a study that found that prenatal exposure to ultrasound at levels used in medical practice can affect the developing nerve cells in the developing brain of a mouse foetus. Levine, however, is quick to interject that the study used "an extreme situation".
"It's not like real life," she says. "The experiment took place over seven hours, rather than minutes; the mice were immobilised whereas the foetus is always moving; the whole brain was exposed during the study, but in reality the brain is not always in the field of view; and we abide by the ALARA principle when performing ultrasounds."
Moreover, the results were inconclusive, so the study's significance is not known. It was ultimately decided that there was too little evidence to draw firm conclusions about the long-term effects of ultrasound.
"It does, however, confirm the fact that we need to be careful," says Levine. "We can't have just anybody playing with ultrasound, doing whatever they want for however long they want."
The AGNIR report also clarified that further research is necessary in order to clear up any uncertainties surrounding the safety of ultrasound. But this is easier said than done.
"Even if you triage patients into groups that get ultrasound frequently during pregnancy and less frequently during pregnancy, long-term outcomes with very large populations are needed," she says. "When these studies are completed, there are typically many confounding factors that make interpretation of the results difficult.
"The biggest frustration for medical professionals is that the practice is illegal, and yet there is nobody policing it."
"The best thing we can do to limit any potential harm from ultrasound is to ensure that studies are performed by appropriately trained professionals in departments that have accreditation either from the American College of Radiology or the AIUM. This ensures that studies are being performed in laboratories that have met a minimum standard for quality."
In the meantime, Levine admits that the situation she and her colleagues find themselves in is frustrating.
"We don't know everywhere souvenir scanning is occurring and every now and again people call and complain," she explains. "When it seems as though the situation is really unreasonable, I'll send something on to our government relations contact in the American College of Radiology and she will send it on to the US Food and Drug Administration (FDA). But we won't hear anything back.
"The biggest frustration for medical professionals is that the practice is illegal, and yet there is nobody policing it. It's not a high priority because, in all honesty, ultrasound is relatively safe. The FDA has so many things it has to do that it doesn't want to be hunting down these individual clinics, so we don't have any good numbers. People tell us it's happening and we tell them not to, but what can you do?"
Government supervision would put an end to entertainment imaging, but it is simply not being enforced.
"Legislation is already in place stating that ultrasound should only be performed
for medical indications but my understanding is the FDA just doesn't have the manpower to pursue the issue," says Levine. "If it enforced the regulations, I think the problem would go away, but I don't think this is likely."
Although the results of the AGNIR report offered no firm evidence of the long-term effects of ultrasound on an unborn child's brain, it serves as a timely warning to parents-to-be. Perhaps the most important conclusion reached is that further research is necessary to
either confirm or rule out the possibility of dangerous side effects.