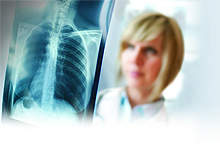 It's the sort of headline that would give any radiologist sleepless nights: "X-rays can miss many fractures, warn doctors," reported the BBC in March last year, with other media outlets making similarly dire pronouncements following research published in the American Journal of Roentgenology that had concluded that conventional X-ray scanning failed to spot almost one-third of fractures in the bones of the hip and pelvis.
The study of 92 patients by a team from Duke University Medical Center, North Carolina, US, found 35 fractures had been missed. All images of the lower extremity or pelvis taken from July 2005 to June 2008 by the emergency department after the patient had undergone radiography were reviewed retrospectively by two musculoskeletal radiologists.
The research, featuring patients who had all complained of pain after an injury to the hip or pelvis, found that 13 with normal X-ray findings had a combined total of 23 fractures that were picked up by MRI. Another 15 patients with abnormal X-rays had 12 additional pelvic fractures seen on MRI. Conversely, in 11 patients an MRI scan showed no fracture after X-rays had suggested there might be one.
But professor Charles Spritzer, professor of radiology (musculoskeletal division) at Duke University Medical Center and the man who led the research, is at pains to emphasise to radiologists and radio-graphers that the case was not as clear-cut as was implied by the mainstream media.
"It is important to stress that we were looking at a subset of people, and excluding those groups where the fractures were easy to identify and would very simply have been picked up on plain film. But in some cases of trauma what we are finding is that plain films have to take a second seat. Particularly in the case of older people who are perhaps a little osteopenic, there can be an issue around plain film sensitivity and specificity, and proceeding to MRI as well can be really useful," he says.
X-ray still marks the spot
What this means is that, yes, there is still an important role for X-rays or CT scanning (computerised tomography – an advanced form of X-ray that uses a computer to generate better films), and they should probably remain the first line of inquiry to determine whether a patient has suffered a fracture, although it does depend upon the anatomic location (MRI is the better study after plain film for the hip, for example). The danger, however, is assuming that if the answer is a negative then the X-ray or CT scan is therefore infallible. Spritzer highlights the potential danger of making such an assumption.
How well do you really know your competitors?
Access the most comprehensive Company Profiles on the market, powered by GlobalData. Save hours of research. Gain competitive edge.
Company Profile – free sample
Thank you!
Your download email will arrive shortly
Not ready to buy yet? Download a free sample
We are confident about the unique quality of our Company Profiles. However, we want you to make the most beneficial decision for your business, so we offer a free sample that you can download by submitting the below form
By GlobalData
"For clinical teams concerned that X-rays are not definitive, MRI is clearly the next step."
"It may be, for example, a question of an older person having had a fall or being in a nursing home and it suddenly being noticed that they have not moved their hip for some time, and there is a worry that something might have happened. They might be in a lot of pain or unable to move it or bear weight on it. Yet they have had an X-ray and it has come back negative. So what do you do?" he asks.
"If it progresses to become a displaced fracture then the patient's mortality and morbidity rates will significantly increase. So sometimes the consequences can be potentially catastrophic."
The obvious answer, although problematic during a global economic downturn, is for hospitals to invest in expensive new MRI scanners and increase the usage of costly MRI scanning. Yet it's not as simple as that, says Spritzer.
First, most hospitals will already have, or at the very least have access to, some form of MRI scanner, so it may not be a case of hard-pressed facilities having to splash out on new equipment or technology.
"Most facilities will now have an MRI scanner so it will just be a question of sorting out the clinical protocol of when and how to proceed to MRI," says Sprizter. "For clinical teams concerned that X-rays are not definitive, MRI is clearly the next step. It is something that can be done fairly quickly."
Making use of facilities
Secondly, even if new investment is required and the expense of managing a patient rises due to the greater cost of an MRI scan versus an X-ray or CT scan, not maximising the use of MRI technology as a back-up can be a false economy, and could end up costing a facility much more money, stresses Spritzer – and that's without even taking into account the issue of expensive lawsuits.
"It is an issue of doing something that is a relatively simple procedure or doing nothing and ending up needing to replace a hip," he explains. "To be honest, the cost of the care you will need to provide in that situation is high, even though the technology you would use to prevent that eventuality would also be expensive. Using an expensive, high-tech modality makes sense because you are saving money as well as, of course, providing critical care for your patient.
"Not maximising the use of MRI technology as a back-up can be a false economy."
"It varies, of course, but a plain film charge can be around $100 whereas an MRI charge might be $1,000 to $1,500. So it is significantly more, but it is still a big saving compared with having to perform a hip replacement, not to mention the additional suffering of the patient during this whole issue," Spritzer adds.
What's more, an accurate diagnosis in an emergency department can improve the speed at which patients are referred for surgical management, if needed, as well as reduce the rate of hospital admissions among patients who do not have a fracture. What you're trying to achieve, says Spritzer, is to improve resource utilisation, reduce overall patient cost and at the same time provide better patient outcomes and reduce patient inconvenience.
The use, therefore, of MRI in the treatment of patients with a strong clinical suspicion of traumatic injury but unimpressive X-rays potentially has a substantial advantage in the detection of pelvic and hip fractures, helping to steer patients to appropriate medical and surgical therapy, Spritzer argues.
"It's a very simple message: if, clinically, someone is in a lot of pain and they cannot bear weight, then plain films may not necessarily be definitive, and that is where an MRI can come in and help," he says.
"This is, I believe, something that is going to become only more important over time as our population ages. We have the 'baby boomers' approaching retirement age yet people are staying more active, too. So in that context the chances of an older person having a fall are going to be that much higher.
 "What's more, it doesn't always go in the one direction. In our study I was surprised we had 11 cases where we thought we had a fracture and the MRI showed there was not one after all. That surprised me significantly. So it can work in both directions," he concludes.