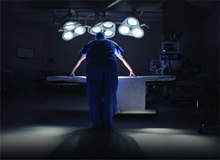 The charging of an Iraqi doctor in connection with the recent failed bomb attacks in the UK has caused shock the world over. 27-year-old Bilal Abdullah, working as a doctor at the Royal Alexandra Hospital in Paisley, Scotland before his arrest, was charged with conspiring to cause explosions after the failed car bomb attacks in London and Glasgow.
Two other medical staff have been charged over the incident which has understandably caused consternation in the ranks of healthcare professionals, not only in the UK but around the world. Cheryl Peterson, senior policy analyst with the American Nurses Association, believes there needs to be a new approach to background checking if a repeat of the incident is to be prevented.
"We need to look at how we can be more sophisticated [in checking people's credentials]," she says. "How do we integrate background checks from different organisations and how do we integrate law enforcement?
"We think that it is absolutely critical [to check people's backgrounds]. We worked hard in the mid-1990s trying to increase background checks for nurses and other healthcare workers." In the US, background checking takes a number of forms, but as Peterson points out, the emphasis is on medical credentials rather than looking for potential terrorists.
"We review through The Commission on Graduates of Foreign Nursing Schools,' she says. 'We want to see whether their education is comparable to that of the US. We have a written and focused English proficiency test that they are required to pass, alongside a review of the nurse's health licence."
"The division of power and responsibility in the US healthcare system as a potential stumbling block."
Most states require that registered foreign nurses take a predictor exam, which helps to estimate their ability to pass the national licensing exam. This has been in place since the mid- 1970s, because of the numbers of foreign educated nurses who were going to the US, failing the exam but staying on illegally.
Peterson emphasises that, while the checking of medical credentials is in good shape, state and national authorities in the US may need to look at new ways to check applicants' backgrounds. In particular, she highlights the division of power and responsibility in the US healthcare system as a potential stumbling block.
"I think that the way we review professional skills is in pretty good shape," she says. "Where we have problems is due to the actual background check on criminal records being carried out by the state boards of nursing. There may not be as much uniformity as we would like to see among the states, in the extent to which they do background checks.
"Recent work has been done by the National Council of State Boards. It has given guidance to states on how to improve background checks, but there is variability that could be cleaned up. I think that partly as a result of recent events in the UK, the states are all going to be looking at their security processes."
HOW MANY FOREIGN WORKERS?
"Tracking down as much information as possible should be imperative for all healthcare managers."
The problem may be exacerbated by the fact that it is difficult for the American Nurses Association to know exactly how many foreign nurses are operating inside the US. Peterson says: "It's hard to know about how many foreign workers are employed in healthcare in the US. We have a hard time getting that information out of the federal government.
"The other issue is that we've seen a shift from foreign educated nurse to foreign-born nurse, and that has skewed the numbers. A foreign-born person could be somebody who has moved here when they were young, and then gone to nursing school, so it makes it a little difficult."
The only way there is of knowing how many foreign nurses there are, and Peterson admits it is a fairly unsatisfactory measure, is by counting those who have taken the American Nurses Association exams. In 2005, that was 11,620 foreign-educated nurses.
Even the increase in immigration control in the wake of 11 September 2001 has not made a big impact on the number of nurses coming into the country.
"We have an increasing shortage [of nurses] here," adds Peterson. "If anything, [the number of foreign nurses] may have dropped a little bit only because of some domestic policy changes that have promoted the retention of nurses. We have seen our vacancy rate drop but that does not have anything to do with Homeland Security."
She says that authorities in the US have work to do weeding out those who may have slipped through the net. "My guess is that we've not really thought about how we would deal with it – it would probably be that a staff nurse would report it to their manager and then it would be management's responsibility to take it further," she says. "If management didn't do that, the person who is whistle-blowing might have to think of some other ways – which would probably be to go to the FBI."
POTENTIAL THREATS
Peterson adds that the recent events in the UK could easily have happened across the Atlantic: "You could have a US-born individual who could do that. I don't know how advanced we are at doing checks that might pick up certain behaviour.
"How do you recognise somebody who could potentially be a problem when none of their behaviour would suggest so, or if they have not had any incidences of being watched?"
More likely is that a 'bad actor' would get through background checks – a nurse who may be systematically murdering patients, for whatever reason, who stays under the radar screen because he or she moves from hospital to hospital.
"We had a male nurse who killed 15 people several years ago over a period of time in different facilities," says Peterson. "But because he was never reported, there was no means of checking his credentials. There are limitations on what you can and cannot say if one hospital calls another and asks for a reference."
Carrying out checks on potential employees, regardless of the job, can bring up many issues regarding personal privacy and confidentiality. It can be nearly impossible to track someone's precise movements without it being an infringement on their human rights. And those prone to threatening behaviour are often difficult to spot. But tracking down as much information as possible should be imperative for all healthcare managers, to protect both their facilities and the general public from those who wish to cause harm.
This article was updated on the 12 December 2007.