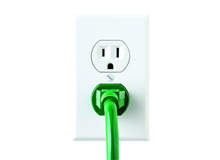 These days, we know a problem is serious when they bring out the rockstars. Anyone watching Live Earth in July 2007 cannot have failed to miss the importance of addressing climate change; Duran Duran said it matters, so it must be true.
Alas, Clark Reed has not had Simon le Bon's number on speed dial during his ten years at Energy Star. The organisation's national healthcare manager has had to take a rather more old-fashioned approach in encouraging hospitals to cut their carbon emissions. "One has to start with the concept of money savings," he admits. "People want to do the right thing, but cash will always be the overriding factor."
"Per square foot, hospitals are the second highest energy-intensive space type in the US."
Reed, alongside a staff of four account managers, coordinates the Energy Star programme for some 600 US hospitals. The joint venture of the US Environmental Protection Agency and the US Department of Energy works across all sectors, encouraging a set of best practices for implementing improved energy efficiency. Per square foot, hospitals are the second highest energy-intensive space type in the US and the fourth most carbon-intensive overall, meaning their efficiency problems must be solved.
MEASURING ENERGY EFFICIENCY
By their very nature, hospitals will always feature prominently in such league tables. However, Reed makes an important distinction between consumption and efficiency. "An old building with old equipment that is maintained and operated in a superior fashion performs much better than a new build that is not run well," he explains. "Modern equipment will naturally be more efficient, but that does not necessarily mean it is being properly utilised."
To reflect this, Energy Star operates the national energy performance rating system, an analytical tool that allows healthcare managers to see just how efficient their facility is. The building's physical characteristics and a year's worth of utility data are inputted, generating an overall rating on a sliding scale of one to 100. The industry standard is at 50.
How well do you really know your competitors?
Access the most comprehensive Company Profiles on the market, powered by GlobalData. Save hours of research. Gain competitive edge.
Company Profile – free sample
Thank you!
Your download email will arrive shortly
Not ready to buy yet? Download a free sample
We are confident about the unique quality of our Company Profiles. However, we want you to make the most beneficial decision for your business, so we offer a free sample that you can download by submitting the below form
By GlobalData
Reed believes that the ability to benchmark performance against peers provides an invaluable impetus in the drive for controlling energy usage. "You can't manage what you don't measure," he says. "Knowing where you stand is a crucial first step in creating an overall game plan for addressing the energy issue.'
The benchmarking process also serves to highlight many of the basic mistakes that Reed sees facility managers making in both new and established hospitals. "It's not uncommon for me to get a call from a manager saying that our rating tool must be broken because their result is so low," he reveals. "The one question I always ask is: did you get the building commissioned? Most of the time, the answer is no."
AUDITS AND MANAGEMENT
Commissioning is a full-scale energy audit, ensuring that all equipment is installed and working properly, and operating in synch. Factors such as excessive manual overrides, a lack of training on the energy management system, and heating and cooling utilities working against one another can dramatically increase expenditure. They can also be rectified with minimal capital outlay.
Reed stresses how fundamental a step this audit is, underlining the significance of retro-commissioning for existing builds. "We commonly see energy savings of anywhere from five to 15%, but there have been cases of hospitals saving as much as 40%. Such cases surprised everyone on the programme; even we hadn't realised that savings this high were possible."
These reductions are impressive and having figures to hand, along with the ability to compare a facility with one's peers, provides critical leverage in pressing home the importance of energy saving. "It can be very difficult to explain the predicament to senior management," Reed explains. "To be able to put things in terms of a relative scale and illustrate the level of money that is going to the utility companies, rather than financing improved healthcare, enables managers to get the point across."
Getting senior executives on side is invaluable. In order to achieve this, Reed recommends choosing a figurehead for the cause. "There must be an energy champion,' he declares. 'This person needs to be fairly influential at a senior level and to make sure that an infrastructure is in place, so that energy management permeates the entire organisation."
Everybody needs to take responsibility. "If the facility manager and a small group of staff are viewed as being the 'energy people' alone," Reed says, "very little is going to change. You have to be able to define the technical steps and targets. There has to be an action plan that looks at capital investment, human resources, procurement procedures, new products and development teams. Communications need constant attention; we even recommend the introduction of incentives or bonuses for when targets are met."
FIVE-STEP ENERGY-SAVING SOLUTION
When it comes to devising an action plan, Energy Star is there to help. The organisation suggests a five-step strategy to energy saving, outlined in its building upgrade manual. The level of capital outlay increases through each step and it is imperative that the levels are followed chronologically. Retro-commissioning is the first port of call. Once this is done, the next consideration should be lighting.
"All inefficient lights need to be replaced," explains Reed. "It is also a question of control. Features such as installing occupancy sensors in public spaces can offer massive savings." The next step is supplemental load reduction. This involves reducing your plug load through the use of more energy efficient equipment. It is also important to use solar heating as a way of gaining energy. This can be achieved by putting window films or shading on the south side of your building and installing light-coloured roofing.
"A recent survey of healthcare facilities found that 90% of hospitals had seen energy costs increase over the preceding 12 months."
The right-sizing of fans is the next important stage. This may sound like a less radical step, but Reed believes it is vital. "There is currently a study out that claims fans are oversized 60% of the time." he reveals. "Getting them to operate more efficiently is extremely important.
"Also, a lot of older buildings operate at constant volume. Variable speed drives enable a facility to operate variable levels of cooling and heating. The current standard of belts and coolers should also be looked at."
Only once all four of these measures have been taken, is it time to take the biggest step: upgrading your heating and cooling systems. "Chillers are the real energy consumers in a hospital," Reed explains. "They need to be sized correctly and high-efficiency components must be installed. It is important, though, that this step is not taken until you know everything else is working properly."
Taking such a committed, structured and long-term approach is vital to managing energy efficiently. "One of the habits that many organisations get locked into is that they only address the problem when there's a significant hike in energy prices," Reed says. "They tackle the easy issues, prices dip and the main problem is put on the backburner again – that is, until costs soar once more and they go back to 'picking the low-hanging fruit'. It's a rollercoaster approach and is extremely ineffective for achieving cost savings."
So, is such a haphazard approach on the way out or might Reed need to rally a horde of popstars to support his cause before the issue is appropriately addressed? "A recent survey of healthcare facilities found that 90% of hospitals had seen energy costs increase over the preceding 12 months," he admits.
"Of that figure, one fifth saw increases of 25% or more. The issue of climate change may be experiencing more recognition than ever before, but the bottom line is that healthcare is coming round to our way of thinking because prices are going up." Not very rock and roll, perhaps, but a convincing argument nonetheless.