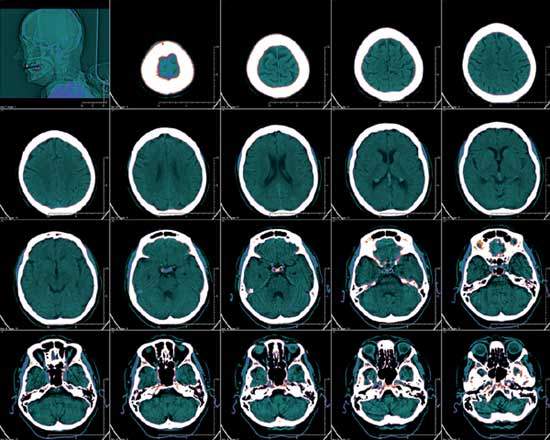 Computed tomography (CT) imaging, it is probably safe to say, is now one of the most important diagnostic weapons in the physician's armoury. It is estimated that some 68 million CT scans are carried out in the US every year – around one for every fourth US citizen – compared with just three million in 1980.
But, while no one disputes the use of CT scanning to speed up diagnosis and identify disease earlier and more accurately, the increasing use of CT technology has been criticised in some quarters. A study by New York's Columbia University Medical Center in the New England Journal of Medicine (NEJM) late last year, for example, raised concern that the growing use of CT scanning, sometimes for little clinical need, may actually be causing cancers because of patients' increased exposure to radiation.
It is estimated that CT scans could become the cause of as much as 2% of cancers in the US within the next 20 years. In the UK, the Committee on Medical Aspects of Radiation in the Environment (COMARE) warned as much in December 2007 and urged private medical firms to stop offering full body scans to people without symptoms. COMARE believes that unnecessary scans are putting people at a higher risk of developing cancer and that abnormalities, where they are being found, are often benign, yet they can lead to unnecessary stress and, just as importantly, avoidable interventions.
"Unnecessary scans are putting people at a higher risk of developing cancer."
DEVELOPING TECHNOLOGY
Such controversies apart, CT imaging remains a rapidly evolving field with, as Jean-Luc Vanderheyden, global molecular imaging leader at GE Healthcare puts it, the emphasis very much on three key areas: seeing more, knowing more and (pertinently in the light of the NEJM and COMARE warnings) dosing less.
"We have put tremendous effort into reducing the radiation dose associated with CT and X-ray scanning and can now do a scan using 70% less radiation," he says. "We have made a sizeable effort to do that without affecting the quality of the image. Actually, you can extract a greater amount of information."
The need for faster scans has primarily been driven by cardiac medicine, according to Nancy Gillen, vice-president and general manager for the north-east region at Siemens Medical Solutions. Here, one of the key challenges, when you have a patient admitted with chest pains is getting them scanned quickly and accurately without necessarily having to use beta blockers to control the patient's heart rate. "You just want to be able to get the patient in, get them out and get them treated," she says.
Other new techniques coming into play include profusion imaging, where clinicians can look at the blood flow to different parts of the brain, an application that can be particularly valuable for stroke patients, Gillen says.
HIGH DEFINITION
One advance catching the eye of many physicians in Europe and the US is the integration of high-definition (HD) technology into CT scanning. HD technology is a familiar part of the technology in our homes. A meeting of the Radiological Society of North America last year outlined how HD technology could revolutionise CT imaging.
Gene Saragnese, vice-president of GE's CT business, says the company plans to incorporate HD technology into its next generation of scanners – under the umbrella term of HDCT technologies – something that could lead to a 'quantum leap' in image clarity.
He told the meeting: "HDCT technologies represent a dramatic departure from recent CT industry trends, but one that – at its core – is aligned with the real diagnostic goals that clinicians are demanding for their patients.
"We're re-inventing CT to help clinicians see detail more clearly. We're working with new functional and time-based CT information that might help them know more. And we're investing to provide them with unprecedented diagnostic clarity using a considerably lower radiation dose. We believe HDCT technologies are transformational, and we're excited about the clinical possibilities that they may enable," he added.
RECENT INNOVATIONS
Recent innovations by Siemens include the Artis zee family of interventional imaging systems. This includes scanners with a robotically controlled multi-axis C-arm that can be easily adjusted by a physician wearing a heavy lead-shielded apron. The new technology enables physicians to see the whole abdomen or the entire liver for chemoembolisation and biopsies, and it offers views of the skull and the neck, as well as expanded views of the spine.
"CT scans could become the cause of as much as 2% of cancer in the US within the next 20 years."
Also from Siemens comes the total imaging matrix class of scanners. These are now installed at more than 1,300 facilities across the US.
They eliminate the need for patients to be repositioned during imaging, something that can sometimes be uncomfortable for the patient and time-consuming for the physician. They also eliminate the need for manual coil changes during scans, while significantly enhancing image quality.
To address the issue of dosage, Siemens has developed its AS series of scanners – including the SOMATOM Definition AS scanner for patients with strokes, cardiac conditions and cancer – which have adaptive shields at the end of the detectors to reduce the radiation dose, says Gillen.
Philips Medical Systems, meanwhile, recently unveiled an imaging system capable of scanning the heart in two beats. The 256-slice Brilliance iCT scanner also emits 80% less radiation than conventional technology.
With cancer, it is now possible to monitor, using positron emission tomography (PET) and CT scans, how a tumour responds to treatment and how its size and speed of growth changes, says Vanderheyden. "We are using molecular techniques to see them and follow the progress of the drug," he explains.
The combining of PET and CT scans is assisting the hybridisation of medicine, agrees Gillen. "Clinicians can get the quantitative image from the PET and the anatomical information from the CT and then fuse them together," she says.
PRACTICAL APPROACH
Technology is just one part of the equation when it comes to making progress in CT imaging, according to Vanderheyden.
"It is not just about trying to get the slices thinner, but what that means in terms of the patient's diagnosis or treatment? You have to look at medical need and how technology can be best used to answer clinical questions. CT technologies are expensive; there is a cost associated with them. An imaging procedure should not be carried out unless it is necessary," he says.
One exciting new potential approach is the use of CT scanning to identify disease in someone who is pre-symptomatic. At GE a lot of emphasis is now being placed on early health modelling and the identification of cardiovascular, oncological and neurological diseases, all of which are highly debilitating conditions that also have a high health cost to the healthcare system, according to Vanderheyden.
"If we can identify disease early, it will give patients a better chance of successful treatment. The danger is that you have a piece of equipment and then try to find an application for it, that you are creating technology for its own sake," he says.
Gillen agrees that developing CT technology is just part of the process. "With something like CT, you have to get it into the hands of the clinician and their partners. They guide us as to how we need to make things better," she says.
Another key challenge is the US's – and the Western world's – obesity epidemic, Gillen says. Some of the challenges here are practical, such as developing scanners with bigger and stronger boards or tables. But it is also about looking at how CT technology can help clinicians tackle the common medical conditions that stem from, or are related to, obesity, as well as ensuring that obese people still have the access they need to healthcare.
IMPORTANT ROLE
It is clear that imaging, however it evolves from here, is going to play a hugely important role in the future. With new software constantly reducing CT data analysis times, so that it now takes just minutes in some cases, CT scanning is revolutionising the way physicians make diagnoses and how quickly they make them.
Vanderheyden is as excited by new biological advances and by better contrast techniques as he is by technological advances in CT. We are seeing greater miniaturisation in ultrasound technology and advances in segmentation imagery, but also improved imaging agents.
By combining these advances, we can go a long way towards identifying disease sooner, by imaging plaque in patients with Alzheimer's disease, visualising new blood pressure formations in cancer patients and looking at nerve endings in cardiovascular patients, for example.
"CT scanning is revolutionising the way physicians make diagnoses and how quickly they make them."
"We are also now able," says Vanderheyden, "to see smaller and smaller lesions, and see things motion free, too. [In the past] the heart pumping or the lungs moving may have moved a tumour or lesion until it was lost in the background, but we have been improving the technology in this area."
Gillen sees a future – one that is already being realised – where CT moves out of the radiology department.
CT is beginning to play a more important role in the emergency room, particularly for investigating chest pain. Meanwhile, it is also starting to play a role in the operating room (OR), particularly in angiography.
"However, if you are going to put a CT scanner in the OR, you will need to have it on rails to serve more than one room, which is something we offer," she says.
'"There has been an evolution from a hardware war to an application focus, and an emphasis on how can we do things better for the patient. The focus often used to be on more applications, with people developing hardware applications without knowing what to do with them. Now the situation has been reversed. It is not just about hardware, it is about how it can change and improve the delivery of patient care."