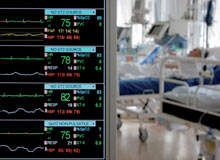 It is a situation that any manager in any hospital in the world dreads: an outbreak of infection on one of their wards. But the worry is much greater in an intensive care unit (ICU), where patients are inevitably more ill than they are on other wards. So how can infections be prevented in an ICU? How can health workers ensure they do the maximum possible to reduce the risk to patients?
Professor Didier Pittet is hospital epidemiologist and director of the infection control programme at the University Hospital of Geneva, Switzerland. He also leads the World Health Organisation's (WHO's) Global Patient Safety Challenge, which promotes a "Clean care is safer care" message. Pittet argues that infections in ICUs can be prevented by good education and clear, rigorously enforced infection control systems.
"You must have effective training for the nurses in an ICU," says Pittet. "[The work of an ICU nurse] looks basic, it looks simple, but it is not. Unfortunately, there are many places where the basic training of ICU nurses is not good enough and the overall attitude towards infection control is poor.
Nurses must be well trained before they come to work in an ICU, and this training must include appropriate training in infection control. Furthermore, change will occur over time, so training must be repeated and updated.
HAND HYGIENE
Pittet believes that ICUs have a responsibility to implement a system that makes sure healthcare workers practise good infection control. "There are hospitals and ICUs where hand hygiene is not taken seriously enough," he says. "Nowadays the gold standard for hand hygiene practice is based on the use of an alcohol-based hand rub, and not, as before, washing hands with soap and water."
Pittet argues that hand hygiene must be the cornerstone of infection prevention, but warns: "It is easy to say that you have to switch from washing with soap and water to alcohol-based hand rubbing. It is another thing to make sure that it is possible for workers to do it. You need to introduce a system change in the unit. Alcohol-based hand rub must be available at the point of care."
This might seem obvious. However, surveys show that hand rub is not always available in ICUs where and when it is needed. Some ICUs have promoted the use of pocket alcohol hand rub to overcome this problem.
"The higher the workload of hospital staff, the higher the risk of infection."
"In our ICU," says Pittet, "we are recognised worldwide for our infection reduction strategy. Care workers carry hand rub in their gowns, while alcohol-based rub is available all around the beds of patients, so that it can be used irrespective of the direction you approach the bed from and right at the point of care. However, this is major change in practice, and I know from studies we have done, visiting hospitals and talking to people that system changes such as this have not been performed in most places around the world."
There may be a variety of reasons for this, but Pittet believes that the understaffing of units and the overwork of healthcare workers are at the root of the problem. "It's clear that the higher the workload [of hospital staff], the higher the risk of infection," he says. "Overwork, understaffing and overcrowding are all associated with an increased risk of infection. It could be that hand hygiene is being neglected or that health workers are working too quickly and not being as thorough as they used to be."
Either way, an increased workload, a poor nurse to patient ratio and a lack of trained nurses is a major part of the problem.
ANTIBIOTIC RESISTANCE
Another problem facing ICU staff is the increase in antibiotic resistance all over the world. Pittet believes two factors are driving this rise in ICUs. The first factor is the heavy use of a broad spectrum of antibiotics and antimicrobials in ICUs, a natural consequence of the fact that ICU patients are very sick and frequently suffer from infections. The second problem is that ICUs are often crowded, while the quality of care is not optimal. Consequently, if resistance appears in one patient, it can spread easily, especially if compliance with good infection control practices, such as hand hygiene, is poor.
Antimicrobial resistance is driven by two things. The first is the selective pressure on microbes caused by the overuse of antibiotics. The second is a lack of compliance with hand hygiene and infection control practices. If infection control is not good, resistance can spread easily. When resistance spreads, it increases the number of patients with multi-resistant bacteria, and as this number increases, more patients that are colonised with multi-resistant bacteria will become infected. In response, more broad-spectrum antibiotics must be used, and soon a vicious cycle has developed.
Pittet says: "If you lose the battle [against antibiotic resistance] at the very beginning, then you are in trouble and it becomes difficult to go back to normal."
LACK OF RESOURCES
If the problem of preventing infection in ICUs is pressing in developed countries, then it appears to be much worse in developing countries. Pittet believes that the problem is greater in these countries, but also that it might not be as bad as it seems at first. "Many studies have shown that the rate of infection is between two and 25 times higher in developing countries," he says.
"But this is because some patients are much sicker when they arrive at hospital in developing countries than they are in developed ones. This is often because they have come a long way to reach hospital, and sometimes they have reached hospital too late. Also they often suffer from co-morbid conditions. Obviously, the more ill a patient is at the beginning of treatment, the higher the chance is that they will acquire healthcare-associated infections.
"Many studies have shown that the rate of infection is between two and 25 times higher in developing countries"
Nevertheless, Pittet says a host of factors do conspire to make the problem more serious in developing countries. He says: "There are many countries where they don't have infection control nurses, they lack resources and sterilisation facilities are not always up to date. Procedures may be difficult to perform. Also there may be a lack of political willingness to remedy the situation, not because they don't want to do anything but because they have so much else to do. In hospitals in Africa, for example, there are so many patients with AIDS or tuberculosis that infection control always comes second."
There is a shortage of nurses around the world, but the shortage is more acute in many African countries, for the simple reason that many nurses leave to work in the US or the UK to alleviate shortages there.
What, then, are governments and multinational organisations doing to highlight the problem and find solutions? "Too little," says Pittet. "I don't think they are doing enough."
To improve infection rates, you need to recognise and quantify the problem. Unfortunately, many countries do not mandate the monitoring of infection rates. It is easy to say that they should, but many simply don't have the resources to do it properly.
"Once you have a clear idea of the problem – and I can tell you that the problem is larger than anyone thinks – then you can intervene," says Pittet. "That is what countries and institutions should do. They should issue a mandate, and they should provide resources, but they just don't have them.
Of course, measures can be taken that do not require extra resources, and hand hygiene is probably the best example. Clearly not all hospitals around the world are doing their best to promote hand hygiene.
GOVERNMENT ACTION
Pittet says that governments must get involved to ensure the best results. "When there is a mandate by the government and hospital management to look at infection rates and monitor them on a regular basis they are pressured into making improvements, and this helps reduce infection rates," he says.
In the UK, there has been a lot of concern about rising MRSA rates in hospitals. Several years after mandatory reporting started in the UK, MRSA rates are going down. "This success is due to the courageous people who said, "Just do it." says Pittet. "We need more people to do that, at international, national and hospital level."
The WHO's Global Patient Safety Challenge is intended to encourage governments to improve hand hygiene and basic infection control measures. So far, it is proving a success. More than 80 countries have recognised that healthcare-associated infections are a concern and have signed a pledge that they will allocate resources to combat the spread of infections. A total of 80 out of 193 UN countries, representing more than 80% of the world population, have signed the pledge.
"Infections in ICUs can be prevented by good education and clear, rigorously enforced infection control systems."
"This is an excellent start," says Pittet. "We have governmental commitment to use the Geneva model, which has been tested in different countries around the world and been shown to be effective. It will reduce infection rates."
GENEVA MODEL
The Geneva model for hand-hygiene, developed by Pittet and his team at the University of Geneva in Switzerland, is proving very influential. Meanwhile, the hospital has continued to lead the fight against infections in ICUs using a team of dedicated infection control nurses.
"We have 15 infection control nurses," explains Pittet, "including a head nurse and four nurses dedicated to ICUs. These are infection control nurses who do nothing else but deal with infections, teach and carry out surveillance."
The nurses also monitor procedures and results.
"This is real, active infection control," adds Pittet. "This is not something you can do with a computer. You need a dedicated infection control professional at the bedside. The rule I have made for my nurses is that they have to spend at least 50% of their time at the bedside, monitoring problems and infection rates. This is very important for infection control.